Interview: The Go! Team
'Team leader Ian Parton chats about the band's return from hiatus and their upcoming tour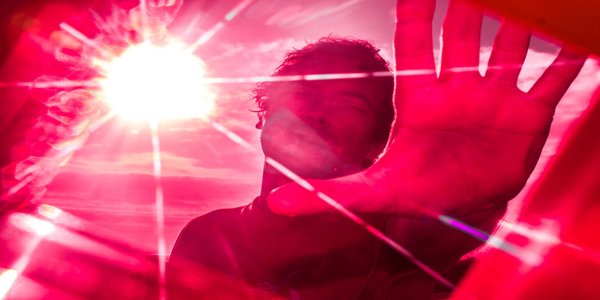 Re-emerging after a four year hiatus Brightonian genre magpies
The Go! Team
re-entered public consciousness last month with no small amount of style armed with excellent new album
The Scene Between
(
review
).
Recipient of glowing critical notices across the board, the LP was the first since the band's storming 2004 debut
Thunder Lightning Strike
to be recorded entirely solo by Go Team mainman Ian Parton .
Effectively setting parameters for himself, four rules governed the recording. Namely, melody would be the main feature of the track, samples were to be utilised as instruments as opposed to the foundation of a song, the production would be different for each cut to create the effect of scanning though radio stations and the vocalists had to be singers he had never previously heard of.
'I hope people are surprised in some tiny way' Ian says of the new album on the phone from his Brighton base. 'I try and make each song a kind of greatest hits of all my best things really'.
Given the gap between the present LP and 2011s
Rolling Blackouts
, the time elapsed between the band's last three albums has been the roughly the same. 'Every album takes four years, why I've got no idea' Ian says. 'I work most days, I'm not particularly a slacker. Maybe it's the kind of music I make as well, the fact that I can't just pick up a guitar, press record and make a song. Plus I think I'm quite slow as well, I'm a hoarder of ideas rather than just sticking down a finished song. I'll get a five year old idea and put it next to something I've written yesterday and see if that works'.
On the subject of amassing ideas for songwriting, how does creating a track for the Go! Team happen? 'I've basically got a master super-document of everything I've ever done really, whether it's samples or my own ideas' Ian explains. 'I might even be such a geek to arrange them into major and minor, breakbeat and non-breakbeat and arrange them to chords as well. I like the idea of putting things down and then coming back to it and that's really when you can listen to it as if it's not your idea any more. It's like an out-of-body experience'.
The DIY approach established on the first LP has clearly endured, with home recording preferred to any other environment. 'I try and avoid studios to be honest and the idea of forcing you to do things within the allotted time' Ian says. 'We have used them for brass sections, there's a place for it, psychologically though I prefer home recording. I have it mixed pro, but most of the recording is done in a homemade style whether it's my folks kitchen when they're on holiday or just at Sam's (Dook, guitarist) little studio, or in my bedroom'.
Recruiting and recording the guest vocalists via email, many of the singers come from across the pond, including LA based dream pop artist Samira Winter on storming opening cut 'What D'you Say' and New Jersey native Doreen Kirchner of John Peel faves Sudden Ensemble who guests on 'Blowtorch'.
Elsewhere on the album, teen romance weepie 'Her Last Wave' sung by US synth pop artist Emily Reo draws inspiration from the legendary songwriters (Goffin & King, Bacharach & David) and production talent (Phil Spector, Leiber & Stoller) that were based in the Brill Building, New York in the late fifties and early sixties.
'Catch Me on the Rebound' is the Motown-y kind of one' Ian says of the inspiration. 'I'm really interested in the craft of songwriting, unexpected things melodically and making each bit count really. I'm a sucker for The Monkees and Phil Spector and all the girl groups, Carole King' Ian enthuses. 'I'm always torn between wanting to write a timeless song and wanting to completely fuck it up and record it on a Dictaphone! I love different types of music, Philip Glass and Glenn Branca and drone-y type stuff, but if you're making melodic music you have to do it properly'.
Following on from that, was it a conscious decision to push the vocals up in the mix on the album? 'Yeah, I didn't see any point in burying them really' Ian states. 'I've always had a bit of a fear of having vocals at the front, but if that's what the song is you might as well make it that as much as you can without it being too Radio One. That's my big thing really, vocal melodies. That
is
the song, without that it isn't a song really in my book, if that's what you're going for'.
With acoustic guitars providing the chassis for many of the songs and a pronounced psychedelic influence seeping through, is it fair to say hip-hop takes a backseat on the LP? 'Yeah, breakbeats in general' Ian states. 'I've never really thought of us as a hip-hop outfit, a particular kind of hip-hop I suppose, it was quite a narrow thing I was interested in. I figured I'd kind of done that in a way, leaning on samples and brass with lots of trumpets. It was almost like people thought they knew what to expect, chanting plus distorted drums plus blaring trumpets equals Go! Team, so I wanted to bypass that really. Hopefully this album has got a feel that permeates the whole thing, it's more of a coherent world I think. Other albums have been quite sort of schizo 'this is our car chase song', 'this is our Charlie Brown song'. Here, there's a bit more of a unified thing going on'.
One of the album's key tracks 'The Art Of Getting By (Song For Heaven's Gate)' showcases a highly successful detour into pastoral psychedelia, the upbeat lyrics and sunshiny atmosphere of the track dovetailing with the notorious event that inspired it.
'That song's a bit of a weird one 'cos it's about the Heaven's Gate cult and it's kind of written from their point of view as if they are gonna transcend to a spaceship that was following a comet (
Hale-Bopp, visible for much of 1997
), then they all committed suicide. I guess the song is kind of imaging it's their anthem as they transition to the spaceship, that kind of idea. I was imaging that to be a new genre called space-gospel, which I think you could almost do a whole album of, laser sounds and big choirs. The African gospel choir I recorded above a Carphone Warehouse in South London with just my laptop and about fifteen singers'.
The London African Gospel Choir also appear on the album's title track. 'I guess it could be talking about how the band has never really fit into any scene I suppose' the guitarist says of the title. 'We've never been happy with indie, hip-hop or dance really, so it could refer to that maybe. The song itself is almost about country versus city in a way. When I wrote that song I couldn't shake the image of flying above rivers and mountains'.
The first
clip
from the LP shot by the band's regular video collaborator James Slater, the band have an abundance of visual accompaniments for the LP. 'We've made videos for all the songs on the album' Ian states, the rapid-cutting acid tinged promo for '
Blowtorch
' that juxtaposes singer Doreen Kirchner with colourised black and white news contributed by the guitarist. 'I asked twelve film makers round the world to make stuff, there's lots of stuff shot on film and Super-8 and lots of glitchy VHS ones'. With BuzzFeed premiering five of the clips beginning with 'What D'You Say?', tracking down potential collaborators was a lengthy process. 'I spent ages on Vimeo just looking at new filmmakers' Ian explains. 'Generally lots of analogue using people really who use hand processing then colouring it'.
Now thoroughly re-energised on record, the band's next move is to return to the stage. With
The Scene Between
reverting to the band being a solo project on record, it wasn't entirely clear whether the group had entered a live hiatus. 'I was flirting with that to be honest' Ian states. 'I didn't quite know what would happen, it's looking good now actually. I'm up for doing a lot, I guess it depends on demand really! We've changed the line up a bit, there's half new and half original, me Sam and Ninja are still doing it'.
Despite the ferociously well-drilled unit the 'Team are onstage the group thrives on the tension of possible collapse. 'It still felt like we were teetering on the edge of chaos, I kinda like that' Ian states. 'I think the energy is really important for us, more so than technical perfection. I'm looking forward to doing it again actually, it's been a couple of years'.
One of the reasons of the band's live return being uncertain initially was the wish to keep things interesting for the players involved. 'It's if I can do it justice, we've always been an unusual band I thought, the line up and the combination of the people and the energy and instrument swapping, I didn't just want to become an indie band, a bunch of blokes just standing there' Ian states. 'If it was choice between that and playing live I just wouldn't do it at all. I'm just bored of the fantasy idea of what an indie band should be, guys in leather jackets and stuff, I just wanna do something different'.
Given the intricacies of the band's songs, how difficult is it to recapture the sound live? 'You have to break the songs down, fortunately there's lots of us and we can all play instruments and swap around a bit, especially with the double drumming' Ian explains. 'I think there might be more triggering samples live, using pads and MPC. I've really wanted the samples to become a visual thing, otherwise it's not very exciting to me. Laptop-y things, I mean if you can make it cool... but ultimately it's not that exciting is it really? Guitars will always win'.
Extra-curricular activity away from the 'Team in the gap between albums saw Ian make a foray into J-Pop writing a track for mega selling girl group
Momoiro Clover Z
. A highly successful exercise,
'Rōdō Sanka' ('Hymn to Labour')
broke into the Oricon Top 20 singles and went on to feature on the group's platinum selling 2013 album
5th Dimension
. 'It was funny sitting at home writing this song for them then seeing it played in a stadium in Japan the next' Ian recalls of the process. 'I'm always up for writing songs but nobody particularly asks'. The same applies for production work, 'Theoretically, I don't think there's much call for make things sound distorted and sound like they've been recorded on an answering machine really though!' Ian laughs.
A bonus feature with
The Scene Between
on copies from independent retailers is a free cassette entitled
Between the Scene Between
, that effectively provides the Directors' Cut of the LP. 'It's really dense and choppy, some bits of it are samples from the record revealed. A quarter of it is the album, the rest of it is just me going mental' Ian explains of the C90. The project might also point the way forward for where The Go! Team venture next meanwhile. 'The more I was doing it the more into I got' Ian says. 'I'm glad I did it, I want to do an album just like that really'.
The Scene Between is out now through Memphis Industries

New single Ye Ye Yamaha b/w Til We Do It Together on ltd edition 7" yellow vinyl is released on 18th April as a Record Store Day Exclusive
The Go! Team tour:
31st May – GUILFORD, Boiler Room
5th June – BRISTOL, Motion & The Marble Factory
6th June – LEEDS, Brudenell
7th June – GLASGOW, King Tuts
17th June – LONDON, Village Underground
19th June – BELFAST, The Limelight
20th June – DUBLIN, Whelans
21st June – MANCHESTER, Sound Control
4th July – BRIGHTON, The Haunt
24th/26th July – INDIE TRACKS FESTIVAL