Interview: Flyying Colours
Melbourne shoegazers chat about their superb new LP Fantasy Country and future plans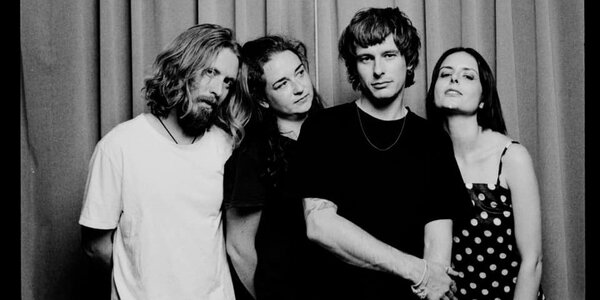 A hugely welcome return, estimable Aussie shoegazers
Flyying Colours
blasted back with iridescent new disc
Fantasy Country
last month (
review
), the follow up to excellent 2016 debut set
Mindfullness
. Retaining the group's hallmark unison vocals between guitarists Brodie Brümmer, and Gemma O'Connor, Melanie Barbaro's melodic basslines and Andy Lloyd Russell's pinpoint timekeeping, the disc is awash with new influences from Kosmiche and post-punk.
Trailed by the sunburst guitar pop of lead single
Good Times
and the Strokes-esque propulsion of
Big Mess
, new single OK has recently arrived on YouTube. A group with a CV of excellent 45s, superb alt. rock rampage This One could easily take the album tally up to four.
With the LP out in the world, Bearded caught up with Brodie for a chat about the record and recent developments. Starting from the top then, what inspired the album title? "Fantasy Country I guess is place we all go sometimes, not the same place for all of us, maybe just a daydream, but always somewhere else" Brodie replies. "Not to get too weird with it but I think music can often transport you to another place, and making this album definitely had that effect on the band. You get lost in something entirely intangible that is as real as it isn't. I think that might be what it is".
Pushed back from its initial release date last summer, things were understandably thrown into flux with the pandemic. An inevitable inquiry on Covid-related matters, how has the situation been in Australia? "We are very lucky to be where we are" Brodie states. "We live in Melbourne and went through a lengthy and very strict lockdown which was very difficult, but now find ourselves booking tours and playing shows again. The pandemic devastated so many and we send our love and support to everyone". With the live circuit back up and running Down Under, Flyying Colours were able to celebrate the release of the new album with a gig on home turf on release day. "It was exactly one year to the weekend between shows for us which is wild" the singer continues. "Since playing our first shows I don't think anyone in the band has spent this amount of time away from the stage. It's very surreal putting gig dates in a calendar and again, we are so lucky to be able to do so".
While
Fantasy Country
retains the sharp songwriting skills that have defined Flyying Colours' releases so far, the disc also stakes out new territory for the group. The strutting Boarding Pass pairs a peacocking Rolling Stones riff with motoric rhythms, while the New Order-esque It's Real powered by a Peter Hook style bassline and woozy synth textures is one of the highlights of the set. Who were you listening to during the writing and recording of the LP? "Typically, we all listen to so much different music. I can never really trace an inspiration for a song or sound directly until someone points it out, at which time often it becomes glaringly obvious!" Brodie states. "I listen to a lot of Brian Eno's ambient stuff late at night and I can say that definitely inspired much of the synth on the record. Aside from that I listen to pop music as I like the melody, and of course I listen to all things shoegaze and dream pop as that's where my heart is. It's the combination of everything".
Lyrically Flyying Colours' has also expanded as new single OK touches on mental health ("
When I grow up / I hope / I can do things that don't / Fuck with my head / It's all too much"
), a hugely important subject during the pandemic. What was the inspiration behind the song? "I find it very difficult to talk about song meanings. They just come out onto paper or down the microphone never with too much thought of having to explain why or how. OK was written at a time in my life where everything was moving very fast and I never really felt like I had control" Brodie explains. "It's about growing older, changing, not changing, being confused. All pretty common themes, but it's what it means to you most importantly".
One of the most all-out psychedelic songs the band have written, White Knuckles see the group deliver a blazing Kosmische / space rock cut. Fading out in waves of synth textures, Eyes Open then spools the preceeding song's vocal track backwards. "White Knuckles began in a tour van in Germany on our first EU tour as we made a mammoth drive between shows" Brodie recalls. "Eyes Open is more the sleepy side of the experience, being in the backseat rather than holding the wheel, the calm at 200kph, the rhythm of the road sending you off to sleep. It felt very natural to convey both sides of that experience in both songs".
With
Fantasy Country
in the release racks and a score of Australian live dates announced (see below for details), the quartet are already preparing their next move. "The time spent at home during lockdown was a rollercoaster of doubt, inspiration, frustration and determination as there was really nothing but time to work on new music" Brodie says of last year. "Some days were good, some days made me want to give up forever. But all that said, and not to make promises we can't keep, we don't have the best track record with deadlines, we've been working on new tracks and another record. It feels super exciting now and I really look forward to seeing where we go next".
Fantasy Country is out now through Club AC30 (UK / EU) and Poison City (Australia)

Flyying Colours Australian Tour:

Fri 26th Mar, Corner Hotel, Melbourne
Sat 3rd Apr, Milk Bar, Perth
Sat 10th Apr, Adelaide, Uni Bar
Sat 17th Apr, Brightside, Brisbane

Tickets available here