The Go! Team: The Scene Between (Memphis Industries)
Brightonians blast back from hiatus with ecstatic fourth LP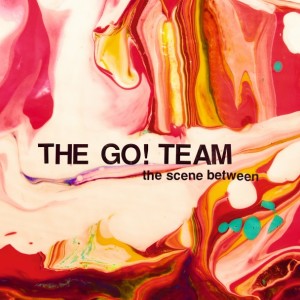 Despite across the board acclaim
The Go! Team
's excellent third LP
Rolling Blackouts
seemingly signposted the band's dissolution with 'Team leader Ian Parton's announcing the group would enter 'extended hiatus' once touring commitments were completed.
It was cheering news then that the title track of
The Scene Between
heralded the Brightonians return in February, following four years MIA. Harking back to debut LP
Thunder Lightening Strike
when the group was effectively a 'bedroom project' with Parton as sole musician, the set deliberately eschews the high profile guest singers of
Rolling Blackouts
.
Diverting away from several of the band's stock elements the double-dutch chants and early hip-hop stylings of earlier LPs are absent with greater emphasis on psychedelia and classic pop.
Bedrocks of acoustic guitars carry several of the tracks, with the searing Sonic Youth axe work dialled down and the vocals pushed further up in the mix. While the LP showcases the group in (relatively) mellower form, the boundless energy of talismanic frontwoman Ninja is slightly missed, the set lacking the adrenaline jolt likes of 'The Power Is On' and 'Grip Like A Vice'.
Commencing with the sound of a can of fizzy drink being opened the LPs opening troika brilliantly showcases how much they've been missed. 'What D' You Say' breaking midway for a flute solo is the sound of band hanging out at Woodstock, while the stuttering vocal sample that powers the title cut and the infectious 'Waking the Jetstream' easily rank alongside the band's best work.
Second single 'Blowtorch' glides past on the same sunshine energy as
Rolling Blackouts
gem 'Buy Nothing Day' while 'Her Last Wave' immediately permeating the memory cells and sounds like almost everything here a potential single.
'Did You Know?' exemplifies Parton's recent re-discovering of legendary Brill Building songwriting teams (Goffin/King, Bacharach/David) with a latter day tear-stained teen romance, with 'Catch Me On The Rebound' providing an upbeat variant of the form.
Inspired by the religious cult who notoriously committed mass suicide in 1997 'The Art Of Getting By (Song For Heaven's Gate)' is a massed psychedelic hymn, indivisible from images of deceptively cheerful white-robed followers chanting the chorus at the foot of a mountain, which is presumably what the writer had in mind.
The intriguingly titled 'Reason Left to Destroy' juxtaposing acoustic strumming and possibly a marimba sample meanwhile ends the set on a high note. Something of a relief that the power is (back) on all told, in terms of overall consistency the present set easily matches the band's best work. Welcome back.