The Go! Team @ Lafayette, London 30.03.23
Brighton indie pop stalwarts at a sold out show in King's Cross are spectacular as ever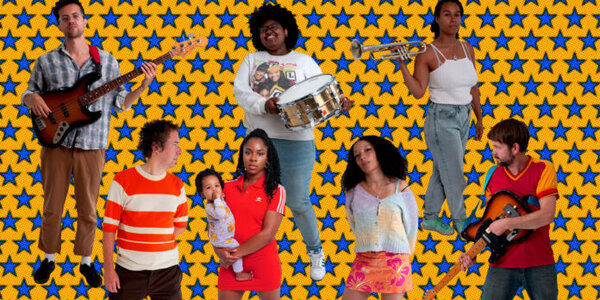 Arriving on these shores with a fair amount of buzz following a standout performance at SXSW,
Abracadabra
prove the praise was more than mere hype. Trading in percussive party starting music, mashing up Talking Heads and Duran Duran to impressive effect, crucially their bassist possesses the Tina Weymouth / John Taylor-level skills to pull such a gambit off. Led by slightly nonchalant vocals redolent of The B-52s, the Oakland, California natives' strongest moment At the Zoo, while not quite as ace as the Simon & Garfunkel classic is an alt. pop confection that indicates greater things to come.
Currently wrangling with the GPS on UK motorways to plug solid new LP
The Get Up Sequences Part Two
,
The Go! Team
's live stock has seemingly risen of late. A formidable onstage proposition of
many years standing
, almost the entire run of dates including two nights in London has sold out in advance.
'Team mainman Ian Parton, effectively doubling up as the rock band equivalent of a conductor and leader is in charge, alternating between guitar, harmonica, drums and sampler. Rigorously well drilled as ever, the word team really does come into its own as the septet switch positions, trade instruments and keep the set flowing seamlessly.
Frontwoman Ninja replete in Michael Jordan shirt, is a fireball of boundless energy, pinpoint rapping and melodic lead vocals. Whether handing a vintage walkie talkie to someone in the front row "with long arms" to assist with the choruses of Stax stomper Mayday, passing the mic for revellers to state their birthsign on Semicircle Song and conducting a venue wide chorus on Huddle Formation, the singer is a talismanic presence. Vocalist / percussionist Niadzi Muzira steps into the spotlight for lead vocals on Going Nowhere, one of the wobbliest, out of focus and best tracks on the new LP supplemented with banjo picking by live stalwart Sam Dook.
Featuring a fair wedge of groundbreaking debut
Thunder, Lightning Strike
, the set takes in landmarks from the outfit's seven albums, I Loved You Better sloshing around like a seasick MBV courtesy of Parton's whammy bar guitar work, dovetailing superbly with the beatific lyrics of acid gospel surge The Scene Between. Concluding with a romp through T.O.R.N.A.D.O. TGTs genre strafing, kinetic live show has never been in ruder health. Feelgood By Numbers? Nah, just feelgood. Several million times over.