Interview: The Boo Radleys
The reformed indie rock pathfinders chat to Ben Wood about Giant Steps, Britpop and acclaimed recent live shows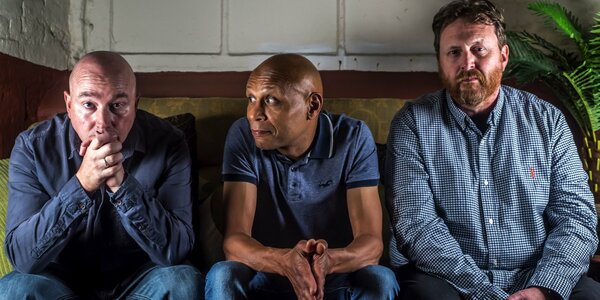 Britpop brought
The Boo Radleys
acclaim and pressure in equal amounts. By the end of the 1990s, the band – and their iconic label Creation – were no more. But 20 years of 'real life' have brought stability and perspective. Now, with careers outside music, the Boos get together when they want to and not because it's a career. It seems to suit them. Two albums into their reformation, the Boos – minus original songwriter and guitarist Martin Carr – are concluding their co-headline tour with Cud at London's O2 Academy Islington. They've had a fine time with their gig buddies: as a result, they are in good spirits as Bearded sits down to pick their brains.
Welcoming me into their backstage dressing room an unheard-of 15 minutes early, we meet the remaining three of the band's classic line-up - singer / guitarist Simon 'Sice' Rowbottom (charming, enthusiastic, qualified psychotherapist), bassist Tim Brown (down-to-earth, friendly, co-producer on
Giant Steps
, IT teacher) and lesser-spotted drummer Rob Cieka (chilled, apparently hasn't aged a day since the 90s, warns that he doesn't usually do interviews but can't help chipping in). Top blokes all, joking and finishing each other's sentences, they seem chuffed to have reconnected since the band's initial split saw them go their separate ways.
Bearded: Hi everyone, thanks for doing this. The lyrics from 1995's Wake Up! album suggest that during Britpop, the band were down in London quite a lot – or at least the songs gave that impression. Was that true – and is this gig like a return?

Sice: A couple of Martin's songs referenced the London Britpop thing. But it was never my scene - it was Martin's for about eight months.

There seemed to be several songs about being away from his girlfriend and missing her...
Sice: That was what he was always writing about! Partly it was about never being happy where you were.
Tim: Me and Rob sent most of the Britpop years on the train from Liverpool and back again. Not very glamorous! We were quite removed from it which is probably good…
It's great to see you back together again. How's the tour been going?
Sice: Being a double-header with Cud, we weren't sure how it was going to go. We didn't know if our fans would mix but it's worked out brilliantly. It's the last one tonight and there hasn't been a bad one. Cud are great blokes. We're all in the same boat: we're in our 50s, it's not our main thing anymore (music). So we all just want to go out and have a nice time, we have been very pleased at how easy and enjoyable it has been. The first time round, I don't know whether it was press-created but we felt a kind of division (with other bands), a case of "We want to be bigger than them". Now, it doesn't matter – we all enjoy it.
You launched the band at the start of a great era of British indie music. Giant Steps, your third album, seems like such a leap forward after the shoegaze inspired Everything's Alright Forever – how did it come about?
Tim: At that time, Martin would demo songs then share them with us. He wrote a mammoth number of songs. We were so ambitious.
Everything's Alright Forever
was very controlled. The producer Ed Buller had very particular ideas. Martin had a falling out with him over the phone and we said let's do it (the next album) ourselves. Then things started to happen. We were all willing to put the work in, but it was a mammoth undertaking. Eighteen-hour days in the studios, lots of sitting around smoking
Sice: While
Everything's Alright Forever
was trying to sound very effects-driven and My Bloody Valentine-inspired, with
Giant Steps
we just did what the song seemed to require, it wasn't as deliberate.
Giant Steps
was a natural progression for us as a band.
The dubby elements are great – Tim's bass looms large throughout…
Tim: That was more Martin's idea, he was the one into dub. Now we could do what we wanted: there were no adults in the room so we could do sly things! Sice climbed on a roof to sing something, Rob had his drums in a tiny area of the studio. We tried loads of different things 'cos there was no-one to tell us it was wrong.
That sounds like it could have been expensive! Did you get a good deal on studio time?
Tim: It was a cheap studio.
Sice: (The band's label) Creation were so supportive. They encouraged their bands to go for it, they sometimes got a bit nervous about costs but gave us free rein.
Tim: With
Giant Steps
, I don't think Creation knew what we were capable of. They'd only signed us as a favour as
Everything's Alright Forever
was done for Rough Trade which then collapsed. I don't know what they were expecting…
Rob: It's got 17 songs - other labels would have told us to take stuff out..
How does it feel playing the songs from Giant Steps, all these years later?
Sice: We have more control over our sound now. The venues we used to play and the equipment we used, it was quite ramshackle and felt like we were on the verge of losing it sometimes. In June we did the whole album live and it worked brilliantly. I don't think we could have done that back in the day. I don't know whether it's because we're more skilled as musicians, but I think it's the technology that make it easier. Back in the day, a lot of Giant Steps felt like studio-only songs.
With such a much-loved album, some fans might want to hear it note for note. Is there a tension between keeping the fans happy and wanting to change them, as creative musicians?
Sice: On the last tour, Tim created a medley of some of the tunes from the album. But we are all quite keen on playing the songs pretty much how they originally were. When I see a band, I want to hear them play what they put on record.
Tim: I tried to make sure all the keyboards were the same, I needed to find those sounds. Although, in some cases, I snuck some new sounds in
Rob: it was quite emotional going back and reconnecting to the album. It brought up a lot of memories from the time, some nice, some not so nice.
Your singing is the perfect fit for these songs, Sice. How do you feel about your vocals, and do you feel they got the praise you deserved? People didn't really go on about indie voices then.
Sice: I always wanted to be like McCartney, who can do pretty much everything – sing something sweet or belt it out. Across our discography I've done that. I don't like singers who have one voice and that's all they can fuckin' do! For me, singing is about versatility, like it is for the player of an instrument, being able to do lots of things.
Tim:
Giant Steps
helped Sice be heard properly for the first time. On the first two albums we buried him among the noise and sludge. On
Giant Steps
he also grew in confidence. Before that, you can barely hear him – though that was a deliberate choice too.
Sice: It was also an attitude – that indie idea at the time that you didn't have a star frontman, it was about the band. Everybody's equal and the voice is just another instrument in the mix. Gradually that's changed but I still wouldn't feel comfortable being a 'frontman' frontman. I like being part of a band.
Does it feel different playing Giant Steps in 2023? More enjoyable?
Tim: We enjoy playing live more now. Before, we used to get reviews saying we were chaotic. Now we are more able to do what we want to do. We have good musicians with us – Louis Smith on guitar and Nick Etwell on the trumpet. The set seems to kick off for the audience when we play Barney and Me. Sometimes the hairs on the back of your neck stand up, feeling emotions as Sice would say! People are emotional after the gigs.
What are your audience demographics nowadays?
Sice: Some of our original fans now bring their kids along, I don't think there are many kids who have got into us of their own volition! Mind you, last night, a young lad said we were his first gig. That sort of thing's incredible. When we started off, we were looking back to the 60s and a lot of the bands we listened to – the Beatles, Byrds, Kinks, Love - they were all around 30 years before. It doesn't seem that odd that people are getting into it (an album from 1993) now. There are people who got into us in the last 20 years but never got the chance to see us play. A lot of people said they thought they'd ever get the chance to see us live.
Tim: There are also fans of different eras of the band, shouting for various things.
Rob: Sice asks people what their favourite album is - and the response is different each night.
Looking back, Giant Steps garnered decent sales and amazing reviews – several publications made it their album of the year. It was obviously a big career boost. Was it odd to transition from cult indie band to big act by the time of Wake Up!
?
Sice: No, that was always our goal – I remember early on, telling (Rough Trade founder) Geoff Travis that we wanted to have a hit. All our fave 60s bands were in the charts. So even though it looks like it was deliberate it was just a progression. I don't blame Creation but there was a lot of pressure on us after
Giant Steps
to have a hit. Lazarus was re-released to get us into the charts. In that period if you weren't getting into the charts, like (labelmates) Ride or Primal Scream, you were failing, (top ten hit) Wake Up Boo! was like a hammer to crack a nut. At that stage, we could probably have released something not quite as poppy and it would still have done well. But we went 'bang' with this massive pop hit. It felt like a natural progression – we have had the critical acclaim with
Giant Steps
, now we have the hits. We just thought we'd get bigger and bigger. Of course, it didn't quite work out like that.
Tim: We had progressed from our earlier noisier sound. The Pixies and My Bloody Valentine era inspired us to become a noisy band but as Sice said in an interview, all we really wanted to do was write pop songs. We loved stuff like New Order and the Human League getting into the charts in the 80s. Even we were making noise, if you stripped it away, they were still well-written songs. After
Giant Steps
there was a progression towards a more accessible sound. Then we did
C'mon Kids
and got noisier again!
Sice: People said we trying to get away from pop but we were just enjoying ourselves, doing something different. However, it wasn't perceived as that. We realised that as a band you don't have any control over how you're seen.
Was it tricky to get Creation's attention after labelmates Oasis became so huge?
Sice: I think Creation did fine by us but when Oasis happened and (label boss) Alan McGee became unwell, that was in a way the end of Creation, although (co-founder) Dick Green looked after us very well. We used to hang out a lot there but then it became Oasis's label, with bouncers on the door. The office was full of people you didn't know who were working for Oasis. That ramshackle operation we were used to dealing with was gone really. Now I have absolutely no complaints. There were certain things we weren't happy with at the time. But in hindsight they did their best. We were unfortunately caught in a scene that was swirling down the plughole and we couldn't get free of it.
What caused you to split after Kingsize? Did you fall out? Were you disillusioned?
Sice: No, we were just tired. There were no big arguments, no big fallouts. I think Martin had had enough and wanted to go solo, I don't quite know why. I think he was getting certain people whispering in his ear about going solo. Tim was the workhorse for
Kingsize
, the last album. By that time Creation knew they weren't gonna continue, so that was a major problem: "What do we do if we don't have a record label?" It felt like starting again. If it was today we'd have been advised to take three or five years off, do your own thing and then see if you want to make another record.
Tim: Don't announce you've split up!
Sice: But we were inspired by the Beatles – "We've split". I don't regret it. We all went off and had different lives.
It must have been an intense few years during the band's first incarnation…
Sice: I am a psychotherapist now. I work with a music industry collective. We often talk about this stuff. In no other business do you start off like the copy boy then a couple of years later you're CEO of the company without any experience. You've got to deal with all this stuff: money, people, everything, then a few years later you're back to copy boy again. Anyone in the corporate world forced to do that would be like "What the fuck just happened?" It's often people's experience that you're spat out the other end and you're like "How do I make sense of that?" That's not to say you don't have a great time when you're doing it but it does throw you.
In the last 20 years, you've developed other work interests...
Tim: Not through choice! It was almost a compete surprise when Martin and Sice came round after
Kingsize
and told me we were splitting up. I had been in the studio a lot and we didn't share emotions. It wasn't healthy – maybe people in bands today have a different attitude. It was unexpected. When the band split up, I didn't have money left. I had to work and fell into teaching 'cos my wife's a teacher. I teach IT now. We all had families and that keeps you going.
Sice: I'm glad it happened (the split). We have had 20 years in the real world which is important. I think you can get stuck in a silo if you stay in the music business and don't step outside. We know the value of things. We are doing seven dates on this tour 'cos we are limited by our jobs. So they're really precious: we don't just take it for granted. I think that comes across.

And finally: was it nice meeting up again after all these years? You seem to be enjoying things now…
Rob: Yes, it was. As soon as we started playing together again, it was brilliant.