Interview: By the Sea
Dream pop specialists chat about their return with superlative forthcoming LP Heaven Knows Magnolia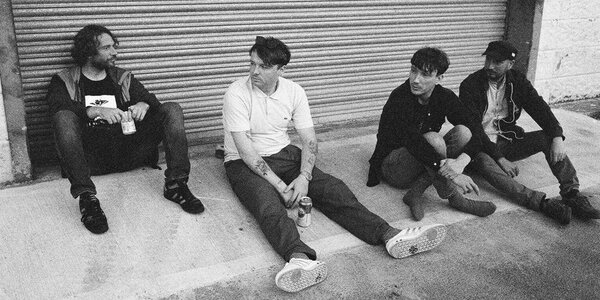 Located near the centre of bustling seaside village West Kirby on the Wirral Peninsula, an unassuming redbrick building houses storied recording hub Yawn Studios. Co-owned and operated by acclaimed producer and solo artist Bill Ryder-Jones, the building takes on surprisingly Tardis-like dimensions inside with the ground floor live space. With an impressive roll call passing through the doors since lockdown lifted, dream pop specialists
By the Sea
are one of the most recent. Flopped down on the sofas in the upstairs control room three quarters of the group are gathered for a playback session. Cueing up the tracks lead singer /guitarist Liam Power cranks up the speakers for an airing of their much anticipated "ninety percent complete" new album. Heads nod in unison, E-Cig vapour wafts gently and cans of craft ale are imbibed as a rough mix of the group's third LP
Heaven Knows Magnolia
envelops the room.
The quality of the material shines through from the off showcasing the band's gift for woozy melodicism and choruses that slowly etch their way into the memory in redoubtable fashion. Bed Bound Melodies and How I Long highlight the group's skill at beautifully poised melancholy while melodic chug of Love Letter calls the motorik pop of Stereolab to mind. Guitarist / singer Carl Roberts makes his presence felt with widescreen psych pop opus UFO, a track which has the aura of something that will sound colossal live, while lead single The Let Downs twinkles like 1990s era Mercury Rev. The chiming arpeggios of Mount Pleasant and Desire Paths' percolating synth patinas meanwhile are two of the most immediate tracks By the Sea have created to date.
Working both as a restatement of principals or as the ideal entrée for new converts, the disc clocks in at a svelte thirty-five minutes "The greatest album ever is only twenty-nine minutes long" Carl points out, referring to the Lemonheads' 1992 masterpiece
It's A Shame About Ray
. The playback completed, a journey to a nearby public house is suggested to discuss the album further. "It's quite Tolkein-esque" drummer Andy Royden states approvingly, of the quaint, cave-like interior rooms of the White Lion Inn. ("Are you doing a quiz?" a puzzled barman enquires seeing the interview dictaphone on the table).
Given that By the Sea's most recent release was in 2014, for those of you who haven't encountered the band before, a brief potted history. After a sequence of highly promising jangle pop singles, the group issued their excellent eponymous
debut LP
to positive critical notices in December 2012. Superb post-punk inspired follow up
Endless Days, Crystal Sky
landed soon after in August 2014 to a similarly warm response and a burgeoning live following.
The LP release was celebrated with a sold-out gig at Liverpool's opulent Epstein Theatre in the run up to Christmas 2014, their biggest show to date. While more dates to spread word of
Endless Days
were presumed to be in the pipeline the band rested, understandable after their prolific work rate over the previous five years. As the months, then eventually a year passed however with no further activity announced it was reasonable to assume that the outfit had drawn a line under proceedings. A huge pity, but one that was at least tempered with the knowledge the group had concluded their short career on a high.
In the interim Liam, a stalwart fixture of Bill Ryder-Jones' band, contributed to his two acclaimed albums alongside live work. The singer also worked with Manchester writer Austin Collings and former Fall member Elena Polou on collaborative project Bomb Sniffing Dogs with Andy providing drums. On the group front a slow trickle of social media posts indicated By the Sea weren't quite done yet. The appearance online of what was to become the album's title track in demo form four years ago showed there were intermittent signs of life. Extra curricula activities meanwhile included Liam's dalliances in making his own hot sauce ("I did a great one called Atomic Shittin'" he notes).
During the gap between albums the line up shifted drastically and group was reduced from a quintet to the core of Liam and Andy. "It was a weird time" Andy recalls of the period. "After we did the second album, we did the launch show, two gigs after it and that was all". Gradually a new line up started to coalesce hastened by the arrival of bassist Chris Deakin, absent today due to work commitments. Deaks brought the beef" Liam states approvingly. "He was the one who said "Just carry on and do it"". "He's got a hell of a lot of energy" Andy adds. "I think us two were a bit (uncertain tone) "Are we good enough?". However Deaks is just like "Yeah! This is fucking boss!"
Self-promotion has never been one of the Wirralians' strongest suits, Liam somewhat prosaically describing the four-piece as "A bunch of shoegazers in our thirties". "Liam's an incredibly gifted songwriter" Carl states (accurate praise that makes the singer look embarrassed), "But he needs an arm round the shoulder approach. Something I didn't realise until I joined them was how self-deprecating they are and lack of confidence in how just good the band is".
Lead singer of North Wales dream psych types Gintis, Carl supplied the missing piece of the jigsaw for the quartet. "There was a long period of time before we put anything on the socials where we were practising, getting songs together" Carl states. "It was weird, I didn't know what I wanted to do. Shall we go through the trope of "There's Not Much To Do on The Wirral"?" Liam says laughing. "Nah, we did that on the first two albums!" Andy interjects.
With no pressure and no deadline the four piece gradually pulled together songs for third LP. With the pandemic knackering absolutely everyone's plans, the initial release summer 2021 release date was pushed back. "About three of the tunes are years and years old" Liam says. "A few of them were almost put on the previous album". "Mount Pleasant and Desire Paths date from before I was in the band then and you sent me them as demos in 2018" Carl explains.
Some of the inspiration behind
Heaven Knows Magnolia
alongside the input from the arrival Deaks and Carl was due to a rediscovery, or maybe more accurately reappraisal of groups listened to years earlier. "I've been hammering Grandaddy's albums,
The Sophtware Slump
and
Sumday
loads" Liam says. "I remember not liking them that much when I was younger and into Joy Division and the rest. Carl was saying I should listen to them again, they're like the American Super Furry Animals". "That's such a fucking good description!" Carl grins. Continuing with the Americana theme, the title of the LP draws from the same source. "It was inspired by Songs: Ohia, a group led by Jason Molina" Carl explains. "The final LP they brought out was called Magnolia Electric Company which was the name of the band he started a few years later as well". "They're kinda in that world between Neil Young and Mercury Rev" Liam explains of the cult late singer-songwriter. "I think thematically the lyrics explain the title as well. I kind of moulded some of the lyrics around the title idea".
Influences from this side of the pond include "Teenage Fanclub, Gorky's, and Lightships who are Gerry Love from Teenage Fanclub's band, that album's amazing. The new Fanclub stuff with Euros Childs is unreal as well" Liam states. In addition to selecting alt. pop outfit Tune-Yards Andy broadened his horizons with a dive into Japanese jazz. "I recently bought a three LP set of J-Jazz, it's incredible" the sticksman enthuses. "Impossible to drum along to though, I was so jealous. I thought I might be able to play at least
some
of it!" Lyrically the new tracks were influenced by the narratives of Bruce Springsteen's desolate, lo-fi classic
Nebraska
and the character sketches by Simon & Garfunkel. "One of the tunes I've taken the most influence from is A Poem On the Underground Wall" Liam notes.
"To me as outsider it felt like the first album was pure shoegaze / dreampop, the second album was quite industrial and third one is lean pop, really direct" Carls says of the band's output. "I think the clarity on Liam's vocals has increased. He's an amazing lyricist which you can't necessarily hear on the first two albums cos it's kind of obscured in a way".
"Inspiration for drumming to these songs is The Fall, dead simple. Otherwise Liam will start removing the cymbals" Andy says of album's backbone. "I don't tell you what to do!" the singer gasps in mock outrage. "I always say you should unleash!" With the keyboard stool now vacant Andy is now in charge of triggering the keyboard textures. "Pretty much every band has a sampling pad going now. It's run off the click then you can trigger whatever you like. It's only really the synths and keys on a few songs". "When you see the tape machines Cocteau Twins used they absolutely filled the room, they sounded brilliant" Liam enthuses. "We couldn't afford to take a vintage one on tour with us, that would be great though".
Tracked at Yawn Studios, Bill Ryder-Jones was in the producer's swivel chair for the sessions. "Bill's produced, mixed and recorded it" Liam explains of the recording process. "We've done bits of mixing together in terms of sitting with him and asking "Can you do this?", but the album's totally Bill". "His ears are phenomenal" Carl marvels. "He can hear things that other people just can't". "He's got a set standard, he knows what we like and by and large he takes it from there" Liam adds.
While the release date for
Heaven Knows Magnolia
is tentatively set for this year, early 2022 is now looking likely. "I think it depends on what's going on elsewhere" Andy suggests. "There's gonna be hundreds of bands in the same situation in lockdown desperate to release records. There's bound to be a massive backlog in wanting to get anything done on vinyl". "We'll see what happens with a record label when we get the record back from being mastered. It'd be good if it was this year, but there's no rush" Liam shrugs. "We'll see how these gigs go". "We were gig-ready about a year and a half ago, we've just been waiting" Carl says. "And we've got progressively worse!" Liam laughs uproariously.
Talking of live shows, By the Sea's recent return to the stage has seen them venture beyond Merseyside armed with an almost entirely new setlist. "There's only three old tunes in the set. It's a different band in a way, so we can't recreate those songs like we did previously". Liam says. "I quite like being bloody minded like The Fall were: that was the last album, this is the new album, this is what you're hearing" Andy states. The band's next appearance on wax arrives soon as the group are featured on a run of flexi discs issued by Chester based promoters Mai 68. Due for issue later this month the releases are promoted with the wonderful concept of having a gig on a showboat that cruises down the River Dee.
Beyond that the next entry in the outfit's catalogue is already taking shape. Following the completion of the new LP the group have tapped into a fresh seam. "We're on our way to basically making a follow-up album" Carl states. "We're very proud of this album and we want it to get as decent a release as possible, but we're definitely on manoeuvres for the follow-up". "Yeah, we've written two tunes already" Liam nods.
And on that ideal note the interview winds down. With three gigs this month and plans afoot for next year the quartet won't be disappearing off radar anytime soon again thankfully. A superlative, unassuming "bunch of shoegazers in their thirties" who have one of the finest guitar pop albums of the next twelve months in the pipeline in summary. Welcome back.
By the Sea live dates:

Fri Nov 5th, Retro Bar, Manchester Tickets
Sat Nov 13th, Claptrap, Stourbridge Tickets
Sat Nov 27th, River Cruise, Chester (Mai 68 Flexi Launch) Tickets