The Go! Team: The Get Up Sequences Part One (Memphis Industries)
Genre mashing Brighton stalwarts return for sixth album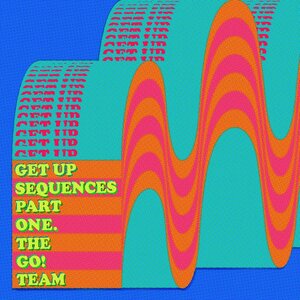 With twenty years passed since debut single Get It Together introduced their boundary mashing approach, Brightonian genre magpies
The Go! Team
return for a sixth outing on
The Get Up Sequences: Part One
. While so many of their contemporaries have faded away, the 'Team's instantly recognisable party-starting amalgam of fuzzy beats, fuzzier guitars, soundtrack samples and chanted choruses proves to be robust health on the new set.
The fact the LP was issued this year is fairly miraculous as even putting the pandemic to one side, the disc was created under monumentally trying conditions. With group mainman Ian Parton suffering from partial hearing loss for much of 2020, the band's architect was stricken with rare condition Menieres disease, which he thankfully seems to have recovered from.
Opening salvo Let the Seasons Work perfectly distils the outfit's sound into 4:13 seconds, as distorted guitars, calypso keyboard melodies, brass hooks combine to evoke the feeling of a block party in full swing. Parton's question / mission statement for the LP, "What would happen if Kevin Shields made an R&B record?" is answered by vocal-free cut Freedom Now which pairs the woozy guitar textures of My Bloody Valentine with a thudding breakbeat. The glide guitar technique resurfaces in I Loved You Better which marries seasick guitar textures, flute melodies and 1960s girl group vocals to winning effect.
Hip-hop infused banger
Pow
is delivered with hallmark aplomb by group talisman Ninja, while The Jackson 5-esque
A Bee Without its Sting
supplies one of the album's strongest moments. A curious choice for lead single Cookie Scene is one of the lesser entries here along with We Do It But Never Know Why which is pleasant if inconsequential. Instrumental cut A Memo For Maceo tips its hat to legendary Parliament- Funkadelic / James Brown saxophonist Maceo Parker, while Tame the Great Plains, evoking a John Huston directed Western, is a theremin-assisted brass band missive.
Concluding on a high, although the title of
World Remember Me Now
sounds like a plea, as mentioned earlier, the present outfit aren't in any danger of being forgotten.
3/5