Interview: The Primitives
Indie rock pathfinders chat about their upcoming tour celebrating classic LP Lovely and future activities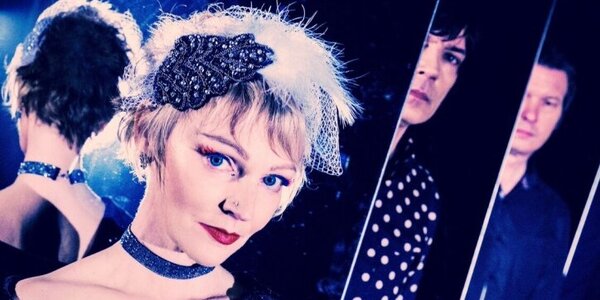 Set to hit the road in celebration of their classic debut LP
Lovely
next month (see below for details), indie pop pioneers
The Primitives
have been busy of late. Superlative single Don't Know Where To Start issued last November saw the Coventry quartet release their first new material in five years. A superb restatement of principles guided by Tracy Tracy's instantly recognisable vocals, the girl group influenced cut came backed with Velvets-esque rock rumble Till I'm Alive on the flip side. Released through the band's own Purifying Tone label, the limited edition run of 7" vinyl sold out on release day.
Marking its thirty-fifth anniversary,
Lovely
saw The Primitives make the leap from underground acclaim with Coventry based indie Lazy Records to major label success with RCA in consummate style, a feat that saw many of their contemporaries come unstuck. Cramming rampaging garage rock, chiming Byrdsian jangle, neo-psychedelia and shadowy noir pop into thirty-four breathless minutes, the LP has aged preternaturally well. Billed by the group as "All the classics, plus a Lovely acoustic interlude", the outfit are dusting off lesser played items in their catalogue for the shows. Which songs can we expect to hear? "Out Of Reach, Shadow, Ocean Blue and a few others" guitarist Paul Court replies. "Six or seven that aren't normally in the live set. There's always the odd Lazy Records era B-side we like to revisit too".
Coinciding with the tour, the Coventry Music Museum is running an
exhibition
for much of this year paying tribute to evergreen power pop gem
Crash
, the album's indelible lead single. Unveiled last month, the Prims opened the event with an acoustic set. How did it feel revisiting the era up close? "Weird, because you go from feeling very distant from it, to it all feeling very present again" Paul replies. "I watched an old
Top Of The Pops
on TV the day after the opening with The Primitives doing Crash. I've seen the clip a few times but because I'd soaked up all the stuff at the exhibition I got a real pang of nostalgia this time, thinking of the mad year we had ahead of us, how young we were and how sad that Steve (Dullaghan, bassist who died in 2009) is gone".
With the exhibition bringing together artefacts from the
Lovely
era, the band's YouTube channel has recently been updated with material from their earlier noise pop period. Showcasing their breakneck take-no-prisoners live show, footage of the Prims'
August 1987 gig at the ICA
surfaced, an event that became embedded in indie folklore as Morrissey, an ardent fan of the band introduced them onstage.
Original promo clips once presumed lost for two of the Prim's earliest landmarks have also been unearthed. Shot in the grounds of Alexandra Palace the video for deadpan punk blast Really Stupid sees Tracy gradually being wrapped in tin foil by the band. The memorable part colour / part monochrome clip for
Stop Killing Me
meanwhile evokes cinematic masterpiece
Vertigo
as the group sporting their finest Brian Jones / Byrds bowlcuts pursue enigmatic Hitchcock Blonde Tracy up the stairs of a tower. "Nothing that isn't already out there" Paul responds when asked if there is any more archive film due. "There are quite a few TV appearances that are yet to resurface, but we don't have them".
Talking of the era, music journalist Nige Tassel's excellent
Whatever Happened to the C86 Kids?
published last year profiled each of the bands on the legendary
NME
compilation. In addition to detailing how each act came to feature on the cassette it tracked down the participants to see how they fared afterwards. As a group in the ascendant around that time, were the Primitives ever approached about appearing on the tape? "Yes, but we declined" Paul states. "As naive as we were, we knew that although it was quite a good thing to be part of a scene or movement in the short term, you could be dismissed in one fell swoop once the next thing comes along. We seem to be associated with it though, all these years later, so have reaped any possible benefit without actually partaking". The twentieth anniversary of the release saw a double disc reimaging of the tape by Saint Etienne's Bob Stanley
CD86: 48 Tracks from the Birth of Indie Pop
who included Really Stupid on the set.
A memorable tour pairing for the Prims was a co-headlining jaunt across North America with Bjork-led Icelandic alt. rock luminaries The Sugarcubes in early 1990. Both firm favourites of US college radio, the Coventry outfit were on the road in support of 1989's underrated experimental / pop hybrid
Pure
. "Einar from The Sugarcubes (co-lead vocalist) was an unusual chap" Paul recalls of the trip. "He'd come in with a broom and sweep up our dressing room each night while carrying Tracy around on his shoulder! The oddest bit was near the end when we played Daytona Beach, Florida during Spring Break. There were frat boys and wet T-shirt competitions all over the place, I never felt so out of place in my life. It was a big tour for us, it lasted about seven weeks".
Following the Lovely anniversary tour, the successor to Don't Know Where To Start appears to be taking shape as the group's social media platforms recently mentioned new material is in the pipeline. Is there any further news of upcoming releases? "There are new recordings, but I can't say anymore than that at this point" the guitarist replies intriguingly. A final question then, who have you been listening to recently, any new finds or rediscovered old favourites? "I like the Panda Bear, Sonic Boom album
Reset
" Paul says. "I enjoyed delving into the
Revolver
stuff last year too. A big favourite of mine from when I was a kid".
The Primitives Lovely 35th Anniversary Tour:

Fri May 19 Sunderland, Pop Recs Ltd
Sat May 20, Glasgow, Broadcast
Sun May 21, Leeds, Sunny Bank Mills
Mon May 22, Milton Keynes, The Craufurd Arms
Weds May 24, Leicester, Firebug Bar
Thurs May 25, Birmingham, O2 Institute
Fri May 26, London, O2 Islington Academy (w/ The Woodentops)
Sat May 27, Bedford, Esquires

Tickets here
London & B'ham Tickets here

UK / EU Festivals:

Sat 17 Jun, Sign of the Times, Hertfordshire
Fri 21 – Sun 23 Jul, Forest Festival, County Laois, IRE
Sat 22 – Sun 23 Sep, Visor Fest, Murcia, SP
Fri 17 - 19 Sun 19 Nov, Shiiine on Weekender, Minehead, Somerset