Interview: Black Doldrums
Gothic psych rock outfit chat about the making of their acclaimed debut LP Dead Awake and forthcoming UK tour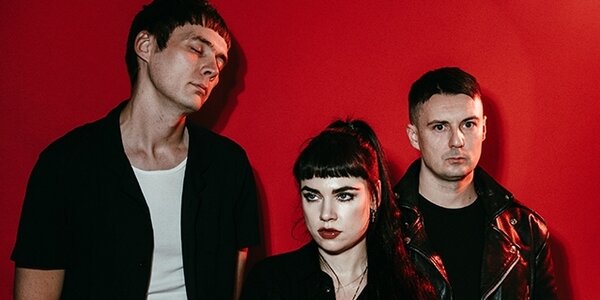 Finding a receptive audience over the past half decade with a string of standout releases,
Black Doldrums
recently issued their sterling debut LP,
Dead Awake
. Clocking in at a svelte twenty-eight minutes, the eight track set showcases the band's trademark gothic / shoegaze alloy with a burgeoning sense of melodicism to their material.
With pandemic understandably scuppering plans for the entire world for the past two years, the album landed in the racks early last month. "It feels so good to get the record out" Sophie Landers (drums/vocals) says of the LP. "It's been finished for a while and Fuzz Club signed us and the record over a year ago. It felt like we had this amazing record that we were really proud of but we had to keep it secret. It's just so good to get it out and show all the work that went into it". "Yeah it certainly is a relief to have it out there" Kevin Gibbard (guitar/vocals) responds. "When you're so close to an album of songs and the preparation it takes to put out a record, it all becomes quite familiar quite quickly but having people's response to the music is what it's all about and breathes new life into the material. Especially getting to perform it live feels good!"
A two-piece drums n' guitars outfit since their mid-2010s formation, the 'Doldrums recently expanded to a three-piece with the arrival of bassist Matt Holt. How has Matt joining the group changed the band dynamic? "Obviously there's now three of us on stage which is different, but we still work the songs out in the same we always did" Sophie states. "The only difference now is there's a bass added to the mix and someone else adding their feedback – literally – during that rehearsal process. It also opens stuff up for more guitar work and space on the drums. We're really looking forward to getting Matt on the next album as
Dead Awake
was Kev and myself".
"Yes, for me it's pushing things forward musically" Kev says. "Before, when it was the two of us we prided ourselves on creating as much noise as possible and through experimentation we're really proud of what we achieved, but I think we couldn't go any further. We now have options, and dynamics to play with as well. It hasn't changed the overall sound too drastically, but it certainly adds clarity. It's also reflected in the writing as we take more of a direct approach. He's a pleasure to play with and looking forward to seeing what we come up with for further releases".
Having worked with storied punk producer Pat Collier (formerly of The Vibrators) and Spiritualized / Depeche Mode associate James Aparicio on previous discs, a fresh perspective was sought for the album. Jared Artaud, lead singer and guitarist of post-punk / electro notables
The Vacant Lots
signed on to sit in the producer's swivel chair for the sessions. "We supported TVL on their UK and Paris shows in 2019 and Jared liked our music. He mentioned how he could hear elements coming through that wasn't captured in our recorded work" Sophie recalls "We just thought afterwards that he'd be good to work with". "It was one of those chance meetings where everything clicks" Kev adds. "We all totally understood each other and totally respected what they have done and continue to do with their music. It made perfect sense really".
Labelmates on cult indie label Fuzz Club, the Vacant Lots' frontman brought a laser sighted focus to the new material. "Jared is a very hard worker and perfectionist, it was refreshing to work with someone so passionate and interested in creating something new and bringing the band to life" Sophie replies. "Yes, he is indeed" Kev agrees. "And I think he would agree when I say he is brutally honest. We were aiming to have something clear and concise with no nonsense. Hopefully people can hear we achieved that".
As previously mentioned,
Dead Awake
makes a virtue of its concise running time, with the band describing their editing decisions for the LP as "brutal" to achieve what they wanted. Did many songs or early versions end up being discarded? "Yes, there is probably about an hours' worth of music on the cutting room floor but that comes from the very start of writing, right up until the final mix" Sophie responds. "Jared would often say "Cutting the fat" and whilst it was difficult at times he has taught us to be absolutely brutal with our own music in order to do our best and aim to be an expert. The album is definitely all killer no filler" Kev adds.
With a lengthy run of shows set to commence this week (see below for details), the trio are gearing up to hit the road for their first tranche of post-pandemic live dates. "It will just feel nice to get back to doing this properly again, with no weird gaps" Sophie states. "I'm especially looking forward to the weird food you find yourself eating on the move. Crisps in a van!" Kev enthuses. "That and obviously playing new material to people! We all feel really bowled over by the response. We know a lot of people have been waiting to hear the LP live".
As for what might feature on the tour van's playlist, Sophie selects "A lot of electronic stuff" and Hans Zimmer soundtracks while Kev chooses
Unity
, the most recent LP by psych / post-punk outfit The KVB as current listening choices.
One of Black Doldrums' strongest tracks, the second cut from
Dead Awake
, Into Blue sees the band deliver a gorgeous New Order-esque elegy. "That was a reference to an old song I wrote when I was a teenager" Kev explains of the song's genesis. "I took the line Into Blue and twisted the lyrics around as there was a sense of irony because as I was writing it. Sophie was also just growing up down the road but we never knew each other until years later when we met miles away in Brighton. It's a song about fate basically".
As Into Blue and several other songs from the new disc showcase, synths now feature more prominently in the band's sound. How has it been converting the new material for the stage? "We like playing with technology in certain amounts so if you see us live you'll hear enough of a synth sound to make the correlation between the album and a live version" Kev says. "It's tricky as we just don't have enough hands, but we make it work I would say. And performing them live they kind of have a life of their own really and we're happy to let the songs develop naturally".
Beyond the tour Black Doldrums' next move is already being plotted out. "We're actually working on one now!" Sophie responds to the question if the next album is in the pipeline. "Yeah, I'm not sure when but we certainly have more than enough material" Kev states. "As soon as this one was finished, I was already writing. I never stop really, so we're rehearsing new songs on and off so we're ready to record when the time comes".
Dead Awake is out now through Fuzz Club

Black Doldrums Tour:

22 Apr, Manchester, Night and Day Cafe
23 Apr, Huddersfield, Venn Street Social
24 Apr, Leeds, Oporto
26 Apr, Leicester, Firebug
28 Apr, Hull, The New Adelphi Club
29 Apr, Todmorden, Golden Lion
30 Apr, Liverpool, Smithdown Rd Festival, Black Cat Stage
1 May, Glasgow, Stag and Dagger (Venue TBA)
8 Jun, Nottingham, The Bodega
9 Jun, Winchester, The Railway Inn
10 Jun, Exeter, Cavern
11 Jun, Falmouth, Psych Fest (Cornish Bank)
15 Jun, London, Islington, The Grace
16 Jun, St Albans, The Horn
17 Jun, Northampton, The Black Prince
18 Jun, Bedford, Esquires
30 Jun, London 229 (supporting The Primitives)
21 Oct – Sat 22, Nottingham, Karma Weekender, Chameleon Arts Cafe

Tickets here