Interview: The Primitives
Indie pop pioneers chat about their forthcoming tour and future plans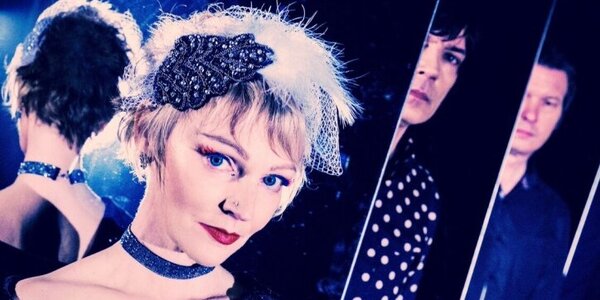 Locating a perfect midpoint between the gnarly guitar textures of scabrous alternative rock and the brevity of sixties garage groups,
The Primitives
are harbingers of what came to be known as indie pop. Fronted by Tracy Tracy's melodic lead vocals and Paul Court's Byrds-meets-The Stooges guitar work, the group found their feet remarkably fast, winning positive notices from the music press only months after their line up was solidified in 1985.
A string of classic 7"s issued through independent label Lazy ensured the Coventry outfit became the first of their contemporaries in the mid-eighties indie scene to go overground. Reconvening after a seventeen year break in 2009 with drummer Tig Williams and bassist / producer Paul Sampson joining two years ago, the band's sunshine punk is in redoubtable health, as proven by last year's well received Electric / Acoustic tour. Re-establishing themselves on record with 2012s excellent
Echoes and Rhymes
which featured a selection of covers of lesser-known girl groups and 1960s gems, impressive follow up
Spin-O-Rama
landed in 2014.
Heading back out on the road for a slew of dates, first order of business for the quartet is a homecoming show at Coventry Empire on Friday 1st April. "Yes, we're looking forward to playing there again, 2016 was the last time" guitarist Paul states. "The new show was postponed from December, because Tracy was ill. We'd sold a decent amount of tickets – near to selling out, which is surprising as there's never been a big hometown love for the band. We never built up a following in Coventry. We kind of just started playing London from the off to get press and stuff. Also, before we'd even got a record out, a hate campaign was started up by a couple of twats who did the music page of the local paper. It ran pretty much for the whole of our career first time round, so there was none of that 2-Tone local hero stuff for us".
A longstanding hallmark of the Primitives live show is their sheer velocity, the next track starting up before the applause has barely ebbed away. Able to blast through a twenty-song set in just an hour, YouTube uploads of the band's 1986 concerts underlines how this has long been the group's live MO. What inspired this tactic from the early days to now? "I guess it's that battering ram punk approach" Paul replies. "Trying to avoid awkward pauses on stage, trying to knock people off their feet before they get a chance to properly evaluated whether you're shit or not! Nowadays it just feels customary to play, at least some of the set, like that".
Anthologised in impressive style by revered reissue label Cherry Red, the first half of the Primitives' career was issued as five disc set
Bloom! The Full Story 1985 – 92
in 2020. While absolutely everything the group had recorded up to that point is readily available, parts of group's videography is frustratingly inaccessible. "There is a channel that has the Crash vid and a few other things, which I think is an official channel of some sort" Paul says of the Prims' Vevo platform. Promos for the group's classic singles, Out of Reach, Secrets and Way Behind Me however are only available (it seems) on Apple Music and no other websites. "It's something to do with the rights" the guitarist explains. "I tried loading them up to Facebook and YouTube once, but they were muted immediately"
Similar to how the BBC launches appeals every few years for lost (ie: wiped) episodes of
Doctor Who
and more pertinently
Top of the Pops
meanwhile, copies of the group's earliest promo clips have gone walkabout. The videos for noise pop stompers
Really Stupid
and
Stop Killing Me
are only available as incomplete, fuzzy VHS rips. Are we likely to see the videos in full online at some point? "Only if someone has them and can put them up" Paul states. "None of us has a copy of the first two Prims' vids".
Alongside the usual posters and badges, the present group had a knack for memorable merchandise concepts (a Christmas Tree bauble was available a few years ago). The launch show for what became the band's biggest hit saw attendees gifted a free "Crash" chocolate bar, now available in non-edible form as a bookmark. In addition to choc were there any other unusual items included with releases? "There was a sachet of
bubblebath
. I can't remember the meaning behind this, I'm sure bubblegum would have made more sense" Paul responds. "Maybe someone misheard an idea and that ended up as our version of Spinal Tap's Stonehenge balls up!" The promotion featured with copies of Way Behind Me, and led to chart compilers Gallup reducing the disc's sales tally as sachets constituted a "free gift", which fell foul of the arcane chart rulings. Instead of an entirely deserved Top 20 placing the track went no higher than Number 36.
The emergence of The House of Love, Primal Scream and particularly The Stone Roses in the second half of the eighties saw the indie sector drawing inspiration from vintage US and UK psych outfits. The Primitives' longstanding fascination with the genre dates back to some of their earliest songs as We Found A Way To The Sun, Ocean Blue and Thru the Flowers showcased. Do you feel critics from that era from overlooked The Primitives' contribution to psychedelia's revival during the period? "Cherry Red put Ocean Blue on a late 80s psych boxset a few years back (
Losing Touch With My Mind: Psychedelia In Britain 1986-1990
) so there was a small bit of acknowledgement recently of that aspect of the band" Paul states. "We're mostly known for the singles though, obviously, which tended to be sort of punk pop, so only someone that would bother to take more than a sideways glance would have known that there was anything more going on".
The Primitives' 1991 LP
Galore
stands as their most psychedelic, its guitar shimmer and pastoral lyrics picking up a strand established on 1989 LP
Pure
. The last in the band's initial three album run before their dissolution in 1992, parts of the LP were tracked at Amazon Studios, Liverpool under the watchful eye of Echo and the Bunnymen associate and future Lightning Seed Ian Broudie, who also contributed bass. "We really liked working there" Paul recalls. "It wasn't like one of these posh residential Home Counties studios, more like the studio we used in Coventry but better equipped. Ian McCulloch was in the other studio and (Shack leader) Michael Head too. People from
Brookside
would pop in. You knew you were in Liverpool.
Last heard on record with 2017 short and sweet four track EP
New Thrills
, a Facebook post last year suggested the quartet were considering a future EP or LP, which could possibly see the group in unplugged mode. Are there any plans still afoot? "Maybe. I have some new songs and some of them sound very much like The Primitives, so there have been discussions about some sort of release" Paul says. "As I said before, coming off the acoustic shows last year, it would be good to properly record a few acoustic versions of a bunch of old songs for possible release".
An anniversary is on the cards for next year meanwhile as the Prims' classic debut LP
Lovely
turns thirty-five (the appropriate wedding celebration is coral it turns out). Will there be any events to mark the occasion? "Nothing planned, though Coventry Music Museum are doing an exhibition centred around
Crash
, which will have been a hit 35 years ago next February" the guitarist states. "So we'll have to hunt around for some bits to contribute to that".
The Primitives Tour:

1 April: Coventry Empire
28 May: Rise Up Festival Ashford Kent
28 June: Reading Face Bar
29 June: Guildford Boileroom
30 June: London, 229 (w/ Black Doldrums)
2 July: Sign Of The Times Festival, Herts
5 August: Stone Valley Festival (North)
6 August: Rebellion Festival, Blackpool
11 August: Cambridge Junction
13 August: Brighton Concorde 2, Edge of the Sea Festival (w/ Wedding Present)
27 August: Stone Valley Festival (Midlands)
16 Sept: O2 Institute 3, Birmingham
17 Sept: Speakeasy Volume Two, Bucks Students' Union, High Wycombe
Tickets
here