Black Doldrums: Sad Paradise (Club AC30)
London psych/goth duo return with formidable new EP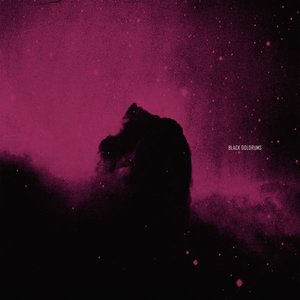 Their first release for redoubtable psych label Club AC30,
Sad Paradise
sees rising London duo
Black Doldrums
return with a score of gothic shoegaze gems. Taking its title from The Denver Doldrums, a poem Allen Ginsberg gave as a gift to Jack Kerouac, the title has a fascinating back story as Kerouac misread Ginsberg's handwriting and created the moniker of his most famous protagonist, Sal Paradise from
On the Road
.
Opening with
There Is No Eye
(possibly named after the collection of folk music / beat culture photos by John Cohen), the colossal swirl of Kevin Gibbard's guitars and the thunderous beats of drummer Sophia Lacroix sets out their stall in forthright fashion, Gibbard's voice a focal point amidst the layers of fuzz, reverb.
People's Temple
, the second single to be pulled from the EP provides the highlight, a psych pop song extended into a jam that shimmers like moonlight on a lake. Trident showcases the duo's softer side, a succession of guitar figures anchored by a patter of tom-tom drums that evokes early days The Verve at their darkest.
Co-produced by James Aparicio, holder of a CV engineering acts with a strong penchant for the gothic: Spiritualized, Depeche Mode, Nick Cave,
Sad Paradise
has an expansive, less is more edge that lends the tracks greater weight. Underlining their influences, motorik psych groove It's a Dandy Massacre takes the title of one of the 'Warhols best psych jams, their cohorts the Brian Jonestown Massacre and the pitch black psychedelia of their buddies The BRMC. Presumably the conclusion of Black Doldrums live show, the track develops into a pulsating Kosmiche epic that ebbs away after nine minutes.
Maintaining a prolific release rate since their debut appearance on disc in August 2016, where into the night 'Doldrums head after this is eagerly anticipated.
4/5
Black Doldrums live dates:

Sat Jan 19: Helicon EP Launch: Nice N Sleazy, Glasgow
Weds Jan 23: This Feeling, Big in 2019: The Monarch, Camden, London
Fri Jan 25: Label Mates Festival 2019: Oslo, Hackney, London
Sat Jan 26: Label Mates Festival w/ Hey Colossus: Oslo Hackney, London
Sat Feb 2: WDR Presents- IVW 2019 w/ Black Doldrums/Sun Scream: Bassment, Chelmsford
Sat Feb 23: The Cult of Dom Keller, Black Doldrums: Acid Box, Brighton

Tickets are available here