Black Doldrums: Dead Awake (Fuzz Club Records)
North London gothic shoegaze notables repay the promise shown on earlier releases with excellent debut LP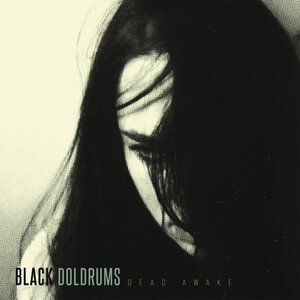 Following a score of increasingly
excellent singles and EPs
, North London gothic shoegaze notables
Black Doldrums
deliver their debut album. Initially a duo, bassist Matt Holt has been recruited to the fold alongside Sophie Landers (drums/vocals) and Kevin Gibbard (guitar/vocals).
Dialling down the coruscating feedback and gnarly textures of earlier releases,
Dead Awake
is streamlined and sleek. With Jared Artaud,
The Vacant Lots
' lead singer / guitarist on production duties, everything here is in sharper focus than previously, the vocals pushed up in the mix, the synth textures more translucent, the guitar sound less scathing.
Eight tracks long - a good omen, two-thirds of treasured influences The Cure's gothic trilogy,
Faith
and
Pornography
also do - the 'Doldrums talked of being "absolutely brutal with our songs and cut(ting) them down to what we only felt was necessary" for the LP. Adhering to the brief, the stipulation have clearly been followed as the set is done and dusted in under half an hour.
Bursting into life like
Automatic
-era Jesus and Mary Chain spliced with New Order-period
Technique
,
Sad Paradise
updates state of the art 1989 alt. rock for the present day. A track that could soundtrack a teen heartbreak scene from
Stranger Things
,
Into Blue
stands as possibly the group's best moment to date, the subtle shift in the cushioning synth chords during the chorus showcasing their songwriting wherewithal. The steely drive of Sleepless Nights pairs refracted shoegazing guitars with a straight ahead rhythm track to sterling effect.
Changing gears Now You Know This is a pulsating electro-waltz and All For You is a swooning mixture of Cocteau Twins' guitar textures and crepuscular atmosphere. Dreamcatcher sees Gibbard's vocals recalling the dark croon of Depeche Mode frontman Dave Gahan while Runaway has elements of the darker end of 1960s psychedelia cf: Jefferson Airplane and
Satanic Majesties
period Stones about it.
Departing with the toughest sounding track on the set – its central riff sounds like a distant relation of Enter Sandman – Sidewinder is an audacious farewell. While possibly a smidgen more guitar fuzz would have been welcome,
Dead Awake
sees Black Doldrums make the leap to the long-playing format in considerable style.
4/5