Black Doldrums: She Divine (Club AC30)
Gothic shoegaze with increased melodicism on new EP from the London based duo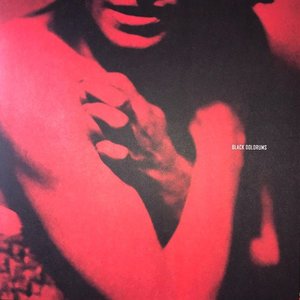 Returning after last year's splendid
Sad Paradise
EP, London gothic shoegaze sorts
Black Doldrums
return with another platter of heavily reverbed psych cuts,
She Divine
.
The storming title track, one of the year's best shoegaze moments is the duo's most immediate moment to date, the strong vocal melody and earworm chorus hook supported by the dynamic shift between verse and chorus. The most melodic track they've issued, more of the same would be highly welcome. In addition to the increased focus melody, the duo have grown in confidence, as the set tracked alongside producer Pat Collier from punk notables The Vibrators, sees the vocals pushed higher, the drums more powerful, the riffs sharper.
The superbly titled Those With A Rope Around Their Neck (Don't Always Hang), issued as a single last year makes a justified reappearance, its guitar curlicues masked by a storm cloud of reverb and distortion. Hearts That Beat Will Never Mend by design or otherwise has a guitar riff dimly redolent of politically charged R.E.M. classic Disturbance At the Heron House which saw the Georgians cast a critical eye over the Reagan nation in 1987.
Increasing the velocity Mae's Desire evokes Psychocandy era Mary Chain with it's driving tom-tom beat that anchors the Tremelo sated guitars and descending string scrapes. Opening with a sample of Aleister Crowley's The Poet (" Bury me in a nameless grave…") a remix of Those With A Rope… underlines the influence on the EP of the occultist and his associates 1920s singer, dancer Betty May Golding (aka Tiger Woman) inspired She Divine. Accompanied with a deftly played sitar part, the new mix despite the demonic associations opens a shaft of sunlight on to the song. Divine? Pretty close.
4/5
Black Doldrums Tour:

Thurs 26 Sept: Liverpool, Craft Taproom
Fri 27 Sept: York, Fulford Arms
Sat 28 Sept: Riv Fest, Warrington
Sat 5 Oct: Reading, Purple Turtle
Fri 11 Oct: Seabright Arms, London
Sat 16 Nov: Shiiine On Weekender, Minehead