Babbling April: Days Of Retreat (Self Released)
This is not a time for pigeon-holes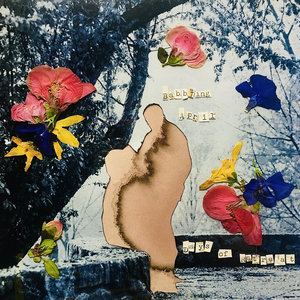 If there could be a one-line review for this record—or
Babbling April
in general—it would be this: They're in the business of shifting gears with the dexterity of a getaway driver.
Being as we aren't in the business of one-liners, and these guys deserve so much more, I will digress. But let that sink in for a moment.
When you delve into a record such as this, you untether yourself to any sense of what a record 'should' be. Rhyme and reason are locked in a box, beside Schrödinger's cat. Neither alive nor dead.
Such is the magic of a record that can delve deftly into garage-punk and thoughtful indie, before dropping you into some gorgeous instrumentalism. It is their third self-recorded EP. A testament to the town of Baltimore where they grew their sound, to Washington DC (where they relocated to), and all the buttoned up drudgery they rail against.
City To Spit In hits back at citywide gentrification, hurling you into their punk sentiments, a la Violent Femmes. Imbued with the rage of feeling your city no longer belongs to you, Dave New's words reverberate as he juxtaposes yogis looking to buy "
artisanal pastries
" with "
junkies
". Its brittle drumbeat has swagger as he spits hard truths.
For all their exploration and edge, the folks of Babbling April are consistent in one thing: The weaving of female and male vocals. Tracks like Days Of Retreat serve to take the pace down a notch, offering a gorgeous and pensive duet. The simplicity of the drum loops, twinkling keys and the slightest undercurrent of a baseline hint at an easier life in words "
I've been thinking we should go out west/Get the hell out of Baltimore
". The longest track on the record, with its 'outro' making up a good two thirds, as the sound becomes richer it is imbued with hope and the generosity of love.
Standing alone, Vivienne Machi's vocal styling's are wonderful. Opening track
Worst Kinds Of Parties
promotes her raw talent, supported by a soft funky shoe-gaze that is reminiscent of The Flaming Lips. It is kaleidoscopic, hinting at the gap between becoming a proper 'adult' and a 'youth'. Casting a wry eye on all those parties you still attend, even if you question why you came, and why you stay. Prize for the best and funniest lyric goes to: "
your charming smile seems more now like a shit eating grin
".
The central part of the record pivots on some pretty stellar instrumental work. Into Crisis Beds has an almost sombre edge, undercut with audio of a lively party. My Spiral Head sets a similar tone yet with a drumbeat in moments that drives the track forward, ending with yet more sounds of merrymaking.
Narcissism energetically elbows you in the ribs after this reprieve, proffering some unadulterated indie magic with Vivienne as lead. The way the riffs and drumrolls are bolstered with elemental space creates openness throughout the track. It is pure indie, with vocals that can sometimes stray to tones of The Runaways.
Speaking about the record, Babbling April summarize well in saying their "songs are often bittersweet snapshots of the ephemeral nature of life". It can certainly be felt in the energetic and emotive qualities of their sound. Just a cursory glance at their website will attest they were formed in the fire of house-shows and 'zine culture. It is that 'home-made' quality that enriches their sound, so it feels like they're singing directly into your soul. We only hope that the world can safely open up again soon. Soon enough for us to be able to witness a live show, for it is sure to be a raucous, rapturous and rebellious affair.
8/10