XIMXIA: Anywhere But Here (Self Released)
LA pop artist unveils impressive, brooding debut EP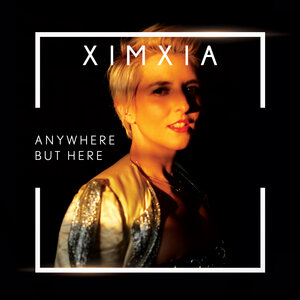 The debut EP from LA singer / songwriter
XIMXIA
(pronounced shem shee-ya, we have it on good authority) is a record of subtlety and nuance. Toeing the edges of delicious pop licks, she also somehow manages to back shyly away from the limelight.
Second track Pretend is dark and brooding, serving stunning syncopated rhythms before dropping some sugar. It hypnotizes before sweeping into a sweet harmonized chorus, the twinkling keys swirl through a stream of beats and reverb. It shows a lot of balls, and speaks to her multi-instrumentalist chops. There is no doubt this lady has a deep understanding of her craft.
EP opener and title track Anywhere But Here restrains the darkness to a low rumbling rage that formulates a solid breakup anthem. The low-lit beat and whispering baseline tugs at you as she croons "
Finding the pleasure in the pain
", before baring fangs for the chorus. Sampling the sheer relief of leaving a torturous love, the break opens up for the reprieve "
Someday you will think of me / And I will not remember your name
".
Incidentally, the
video
doesn't shy away from the darkness either. Portraying the singer as a woman pushed to her limits and out for blood, XIMXIA is truly terrifying. Well worth a watch for the horror vibes!
The final two tracks play with this expansiveness. Elements of The XX peek through in moments that can seem quite tentative. Open spaces push up against lyrics like a balloon. Invading When You Breath with this claustrophobic air raises the quiet tension before allow us to inhale fully for the chorus. Lyrics "
I'll be there when you breathe / And when you're on your knees / I'll be the one for anything and everything you need
" become a life raft.
Finishing with Spaces, we are gifted an all-out nineties pop number a la Everything But The Girl. Curiously, however, the chorus flows to realms of Katy Perry, but with a brittle beat pushing through as lyrics chime "
I drank your poison / Ignored the warnings
". It is an interesting mix of powerful positions, and one that melds so well to create a unique and powerful piece of music.
With only four tracks to sink our teeth into, naturally we have been left wanting more. There is no doubt that XIMXIA has additional powers hidden in her depth. And with her metamorphosis from instrumentalist to solo artist fresh and full of new direction, she's sure to be keeping them under wraps for a full-length EP. We just hope we wont have long to wait for more! After all, this record feels like a snake shedding her skin, revealing fresh new colour underneath. But we want to see more hypnotic eyes and venomous fangs!
4/5