William Doyle: Alternate Lands (Tough Love Records)
Brainy and beautiful baroque-pop inspires and delights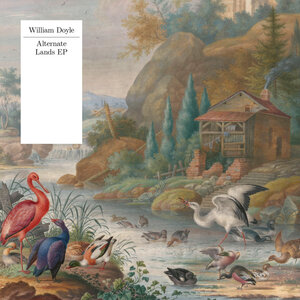 The best part of reviewing records is that eureka moment when, out of nowhere, something new and wonderful falls into your lap.
This reviewer had never heard of
William Doyle
before now. My loss. His four-track EP
Alternate Lands
is packed with ideas, but never at the expense of melody or emotion - and an extremely tasty appetiser for Doyle's next LP.
Opener Autumn Is Your Last Chance is a mordant Robyn Hitchcock tune which observes that "
The leaves have never looked as good / As now they're going to die
". Doyle's unaffected, very English voice wrings maximum emotional impact from the words and slightly spooky melody. Drum machine and streamlined 80s synths join the mix. The result is spaciously lovely, meshing acoustic and electronic elements into a perfect 21st century torch song. The coup de grace comes with judicious use of the phased, shimmering organ sound used to such great effect on early Spiritualized records.
It gets even better on the incredibly catchy The Unanswered Why, which makes ecstatic sunshine pop out of mental collapse (yep, it really shouldn't work but it does). Twangy guitar, an irresistible stop/start rhythm, heavenly backing vocals, some intriguing words ("
A vapour trail of disgrace
") and anthemic 70s guitar create a very tasty enchilada indeed.
Inner-National has similar lyrical concerns. "
Where do you go in your head?
", it asks a loved one who is retreating from the world into their troubled mind. Starting, sad and stately, it builds and builds, epic as hell without being at all pompous or overblown - the acapella outro is delicacy itself.
Closing song An Apparition (without event) has a more familiar feel, an intimate, country-tinged meditation. It was written before lockdown but doesn't sound like it, hymning the benefits of slowing down and smelling the flowers. It's a nice tune, but less remarkable than what came before it.
However, by then this writer has been well and truly won over. Doyle is a special talent. He deserves a wider audience.
5/5