Lovecraft: Out Of Ether (Self Released)
Left field Merseyside alt. pop ensemble return with impressive new set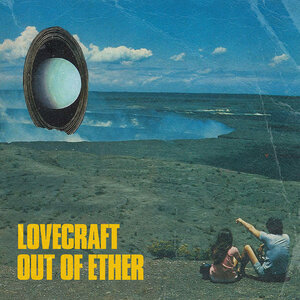 Five years after their excellent second album
The Nervous System
which seemed to suggest their swansong, Liverpudlian avant pop outfit
Lovecraft
return with new EP
Out Of Ether
. Possibly spurred back into life by the lockdown – the four tracks here were all recorded remotely – or a desire to tie up loose ends, the result is good news either way, as the set maintains the quality of their previous release.
Piloted by Lovecraft leader Craig Sinclair's Jarvis-esque vocals, the xylophone music box melody of opening cut
Ticking Over Nicely
supplies an earworm chorus hook, "
You were nearly giving me a heart attack / What am I to make of that?
", the reference to Ingmar Bergman's
Through a Glass Darkly
maintaining the band's longstanding interest in cult cinema.
On the subject of which the classic, off-beat study directed by Rolling Stones collaborators the Maysles Brothers of two down on their luck Jackie O related aristos in their dilapidated New York mansion provides the title of
Grey Gardens
, next. Anchored by a dub bassline, distant shore vocals and abstract brass interjections, the track shares some of the dark ambiance of Damon Albarn's The Good, The Bad and The Queen side-project.
Constructed around a repeating acoustic arpeggio beautifully arranged downbeat cut The Exorcist appears to be the resigned tale of a resident ghost that has vacated the property "
A house without a ghost / Is no kind of home
". Elsewhere the mantra-like Back of My Mind consisting of a single line of lyrics "
I push it out / To the back of my mind
" evokes The Flaming Lips by candlelight during a power cut.
A pleasant surprise considering the group seemed to have drawn a line under proceedings a while back, this an unexpected delight.
4/5
Available from Bandcamp here