Interview: The Go! Team
Go! Team mainman Ian Parton chats about the band's acclaimed new album Semicircle and their upcoming UK live dates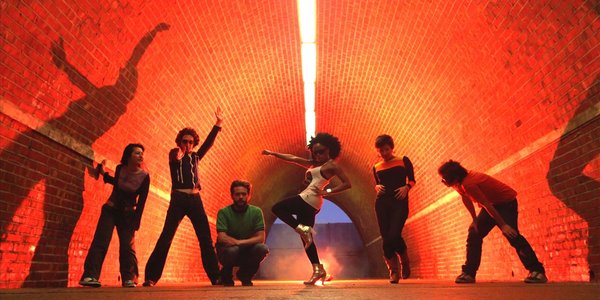 Returning with reliably excellent new album
Semicircle
in January,
The Go! Team
added a new strand to their eclectic, genre-strafing approach, with tracks piloted by the persuasive stomp of brass bands. Journeying to the Motor City to work on the LP, songwriter/producer Ian Parton recorded with a marching band and the Detroit Youth Choir, stacking up layers of sousaphones, glockenspiels and steel drums into a formidable Wall of Sound. Landing in the UK Top 40 Album Chart, their first entry since second album
Proof of Life
and scooping a wealth of positive notices plus a clutch of radio hits,
Semicircle
sees the ludicrously underrated outfit on a resurgent streak.
Following a score of UK dates earlier in the year and a recently completed stint Stateside, a slew of festival dates are the next order of business for the Brightonians (see below for full details). Renowned for their celebratory high energy
live shows
led by talismanic lead vocalist Ninja, the 'Team seem to have found their ideal fighting weight as an eight-piece live band. 'You could keep going forever really. I guess two brass players is the minimum, if I had my way there'd be six of them probably' 'Team leader Ian says on the phone from his home in Brighton of the band's present live octet. 'Because we do so many different kinds of songs, it takes Ninja to cover the rap-py, chant-y ones and then more of a sort of sing-y approach with Maki (vocalist/guitarist Angela Won-Yin Mak).
'The thing with The Go! Team when there's so many different kinds of songs, we need someone that can play trumpets and bass and banjo, then you've got all the samples and stuff. When people can't make the shows we have to drop songs, it is hard. People have jobs these days, so it's all done in the holiday time. The brass gives it that extra layer of toughness and that frequency that cuts through and takes your head off. It's there in the samples and stuff but it's never the same when you have the real deal'.
While brass has featured on the band's records prior to
Semicircle
, the new LP pushed the instrumentation to the forefront in a way that hadn't been heard before. 'I guess that's a thing that's particular to me really' Ian says of the brass-augmented tracks. 'I think brass in the wrong hands or with the wrong approach can sound like a game show or something, it can be a bit muzak-y, or it can be horrible eighties Phil Collins as well. I'm totally aware of the potential pitfalls! The side of it I love is the kinda sledgehammer-ness of it, the action-packed thing, even the violent, stab-by feel of brass' Ian enthuses. 'Also, the community element you have when you get people are sincere and really wanna do it but maybe aren't the best players. The feel of it you get of it being a high school thing'.
'There was a DJ Shadow compilation called
Schoolhouse Funk
which was a compilation of field recordings from high school bands in the 1970s and 80s, which was an influence, but no-one's ever really done it in a way that I'm satisfied with as well. It's always a bit too pagent-y or I think there are sort of dodgy associations with marching bands as well. When you layer up lots and lots of brass, if you're standing next to it it's a fucking onslaught, it's a visceral as a death metal band'.
'I wanted to communicate the scale of the album in some way, the ambitiousness of it' Ian says of the vaguely
Sgt. Pepper
, community orchestra themed LP cover. 'I always thought that marching bands are quite sort-of psychedelic, the college American ones, if you look at the outfits they wear, they're fucking mental, they're gaudy, really trippy, like the one we filmed for the
Semicircle Song
which was purple and red. No-one dresses like that in any other uniform really!'
Rendered in glorious high definiton, The Go Team's
barnstorming live sets
are all the more impressive for the eight players being perfectly balanced in the mix. 'It's kind of a long time, we've got a lot of gear, we're using the in-house sound people as well, so it's an in-at-the-deep-end situation as well' Ian says of getting the levels just so at the soundcheck pre-show. 'Each song needs something different, that's the thing. The style of songs flips from second to second, so it really keeps people on their toes as well. Often people don't always get it right, but I think our kind of dedication and energy takes people with us, even if the sound isn't always bang-on'.
'I get conflicting reports all the time' Ian says of the sound quality live. 'I always get mixed messages, someone thinks it's brilliant, someone thinks it's atrocious, but often the teetering on chaos, feedback side of things, some people think it's a mistake sometimes. They think there's a mike feeding back, when we actually want it to be a bit random, a bit on the edge. I don't really like silence between songs. I kind of want it to be one big flowing… assault!' the guitarist laughs. Do you think this abrasive side of the group goes back to the band's Sonic Youth influence? 'Yeah, I think that's what gives us some extra dimension that separates us from what people might think of as our contemporaries, whoever they would be, CSS or Superorganism or whoever the fuck people think we're like but we're not!' Ian states. 'We're a more extreme version, we're not a dance outfit. I don't know what it is, we're some sort of hybrid, but that distorted side of things is really important to me and what keeps it interesting, that almost violent side of things'.
On stage the band prepare to launch into each track once the guitar feedback between Ian and Team stalwart Sam Dook has peaked. Suiting the group's band-as-gang ethos Ian's raised arm signal at the top of the song is almost the Go! Team Assemble call sign. 'I like The Clash for that sort of thing or The S1Ws (Security of the First World, part of hip-hop icons Public Enemy during the 1980s)' Ian says 'it's a kind of a call to arms type moment'.
An insight into Parton's creative process, the sleevenotes for the group's groundbreaking 2004 debut LP
Thunder, Lightning Strike
has 'The Answer's Yes, Now What's the Question?' jotted down, a phrase which re-appeared as The Answer's No, Now What's the Question? on the new album (Closer inspection also reveals future song titles Gaffa Tape Bikini and Fake ID). 'Yeah, I keep these little books of slogans going back to the nineties. I think it was actually from an advertising campaign from an American advert in the seventies, something like that' the songwriter recalls. I think the reason it changed from Yes to No was it felt more zeitgeist-y, more a slogan fitting to our times, people saying No to stuff. It's much more appropriate to say 'No' to things these days than 'Yes'.'
Similar to the way Kurt Cobain wrote, pulling phrases from poems and ideas in his journals, Ian works from stored material. 'Often song titles and album titles I raid my notebooks and see if anything sort of fits the bill. Chico's Radical Decade (from the new LP) was a notebook thing as well. I can't remember where that came from to be honest. I did it yesterday actually, if I ever make the mistake of going into Starbucks I tell them my name's Chico to cheer myself up. Just to hear them shouting out 'Chico' across the shop! There's always a song like this on very album, sort of like a Canadian wildlife VHS type of song. Rolodex the Seasons was the one off the last record, then Supertriangle and My World, it's the nearest thing I come to the Boards of Canada side of things, wonky little, off school ill watching some
Open University
type thing. That's a bit of a constant theme'.
Announcing their re-emergence in forthright fashion one of the 'Team's finest singles to date, Motown stomper
Mayday
became a radio hit. 'I didn't think that would make the playlist, I thought it was too weird and not concise enough' Ian states. 'I was surprised by that, there you go, it's quite Northern Soul-y'.
With a back catalogue five albums deep, the current live set counterbalances new cuts with storied tracks. 'It's obviously got to be veering towards the new, unless you're on dodgy territory, but it's pretty good position to be in where you can look across everything and pick the ones which are the most fun to play. I think there's we've probably played more
Thunder Lightening Strike
songs than any other record I think' Ian ruminates. 'I figured it was time to dust off
Ladyflash
again, we hadn't played that in eight years or something. I'm conscious of that turning into some kind of bullshit nostalgia band. It's the same reason that Beck didn't play Loser for twenty years. You've got to move on haven't you? I figured we'd earned the right to play it again'.
A very welcome addition to the running order is Rolling Blackouts, title track of arguably the band's
best album
, which unarguably has the group's finest
video
, based on cult French flick
La Jetée
(1962). 'We've got a really good drummer, so I figured Simone (Odaranile) would do a really good job of playing Rolling Blackouts. I like the juxtaposition between songs as well, that's always a nice thing, you can create more impact by putting a quiet song next to a rocking song'. The pacing of the gigs clearly works as the eighty-minute, seventeen track set races past. 'Yeah, that's the longest we've ever played' Ian remarks. 'Even then it didn't drag for me or anything, it felt like we could keep going really'.
A studio bound project for the creation of 2015s unfairly overlooked
The Scene Between
the return of charismatic frontwoman Ninja fired up the outfit's enthusiasm for the stage later that year. 'It was her coming back, willing to do it again, cos obviously no Ninja, no show, she's not replaceable really' Ian says. 'She's unbelievable, she literally trains for gigs, singing songs while she's skipping (brilliant proof of which can be found
here
) She's one of the great under-rated frontwomen. Who the fuck else is like her?"
New single
All The Way Live
, currently on the BBC 6 Music playlist has the fascinating provenance of being constructed from a record that compiled after school hip-hop clubs from the 1980s. How did the track come about? 'It's been on my radar that song for years actually, I just had it on the back burner' Ian explains. 'Every song is just kind of six ideas stuck together really, so it's a question of putting it in the right key for the rap and layering it with my ideas. It all starts with dodgy midi-brass with me sticking together all these little melodies that I have. I think you can probably feel it with that song cos it's so section-y. I've got this big paranoia about people that sample things and kind of kick back and think, 'That's a good bit, that'll do, that's a song'. I'm a big believer in things working as a song, having sections and going places, so it's not just the Kayne West 'stick a beat on it and call it a song' type of game'.
Adherents to the verse-bridge-chorus school of songcraft, while the methods used to create the tracks may be unconventional, the songs follow tradition in the best possible sense. 'That's the thing that people always overlook with The Go! Team, the songwriting basically, I think, the melodies' Ian states. 'They don't talk about that they talk about sirens and other stuff!' I always think a hallmark of The Go! Team is the vocal melodies being really strong. 'Yeah, that's where it's at for me really, that's the first stage of everything, the song' the producer says. 'And then everything else is a bonus, the production, the distortion and my kind of stuff'.
A notable absence on the band's stages is a piece of hardware that has become increasingly ubiquitous (and sometimes contentious) with live shows, the glow of laptop screens. 'No, I've got zero tolerance of laptops' Ian states. 'We do have something that plays samples, an MPC (Music Production Centre) with pads. I wouldn't dream of that really. I don't like the look of it for a start, and the logistics of it as well. Getting emails in the middle of a gig or something!' the guitarist laughs, a scenario that conjures up the scene in
This Is Spinal Tap
where the wireless guitar rig starts receiving radio signals from taxi cabs. 'It suits some bands but not us really. It makes you suspicious as well, it makes you think, 'Hang on, how much of this is on laptop?' There's an art to it obviously, when it's done well you can do some amazing shit on (music software program) Ableton, but it's not for me at the moment'.
To conclude then, is there likely to be any more Go! Team product heading down river soon? Since the release of the LP, standalone track
The Only Thing New is U Finding Out About It
has surfaced. 'I dunno, I've got a little backlog of songs actually that I could theoretically do tomorrow, I'm guessing it won't be that long. I always say that though!' Ian chuckles. 'I'm flirting with the idea of a live album. Someone mentioned that the other day and I for the first time I thought maybe. They're such different things that I feel like there should be some sort of record of it, y'know what live's like, it just evaporates into thin air. There's those moments then people move on, so it feels like we need to capture it somehow'.
Semicircle is out now through Memphis Industries

The Go! Team UK Tour Dates

Sat 19 May - The Great Escape, Brighton
Sat 2 June - Wychwood Festival, Cheltenham
Sun 24 June - Parkpop The Hague, Netherlands
Sat 21 July - Kaleidoscope Festival, London
Thurs 26 July – Sun 29 July - Y Not Festival Matlock
Fri 27 July – Sun 29 July – Leopallooza Festival, The Wyldes, Bude, Cornwall
Fri 27 July – Sun 29 July - Lunar Festival, Warwick
Fri 3 August – Sun 5 August - All Together Now, Waterford, Ireland
Thurs 23 August – Sun 26 August - Lost Village Festival, Lincoln

Tickets are available from here