Interview: Nicole Atkins
Creator of one of 2017s best albums, Goodnight Rhonda Lee, New Jersey via Nashville singer Nicole Atkins chats about the making of the LP, touring and future plans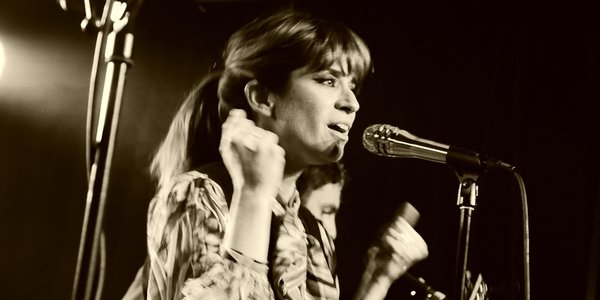 Funny, charming and outspoken, genre melding US singer-songwriter
Nicole Atkins
is as entertaining offstage as she is on it. The lunchtime after her stellar gig at London Bridge's Omeara venue (live review), she puts the world to rights with Bearded scribe Ben Wood - and explains how, after four albums, she's just getting started.
Bearded: Hi Nicole. Loved the gig last night. How was it for you?
Nicole: It was great...but the sound guy almost derailed the show! He said 'you've got two songs left' and we were just over midway through the set. I talked to him afterwards and he said he thought we were coming off at ten. My God! We were supposed to be on 'til around 1035...
Bloody hell! We didn't realise that...
That's good! But the place was really nice and I was shocked that so many people came out to see us. I was worried the snow would stop people coming out...
We spoke afterwards to a couple who'd come down from Newcastle. The bloke was introduced to your music by a mate who only normally likes doom metal - which I thought was interesting!
A lot of metal fans like my stuff, which is awesome... Possibly 'cos it's dramatic and the lyrics are dark. I like doom metal myself.
Where we were standing, there seemed to be a lot of women identifying with the songs...
It's a new thing. That connection has been especially cool to see 'cos sometimes in music you don't always have a lot of women to relate to. When you see women, instead of being mean to each other, get together for something positive, that's really cool. It makes me feel better on stage. Mind you, my best friends are all guys. I'm very comfortable with guys. But it's nice to see ladies dancing in the crowd. I can dance back at them!
There always seems to be a lot of love for American acts in the UK. Do you feel that when you play over here?
People are so nice. It's such a big deal for me to play over here as so much of the music I love is Britain's. The Kinks, Led Zeppelin, Pulp, Dusty Springfield, Lulu... Me and my husband bonded over the Beta Band. And I love the Super Furry Animals and Gorky's Psychotic Mynci. I feel like I connect more with Lulu than with (country icon) Loretta Lynn! I grew up listening to The Who. Mind you, it's hard to tour here - it's a schlep. When I start playing venues the next size up, that's when I'll stop spending money to play. I obviously don't do this for the money! I do this for the experience.
Listening to the new album Goodnight Rhonda Lee (review), for some reason that Gram Parsons phrase about aiming for the 'Cosmic American Music' came to mind. It is very soulful, covers a lot of ground and is pretty hard to categorise...
It's hard to stick to one genre... and boring. I like soul music and psychedelic rock and cabaret crooner shit.. To me, it's all the same kind of thing. Classic rock 'n' roll and country. I like all of it but I never felt that it fit together on stage until this record.
What sort of record were you looking to make?
I wanted to write a record that was a crooner record, and a soul record, as well as one that was completely original. To represent both sides of my songwriting on one record... and it took me a lot of time. I didn't realise I'd succeeded until my husband (Ryan, a Scottish tour manager) told me 'You did it!' Now I know how to do it. I never wanted to write generic soul music but now I figure I can write any kind of song and say what I want to say - then put it to any sort of tune.
The recording of Goodnight Rhonda Lee went remarkably smoothly, didn't it?
The best time ever. It took just five days. We demoed a lot before we went in and had it pretty much arranged by the time we got to Austin, Texas. Everything was recorded live, and I only want to record like that from now on. I like my records to sound old-school:
Goodnight Rhonda Lee
sounds like it could have been put out in 1968. That's probably why I don't get my records on the radio!
What I loved about the sound of the record is that it has really great punchy arrangements but also a lot of the tunes have that feeling of a band in a room together.
Mind you, so many people come up to me at shows and say 'You're so much better live than you are on record!' The live shows are why I do this, I love being on stage and the connection you have with people. If you're lucky you can get that on record.
Back to Black
is the best that Amy Winehouse ever sounded. And that sounds live.
Your lovely jazzy number Sleepwalking has an Amy Winehouse feel to it, we reckon...
It's funny 'cos we were trying for Jackie Wilson but ended up with Amy Winehouse!
Your friend Rhett Miller says the story of the new album is how you found your voice and in the process went a little crazy! Is that a fair comment? And by all accounts the lyrics are pretty close to the bone. Does it almost sound like listening to a diary when you hear it now?
This record more so than the others, definitely. The earlier ones I was able to pile on the poetry to mask a lot of the feelings with clever wordplay. But with this one, I was fucking up really bad at the time and I was very aware of it. So a lot of the songs were very plain-speaking. Especially with a song like Colors, which can be hard to sing live. I remember exactly where I was when I wrote that and it was not a good place.
As well as all the other changes going on at the time, the last album saw you moving to Nashville. How was that?
I've moved around a lot over the years, but Nashville took a while to get used to. I was used to city living. I had quit drinking and was Iiving in this big house full of spiders! My husband is a tour manager and he was away, and I was alone in this house, meeting all these new people for the first time. 'Let's go get a beer' and I couldn't. It took a long time to adjust to being in a place with that many musicians. When I lived in New York City, I'm not saying everyone was a great musician but everyone did their own thing. When I was doing open mics, I'd play with Regina Spector and she'd sleep on my couch all the time. It wasn't that competitive, more like supportive. Down in Nashville, everyone's so good and everyone's so competitive. It all finally clicked after I had a nasty accident. When word got out that I was hurt, all these people came over. They brought me food, took me to the doctor, sat and watched movies with me, that's when I realised 'I love it here'.
Though it's obviously got a reputation as the capital of country music, Nashville has so many scenes going on now, doesn't it?
Yeah..Pat (Sansome) from Wilco lives there, (English cult figure) Robyn Hitchcock. Plus there's lots of great 20-year-old psychedelic bands. I reckon it's 'cos there's so many great [effects] pedals around nowadays. That's cool, especially at a time when Ed Sheeran is the biggest rock star in the world. There's something wrong there. I like sex and danger and bad decisions in my music. It's cool that young kids want to sound like the
Brian Jonestown Massacre
or
Black Rebel Motorcycle Club
.
As the old Chinese saying goes, we live in interesting times. In an age where the culture seems so polarised, where do you stand on making political statements as an artist?
It's up to the individual artist. I don't feel like a singer should be compelled to be political unless they want to be. I've been thinking about this a lot recently. I'm constantly writing and it's good to work out your feelings. But I wouldn't want these times of turmoil to make my music get very beige and 'serious'... More like: 'Let's sing at the top of our lungs at the end of the world'! I don't mention the current US President at my shows 'cos it's good to have an hour where we don't think about that fucker's name! It would be great to affect people like a Flaming Lips show. They are so beautiful and natural, like a perfect anti-depressant. They should make Flaming Lips shows all ages, it would blow the kid's minds!
You seem to have found your true voice as an artist, you've created your best album yet and you seem in great spirits. In a funny way, has the stop -start nature of your career been a blessing in disguise?
I think so. I was talking to (Bad Seeds drummer, friend and collaborator) Jim Sclavunos last night and he is always telling me that I should be happy with where my career is now 'cos it's a slow burner. This record has made me realise that it's gonna keep getting better and better as I get older.
Speaking of Jim, how did you two hook up?
He's my rock Dad! I met Jim in 2011. My old manager said I should write with him. We ended up writing three songs on the first day. He writes so fast. We have an album that we wrote together that we're going to put out. Atkins / Sclavunos Volume One - we're gonna do it in volumes! It's like Lee (Hazlewood) and Nancy (Sinatra) but with two Lees! Jim taught me a lot in terms of fearlessness in sound. He will use anything we have in the room. That's what I do now in Nashville. Before, I had all these rules for myself. Jim's also got great advice - I'd be saying 'Jim, I want to quit music, I hate everyone' and he'd put me right. He's been in The Cramps, Sonic Youth. Jim makes me think - if a man at 60 can have a career that keeps getting, better, why can't a woman?
Hell yeah! Thanks for this, it's been a pleasure. Any last thoughts?
Yeah...Whatever I want to do, I don't want to feel medium. I wanna feel really shitty or really good!'
Nicole Atkins September UK Tour:

Tues 11th, Bush Hall, London,
Weds 12th, The Exchange, Bristol,
Thurs 13th, The Maze, Nottingham,
Fri 14th, Brudenell Social Club, Leeds,
Sat 15th, Ents Shed, Bedford
Sun 16th St Mary's, Chester

Tickets are available here
Photo credit: Giovanna Ferin