Mercury Rev / Nicole Atkins @ Oslo, London 19.12.18
Much-loved psychedelic veterans team up with one of the era's greatest singers for a kick-ass double bill
Dec 22nd, 2018 at Oslo, London / By
Ben Wood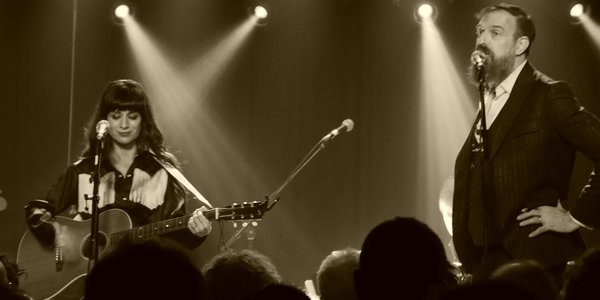 There's something special about Christmas gigs. Outside Hackney venue Oslo, the world goes on as usual, but inside, two very different acts are giving us an early present... approaching much-loved songs from an oblique angle, to great effect.
After years honing her craft, New Jersey singer-songwriter
Nicole Atkins
nailed it with her timeless
Goodnight Rhonda Lee
album. Its gritty, hooky country-soul sounded like a collection of lost 60s classics - redolent of Peggy Lee, Roy Orbison and a million shattered dreams, with some of the finest vocals you will hear right now. Tonight Nicole's regular shit-hot band is absent, but even solo she remains a force of nature in cowgirl glam, with just her acoustic guitar, an effortless stage presence and a powerhouse voice for company.
'I have a 5-8 piece soul band at home but I worked out how to play solo... Just turn the major chords to minor', she jokes. Much of the crowd may have come for the 'Rev, but will surely be plenty of converts tonight. Goodbye Rhonda Lee sees Nicole kiss her hard-living alter-ego goodbye, as the ghosts of the Brill Building fill the air. Sleepwalking brings Amy Winehouse's version of Valerie to mind, while A Little Crazy has drama galore and killer chord changes.
But she's not entirely alone: Nicole's old songwriting buddy Jim Sclavunos from The Bad Seeds turns up to sing three duets from their yet-to-be-released joint sessions, accompanied by bass, percussion and some of the loveliest Muscle Shoals keys you will ever hear. I Will Walk Alone sees Jimmy Webb, country and gospel combine for something very special. Take Aim and Shoot is a fun, kick-ass groove with a Nancy Sinatra vibe and some great poses from Jim on tambourine. Closer Memories Come and Go is another break-up song to wallow in. We need to hear more of this... - someone release their duets record!
By the time
Mercury Rev
hit the stage, there's barely enough room to breathe. The 'Rev have created their own magical little bubble but with
Deserter's Songs
they connected with the wider world in a wholly unexpected way and the album's romantic beauty and killer tunes are much-loved. It's the 20th anniversary of its release, and the band are determined to play the record as they intended it in the first place - sans orchestra, the sound of a bunch of guys playing as quietly as possible at 3am, improvising beautiful codas to ridiculous lengths as their downstairs neighbour pokes at the ceiling with a broom...
Frontman Jonathan Donahue wrote the bulk of the album's lyrics. Small, fey and deeply charming, his spaced-out, slightly fragile charisma is balanced by his longtime brother in arms, the relatively normal-looking FX-wielding, perpetually sunglassed guitarist Grasshopper. The band summons a late-night ambience of twinkling atmospherics, surges of emotion and a feeling hovering uncertainly between bliss, melancholy and unease.
Opener Funny Bird sees Jonathan striking shapes and emoting like a silent movie star. Tonight it Shows is warm, fragile and soulful. Swooning instrumental I Collect Coins is an opiated Old Hollywood fantasia, a silent movie from a parallel universe.
The band also takes the chance to tip the hat to some of the acts they have loved over the years. The High Llamas' retro-pop auteur Sean O'Hagan joyfully barrels on and nails his sunshine-pop anthem Checking in and Checking Out, a slice of Beach Boys heaven amplified by some very groovy lights, Jonathan grinning his head off. And there is a collective sigh as the outfit pay tribute to Pavement's slacker-rock masterwork
Slanted and Enchanted
, with the lovely Here ("
I was dressed for success / but success it never comes...
")
Back to the main menu, proceedings take a turn for the ecstatic as Delta Bottleneck Stomp miraculously melds housey uplift with hoedown vibes. The anthemic Goddess on the Hiway gets the crowd involved, while Holes has a beautiful trumpet solo and a gorgeous extended outro. Opus 40 spurs another singalong while The Dark is Rising, from
Deserters Songs
' follow-up
All is Dream
, is even finer, like some lost ballad from Neil Young's
After the Goldrush
given a Disney makeover.
Mercury Rev depart to a heroes' reception, and it is deeply deserved. After a career of peaks and troughs, the Flaming Lips' weird cousins have shown they still have much to offer. Meanwhile Nicole Atkins commands every stage she stands on, and is back here with her band in April. Get saving up!
Photo credit: Giovanna Ferin