Nicole Atkins - Goodnight Rhonda Lee (Single Lock Records)
Stunning old-school soul given a modern makeover by Tennessee via New Jersey singer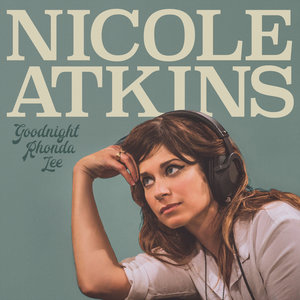 You thought they didn't make records like this anymore? Think again... For an old-school soulful vocalist, making a great record is like alchemy: a whole load of factors have to coalesce. A singer with technique and personality backed by a shit-hot band. Tight grooves and soulful arrangements; lyrics with the ring of truth. Catchy-as-hell choruses. And, quite often, enough personal turmoil to lend the whole affair an edge of desperation, life-or-death, quality.
The 60s and early 70s were blessed in this regard as the likes of Roy Orbison, Dusty Springfield, Gram Parsons and Bobbie Lee Gentry - and a galaxy of soul legends - married songs to break your heart to arrangements to die for.
And now, ladies and gentlemen,
Nicole Atkins
.
Goodbye Rhonda Lee
may have been out since late July, but it's way too good to miss out on. It was written and recorded in a time of turmoil as Atkins relocated from Asbury Park to Nashville, tried to quit drinking and saw her father battle cancer.
Over rueful hungover ballads (A Dream Without Pain, Colors), funky and soulful midtempo grooves (Darkness Falls So Quiet) and bluesy bar-room laments (the
Exile on Main Street
horns of Brokedown Luck), Atkins sings her heart out with buckets of soul and impeccable phrasing.
A Little Crazy kicks things off in bravura fashion, a classic epic 60s ballad reminiscent of Roy Orbison's Crying. Elsewhere, on the likes of Listen Up, the band swings in a way that reminds you that nothing beats the sound of a band and a singer in tune with each other and playing live in a room together (the whole album took just five days to record).
On this and the title track, Atkins tries to exorcise her old hard-drinking ways and the remorse that inevitably follows. It seems appropriate that the jazzy Sleepwalking summons up the ghost of Amy Winehouse. The sound is warm and musical throughout, with pedal steel guitar, strings and backing vocals providing extra colouring and rounding out the sound. Every element is there to serve the song.
Heartbroken, defiant, fragile, wistful... Atkins really goes through the emotional wringer on this album - and we are happy to accompany her. If you can hear A Dream Without Pain and remain unmoved, you should see a doctor and check whether you still have a heart.
Elsewhere there are echoes of Burt Bacharach, Janis Joplin and Neil Young in mid-70s bar-room country-rock mode - but the overall feel is very much Atkins' own. This is a classy piece of work, a wonderfully played and produced set of kick-ass songs sung from the heart. Investigate!