Interview: Pinkshinyultrablast
St. Petersburg noise-pop alchemists chat about their stunning debut LP Everything Else Matters and upcoming plans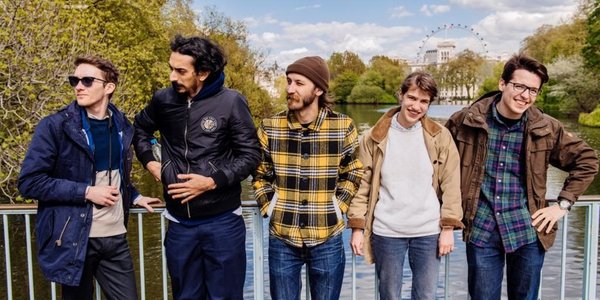 Sinking down into the supernaturally comfortable sofas of the Night & Day Cafe Manchester's musty below ground dressing room, the members of St. Petersburg noise-pop quintet
Pinkshinyultrablast
assemble. Due onstage in an hour, bassist Igor periodically checks the Champion's League results on his phone (his team, Bundesliga titans Bayern Munich are currently engaged in a 5-0 demolition of Dinamo Zagreb).
Fresh from a standout appearance at Liverpool International Festival of Psychedelia, live the band are as enthralling as an on record, their frankly jaw-dropping debut LP
Everything Else Matters
issued in January remoulding psychedelia/shoegaze/pop music generally into bewildering new forms. Led by vocalist Lyubov's otherworldly voice and backed by alternately corrosive/glacial vistas of sound, the band's new jaunt around the UK coincides with stunning new 45 '
Kiddy Pool Dreams
'. A mini song suite that effectively compresses the band's entire oeuvre into six blazing minutes, the cut is a taster of their second album, due to land next year.
With their second UK tour this year underway how have the two excursions been? 'People are saying different things, I feel like it's very subjective, it's hard to judge, for us especially, it's really comforting when there's good feedback and people said it came across well' Lyubov states. 'I feel like we worry about the sound a
lot
, everyone's really uptight about what they want, very specific. You can never tell onstage what's going on' the singer says of playing live in general. 'I feel like that's my general inference, because sometimes onstage you think 'Shit, this really sucks right now' and then people will say 'that was amazing' and other times you think 'That was good, that was alright', but people don't say anything'.
Proof of how formidable the band's live show is, the group's Liverpool gig prior to the Psych Fest in May at The Kazimier saw the quintet widely hailed as the day's highlight, even eclipsing headliners Moon Duo. 'We were playing and there was the guy doing the barbecue' Roman recalls of the set in The Gardens adjoining the legendary, sadly soon to be extinct venue. 'We were inhaling all the burger smoke!' Lyubov laughs.
'People here in the UK know how to get a good sound' Roman states. 'We've had great sound almost everywhere'. 'Most of the people who've interpreted the sound have been really sensitive and careful and 'whatever you want guys'' Lyubov nods. 'Cos I know we're difficult, there's a lot of stuff with us, especially the vocals and how I self-monitor things, so it's a struggle for sound engineers to sort of figure it out'.
Looping and editing her voice on stage in real time Lyubov's spiralling, celestial vocals are one of the band's hallmarks. How do you achieve the effect? 'I use a Strymon Reverb Big Sky and I use an Eventide Mix Pedal, so it's basically a mixer slash pre-amp, where there's a output for headphones' the signer replies. 'It's not the best option obviously, but it's the best for right now, I tried the in-ear Radio System, but for our sound, since I wire the reverb into my ear I already have the effected sound for myself cos I wanna know exactly what it sounds like. It's gets tricky cos I get stuck by my stool and I have to hang out in that one spot, so I still need to figure it out. The headphone's wire is pretty short so it's a little awkward sometimes, but it's the cheapest way for now. Maybe people are forgiving of me being awkward and wrapped up in wires!' she laughs.
Trying to road test new equipment live meanwhile hasn't been an option of late. 'There hasn't been a chance, we only have so much time for the soundcheck' Lyubov states. 'I can't really be like 'OK, I need an hour to figure this out guys, everyone off! Sometimes I add reverb in certain parts and sometimes I need to turn it down, I need to know what's going on. It's not an option for the soundman to just be like 'Yeah, I'll just give you some reverb man''.
With
Everything Else Matters
hitting the shelves in January, the band's current set list is stuffed full of new material. How easily did the new songs arrive? 'It's actually old' Lyubov explains. 'All of our material is old, it's took forever to record. When our label said we need another album in this time frame, we were like 'OK, we already have all the songs, we have enough'. Right now most of our songs are from the new album are in the setlist. We played three old and three new' Lyubov says of the band's set at Psych Fest. 'We played 'Blaster' from '09, I don't think people realised we were playing it!'. Lyubov says of the previous night's set in Nottingham. 'Yesterday there was a person who was like (
mimes chanting
) 'Blaster! Blaster!' and we'd just played it!'
'We recorded maybe twenty minutes more than an LP can handle' Roman adds. 'We have enough songs for an album. There's a sixteen minute song we still don't know what to do with it' the guitarist states. 'There's like fifty thousand parts in it' Lyubov adds. 'We've made a mix of it, but we're still not happy, maybe we'll mix it again' Roman adds. 'We might need to come back to some songs and re-record them cos we didn't have enough time. We try to be quick, sometimes there are some decisions we've just got to get it done, it's not like we have two weeks in a studio, to just jam and try things out. It's just in and out' Lyubov says.
While
Everything Else Matters
from initial conception to eventual release took several years to complete, in terms of recording the album came together rapidly. 'It took seven days for everything, it was pretty fast' Roman says of the sessions for the debut. 'This time we had just four and a half days for recording.' 'For eight songs' Lyubov nods. 'That's the thing, we're on a budget' the singer says. 'We can't be like 'Yeah, we're just gonna spend a month in a studio, just chilling'. 'Steve Albini (legendary US recording engineer) said if you can't record an album in a week, something is wrong with it' Roman notes. 'We were surprised by the reaction' Sergey says of the across the board praise the album received. 'We didn't think we'd be getting that in another country'.
The band's newest release meanwhile, the aforementioned 'Kiddy Pool Dreams' has become a centrepiece of the band's current live set. What inspired the title of the track? 'Helplessness, I dunno!' Lyubov shrugs. 'We've been having different ideas about titles so it's just a matter of compromise in a way'. 'The first title we all enjoyed the name but Lyubov didn't like it' Roman says of the track's initial title 'SuperMetallica'. 'People from the label liked it and I was like, I don't know about this... It didn't work for me at all. I don't think it correlated with the feel of the song as well, it was just random. Sometimes random can be good and sometimes random is just... random' the singer laughs.
'The riff from 'Kiddy Pool Dreams' it came in like one minute, it just came in the room, but then we spent maybe a month working the drums for it' Sergey explains. 'We care a lot about them' Roman nods. 'The drums are the toughest part' Lyubov states. 'We have a few songs ready there are no drums for. I think our songs rely on them a lot in terms of dynamics, it's what keeps the songs together, so it has to be thought through in that way'.
The promo
clip
for the track meanwhile is a memorable affair shot in East London district Tower Hamlets where members of the public are asked for their opinion while listening to the track in real time. 'I didn't watch the whole Cake video (2001 single 'Short Skirt / Long Jacket') that inspired that' Lyubov says. Our friend Tim (video director Timothy George Kelly) said he was going to homage it and I didn't realise that the Cake video was way more positive! So many people were like 'Yeah I totally dig it!' and there were some who said 'I dunno, I don't think so'. In our case there was just one dude who silently gave us the thumbs up, and everyone else was like 'Er...'! That's my favourite video of ours, I really, really like it'.
Returning to inspirations,
Everything Else Matters
lead single and live favourite '
Umi
' provides a window into the band's influences. 'Umi is the Japanese word for sea, so that correlates with the lyrics and the atmosphere of the song' Lyubov explains. 'I went to school where from the first to the seventh grade I studied Japanese and Japanese culture and that was immersive, so that's in the back of my head a lot. We had a lot of language classes and culture classes and exchanges. That's been there for a while. On our EP (2009 set
Happy Songs For Happy Zombies
) we had a song in Japanese (closing track 'Ode to Godzilla') in whatever broken Japanese I speak! There are three extra songs for the Japanese edition of
Everything Else Matters
and one of them is in Japanese'.
'I listen to a lot of Japanese bands' Roman says. 'Kind of J-poppy stuff, like (Damon Albarn collaborator) Cornelius, he's one of my favourite musicians. Kenji Kawai too, the guy who did the soundtrack for
Ghost in the Shell
(best known in the UK for his OST to the original version of
Ring
) 'Yeah, we listen to a lot of Japanese stuff, starting from
Supercar
to
Sonic Coaster Pop
Lyubov states. 'The name for it is Pico pop' Roman explains of the genre, 'it's pretty fun music, sometimes it can be really good'.
'We used to watch a lot of Anime too. I know we sound like nerds really!' Lyubov laughs. 'It's made by guys in Japan to be on the opening soundtrack of the Anime films' Roman explains. 'The melodies are really catchy, there's just something about it that's really specific and great and you can find inspiration in that as well' Lyubov adds. 'They sort of intermix in the pot of influences that we have from different places. We have some of that I think, like '
Holy Forest
', the keyboards are inspired by that. I've been trying to look into horror movie soundtracks written on synths, also soundtracks for video games' the singer says. 'The super early ones that are gloomy and spooky'. 'There were several games on the NES or on Sega that had really great music' Roman enthuses, opening a beer bottle. '
Double Dragon
,
Earthworm Jim
, that had an awesome soundtrack'.
With a list of inspirations so wide ranging and deeply rooted in the band's sonic identity, the obvious question is where did the group source all this from? 'It started way back, even with last.fm and when Soulseek (obsolete 2000s downloading network) appeared' Lyubov explains. 'I dunno if you guys (in the UK) had this, in the early days of the internet, Local Network it was called were several computers were in the same neighbourhood and you could see what people were sharing and look through people's folders. Then you'd find a person with a certain taste and you'd find all these folders. The same with Soulseek, you could go on and look at what this specific person who shares this artist has. We were just digging into it, then there was MySpace'.
This exploration led the band to their moniker, taken from an LP by storied US shoegaze project astrobrite. '
Pinkshinyultrablast
was the first album I found by astrobrite' Roman explains. 'When I tried to listen to it for the first time I thought 'it's impossible to listen to this!' I found several other albums like
Crush
that were not so extreme.
Whitenoisesuperstar
is somewhere in between, it was still noisy but cleaner'.
'I especially liked progressive stuff for a long, long time like King Crimson along with Robert Fripp and Brian Eno's album
Evening Star
' Igor says of his inspirations, while synth/electronics guru Rustam cites Caribou mainman Dan Snaith's sister project Daphni as a recent favourite. Other shared band staples meanwhile include ambient drone duo Stars of the Lid, US indie outfit Landing, minimalist pioneer Steve Reich and Francophone indie pop outfit Stereolab.
With psychedelia in general undergoing a renaissance in the UK at the present time, do any of the (frequently erroneous) comparisons the band receive to British shoegazing acts ever irritate them? 'It only annoys me cos it's the same references over and over again' Lyubov shrugs, unconcerned. 'People can interpret things as they will if we remind them of something they like'.
On the subject of the UK, the band's live fixtures here now outnumber those in their home country. 'I think we've played more in Britain that we have in Russia' Lyubov states. 'For sure' Sergey adds. 'We play once a year in Russia, maybe twice. Several years ago I realised that we had done just one gig in two years'.
With the time fast approaching 10pm the stage upstairs beckons. Walking out to huge applause, a full to the rafters Night & Day witnesses 45 minutes of blissful noise, that somehow seems to wash over in a mere seconds. Gliding through a slew of exhilarating new tracks, the aforementioned radically overhauled version of 'Blaster' and a storming take on 'Kiddy Pool Dreams' fly past in a set played virtually nonstop. Igor's bass patterns, more imaginative than many guitarists' lead lines interlock with Roman's dexterous six-string work, switching between spectral feedback, roaring open chords and shimmering arpeggios. With Sergey's faultless beats underpinning the entire affair, Rustam, stood stage right supplies textural washes and synth keys lending the tracks even greater depth, while Lyubov, eyes shut centre stage provides the melodic epicentre.
As the lesser spotted sight of crowds dancing to guitar bands grows with each song, the show culminates in a fizzing rendition of 'Holy Forest' that somehow even outdoes the skyscraping studio original. As their ascent continues apace, the next installment from the St. Petersburg denizens can't come soon enough.
Everything Else Matters is out now through Club AC30
Pinkshinyultrablast Links