Pinkshinyultrablast – Miserable Miracles (Club AC30)
Russian electro-shoegaze troupe return with superlative third album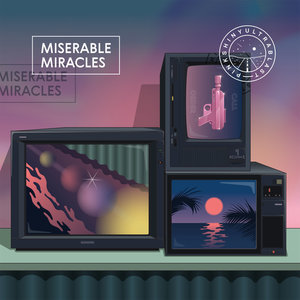 Arriving with stunning debut LP
Everything Else Matters
in 2015 and brilliant, expansive follow-up
Grandfeathered
the following year, St. Petersburg outfit
Pinkshinyultrablast
effectively took shoegaze/psych as a starting point then did whatever the hell they wanted with it. Returning as a trio comprising singer Lyubov, guitarist Roman and resident electronics maven Rustam, following the departure of their bassist and drummer,
Miserable Miracles
sees the group forge a sound that leans more heavily on synths and programmed beats than the rhythm section powered 'Thunder Pop' of old.
While all of their previous work featured percolating electronic textures, the new LP moves Pinkshinyultrablast closer to say, electro-pop specialists M83 than yer standard issue FX pedal and teeth rattlingly loud amp rig psych outfit. Pulling together their eclectic influences of Japanese pico pop, film soundtracks, video games, Steve Reich-style minimalism, Kosmische, shoegazing guitar textures and love of a spiraling vocal melody, the new songs retain the group's boundary pushing ability. While both of their previous albums worked as complete pieces, here the nine tracks create an immersive set, custom built to be heard in one sitting.
While
Miserable Miracles
represents a subtle re-tooling of their sound, the principal elements of yore remain in place, chiefly that everything sounds colossal without ever being overblown, the tunes are in focus at all times and lead singer Lyubov's gorgeous, celestial voice is at its core.
Any worries that the loss of two members would compromise the quality of the material vanishes on track one as the tapestry of patterns that weave together to create
Dance AM
work their magic. Triangles continues in the same vein, bubbling synth textures plaited with guitar ace Roman's lead lines. Elsewhere a clever twist on the overdone 'kaleidoscopic' description that invariably gets invoked with descriptions of psych bands Teleidoscope, taking its name from the device that forms kaleidoscope-style patterns from objects outside, instead of inside the instrument is brilliantly effervescent synth pop.
As the singles selected from the album showcase, the beautiful
Find Your Saint
which shifts into double time three quarters of the way through a cascade of iridescent guitar arpeggios and the noon-bright
In The Hanging Gardens
, highlight the band's new approach superbly.
While Initial from
Grandfeathered
demonstrated
the group's fondness for Dan Snaith's output (Caribou, Daphni)
, a cut which hinted at the band's current direction, standalone 2016 track
Kitty's Cool Beams
, perfected the balance of aerated synth textures and breezy melodicism. Eray, presumably taking its title from the Turkish male name, is the greatest thing here as a vista of synth chords overlaid with Roman's chiming guitar figure opens up into huge-sounding chords towards the close.
A double dose of ambient instruments bookend the close of Side One and the start of Side Two, as Blue Hour (a homage to Brian Eno's pioneering Deep Blue Day possibly?) plus Earth and Elsewhere are beautifully arranged pieces that float away into the stratosphere. Nearest to the sound minted on their debut LP, Looming placed last is exactly that, a vast plateau of sound which switches from prettily embellished electronic patterns to cavernous guitar squalls.
So, in summary, Miserable? Far from it. Miracles? Well, if a perfect score of three outstanding albums out of three counts as one, then very possibly.
9/10
Pinkshinyultrablast Links