Interview: Pinkshinyultrablast
Saint Petersburg shoegazers discuss their recent LP Everything Else Matters and their upcoming debut UK tour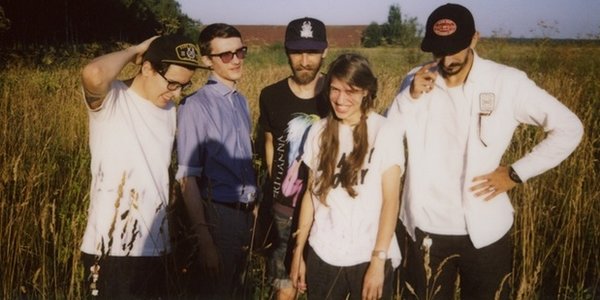 Responsible for one of this year's best albums
Everything Else Matters
(
review
) St. Petersburg shoegaze/dream pop ensemble
Pinkshinyultrablast
are set to embark on their first ever tour in late April/May that takes place around the UK.
Arriving remarkably fully formed, the quartet's debut LP plaits lead singer Lyubov's stratospheric vocals with rippling waves of beatific guitar and pellucid electronic treatments. Drawing inspiration from UK indie acts (Cocteau Twins, Ride), Kosmische bands, (Popol Vuh, Cluster) and groundbreaking minimalists Philip Glass and Terry Riley alongside a slew of under the radar psych acts, the band have mined their own idiosyncratic take on shoegazing/dream pop.
Brilliantly juxtaposing the ethereal and the abrasive, the tracks are stuffed full of songwriting smarts, melodies rising to the surface no matter how intense the guitar blitzkriegs become.
Synth/electronics wizard Rustam's input is clear throughout, with repeated vocal motifs, dramatic string flourishes and a constant swirling undercurrent of lush soundscapes. New 45 '
Ravestar Supreme
' showcases the band's dynamic tempo shifting approach, flitting between stretches of guitar arpeggio underscored calm and pulsatant synth-led passages.
Taking their name from the title of a mid 2000s LP by cult US nu-psych outfit astrobrite, the moniker proved sufficiently confusing for one Russian magazine who called the band Pushkinultrablast, mixing the group up with Russia's most famous poet.
An opening enquiry on their Russia then, what is the music scene in St. Petersburg like at present, are any other bands similar to yourselves there? 'We haven't been paying too much attention to the local scene really' Lyubov says of the band's hometown. 'At this point we hardly ever go to shows. For a while now we've just been focused on the new material'.
While PSUB's sound is seemingly enveloped in FX pedal shimmer the number of stompboxes utilized by the group is surprisingly minimal. 'A reverb-delay duo is what seems to be the most inherent set to our sound' Lyubov states. 'Sometimes the fuzz and overdrive are added. No huge pedalboards. For a long time the guitarist and bassist hadn't even had a tuner'.
'Our songs are always a collaboration of all members of the band' the singer explains of the writing process. 'Practicing is crucial in that songs most often emerge from jamming and thinking out loud'.
Reinforced by the video for '
Holy Forest
' which features a slew of VHS footage of the sport, one interview saw the band (possibly not entirely seriously) citing 1970s martial arts movies as an influence on lyrics. 'Staying out from being too self-serious is the only precaution there is I guess' Lyubov says of the lyrics that make up her startling Liz Fraser-esque vocals. 'Otherwise, whichever direction the mind wanders is fine, so nothing in particular'.
While shoegazing and dream pop primarily emphasises texture and feel, the current band push the rhythm section into the spotlight via the exemplary foundation work of bassist Igor. Selecting John Paul Jones, Motown sessioner James Jamerson, Yes four-stringer Chris Squire and jazz fusion pioneer Michael Manring as primary inspirations. Doing far more than merely anchoring the tracks, the bass carries the melody on several songs, possibly due to the player's listening habits. 'There were times when guitar players influenced me more than bass ones' Igor explains. 'I mostly listen to ambient sounds of bands like Stars Of the Lid and A Winged Victory For The Sullen. Also Landing, Paik, Steve Reich, Mastodon and Yes are my all time favorites'.
Splitting itself between short dream-pop tracks, 'Holy Forest', 'Glitter', 'Umi' and longer more psychedelic pieces such as the colossal nine minute closer 'Marigold', the group handle both song forms superbly. Was there always these two sides to the band or has it developed over time? 'All four songs of the first EP (2009s
Happy Songs for Happy Zombies
) were short and simple and we still like that' Lyubov says. 'Over the course of the years we've been creating things that are a bit more complex and baroque maybe. The album represents both those tendencies'.
Described as the culmination of seven years work from start to finish, the actual breakdown of work on
Everything Else Matters
was markedly different to most LPs. 'The tracking itself took about a week, the editing was done within several months' Lyubov explains. 'It then took a long time and effort for us to find a person we could work with on mixing, production and post-production, and that stage wound up taking a couple of years'.
'We've got a lot of new stuff on our hands and will start recording stuff very soon. We'll see how it goes then' Lyubov says of the band's next move, with the gap between releases likely to be far less than the five years that elapsed between their memorably titled debut EP and first album.
With their first full scale tour imminent, the group's gigs sees the band re-tool tracks from their initial studio incarnations. 'We are always trying to rearrange recorded songs for playing them live, to change and add bits to make the material a bit more interesting and fun to play' Lyubov explains. 'With live shows though, so much depends on the sound guy at any given place, that it's always a little bit of a gamble of how the material will actually wind up sounding'.
Along their staple influences the band's recent listening material is drawn from the US and Scandinavia. 'I found several incredibly good bands during the few last weeks' guitarist Roman enthuses. '(Swedish nu-psych quintet) Westkust are nice, the new album by (New Mexico texturalists) Reighnbeau album is just amazing. Also I found an awesome album from Youngsbower, Relayer from 2002, it's kinda trippy and sweet. Though I've mostly been listening to a band called Nasum (ultra-heavy Swedish guitar slingers) these days' the guitarist adds.
Following Lyubov's recent admission in a BBC 6Music interview that the band's main interest outside music was football, the question of what sides the band supports inevitably rises. Despite the hugely successful Zenit St. Petersburg being their home team, the Russian Premier League giants are eschewed in favour of the Bundesliga and the English Premier League. 'Rustam has been a fan of Arsenal F.C. for the past 15 years and Igor is a long term FC Bayern Munchen supporter' the singer answers. 'They both play football twice a week, Rustam is an attacking midfielder and Igor is a goalkeeper'.
Ravestar Supreme is out now on ltd. edition 7" single through Club AC30
Tour dates:
30th April LONDON Village Underground*
1st May LONDON Shacklewell Arms (Oddbox Weekeknder)
2nd May LEEDS Live At Leeds Festival
3rd May SALFORD St Philip's Church
4th May LIVERPOOL The Kazimier*
6th May CARDIFF Clwb Ifor Bach
7th May BIRMINGHAM The Temple
8th May NOTTINGHAM Lofthouse
9th May LEICESTER Scholar Bar
11th May LONDON Hoxton Bar & Kitchen
13th May RAMSGATE Ramsgate Music Hall
15th & 16th May BRIGHTON The Great Escape

(*Supporting Moon Duo)
Pinkshinyultrablast Links