The Primitives @ O2 Academy Islington, London, 26.05.23
A set of indie pop heaven celebrating the anniversary of classic album Lovely
May 26th, 2023 at O2 Academy Islington, London / By
Richard Lewis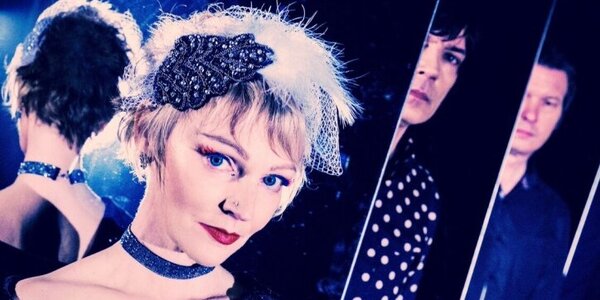 The possible significance or otherwise of two soft toys hoisted on long sticks either side of the drumkit and why the air con is cranked up to the setting marked 'Full Bifters' provide pre-show food for thought this evening. More pertinent however meanwhile is how
The Primitives
are going to incorporate the entire 15 track running order of classic debut LP
Lovely
into the gig.
An album that hasn't aged a day since its release in March 1988, the set is the perfect distillation of indie pop aesthetics, incorporating guitar fuzz, attitude, velocity and most essential of all, melody throughout.
Lead singer Tracy Tracy, resplendent in white lace dress and matching Go-go boots leads the charge as Thru' the Flowers kickstarts the set. Stop Killing Me, sped up from its already brisk tempo showcases Paul Court's guitar skills, working through rapid bar chords, lightening fast arpeggios and open chord thrashing in consummate style. One of the quartet's finest singles, garage rock banger Sick Of It All is guided by drummer Tig Williams's octopus armed efficiency blazing between the hi-hat and cymbals.
Eschewing the format of playing the album in tracklist order, songs from the LP are sprinkled liberally throughout the set. The portion of the show dubbed the 'Lovely Acoustic Section' is a superb touch, arranged in Nirvana Unplugged style: Tracy seated, lightweight sticks for Tig, acoustic guitar with fuzz pedal for Paul.
Shining a light on lesser played cuts from the disc, I'll Stick With You shorn of its distortion chimes as beautifully as
Younger Than Yesterday
-era Bryds, while Don't Want Anything To Change is transformed into a downbeat Dusty-esque ballad. Doffing a cap to their psych rock influences Ocean Blue is like being enveloped in a warm wave, while Shadow courtesy of Paul Sampson's twisting lead basslines amps up the Eastern-tinged scales of the studio version.
Supplying a pavlovian audience response as soon as the jangling intro begins, Crash is greeted with cheers as the electric guitar returns, succeeded by the Motown stomp of Rattle My Cage. Ostensibly a celebration of their first album, recent set list additions
Don't Know Where To Start
and
I Won't Care
released last month work marvellously amidst the vintage cuts.
Surely nearing their personal best for blazing through a set in what feels like five minutes flat, the wonderfully nonchalant Really Stupid, supplies the conclusion. Lovely. Very.