The Primitives @ 229, London, 30.06.22
Superlative indie pop trailblazers with sterling support from gothic psych outfit Black Doldrums live in London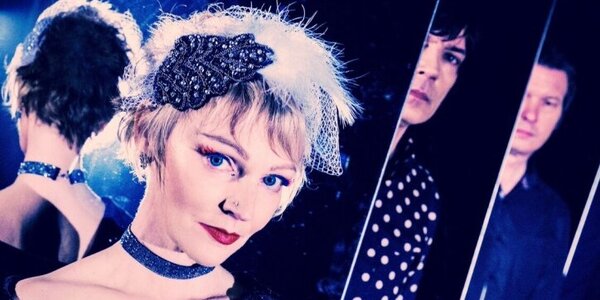 On the road to plug excellent debut LP
Dead Awake
London psych rock trio
Black Doldrums
pull in a healthy early doors crowd warming the stage for The Primitives.
Piloted by Kevin Gibbard's swirling guitar work and underpinned by Sophie Landers' exacting beats, newly arrived bassist Matt Holt supplies the outfit's thunderous low end. The sinister riff of Sidewinder showcases the group's gothic leanings, while Mae's Desire is alt. rock with the accelerator pushed firmly to the floor. With the bulk of the set understandably drawn from the new LP early landmarks, a shadowy Those With A Rope Around Their Necks and death disco San Francisco psych paean It's A Dandy Massacre, tipping a hat to the Warhols and the BJM also feature.
Given the opportunity to stretch out due to a forty-five minute slot, the closing sequence sees the three piece venture into improvised territory. The set concludes with Gibbard standing at the edge of the stage, wringing new guitar lines out of his axe, a fresh group of souls newly recruited to their cause.
Appearing onstage to the strains of a mellow cover of garage rock standard Louie Louie, indie pop trailblazers
The Primitives
wind the clock back to the very beginning of their career, launching into the fuzzed up jangle of debut single Thru the Flowers at the top of their set.
With more feedback and extraneous noise than they would normally employ coming from guitarist Paul Court's amp for the first few songs ("This sounds like the Mary Chain!" a voice from the crowd shouts approvingly) Stop Killing Me and Buzz Buzz Buzz are delivered with machine gun fire rapidity.
The pugnacious attitude of the Coventry band's most revved up moments is highlighted by a barnstorming take on Sick Of It which easily go toe to toe with present day indie rock royalty Wet Leg. Similarly, Really Stupid retains its wonderfully snotty punk attitude, while in contrast Where the Wind Blows and Nothing Left are gorgeous jangle pop confections. In fine voice throughout, lead singer Tracy Tracy's "Sorry, I had a Diana Ross moment there!" remark following a slight vocal wobble during Way Behind Me, referring to a certain Glastonbury set, prompts a burst of audience laughter.
Scanning their entire career, the title track of the group's most recent LP, 2013s excellent
Spin-O-Rama
along with Lose the Reason sit comfortably alongside the evergreen likes of You Are The Way and Spacehead. A pair of impressive new tracks, Til I'm Alive and Don't Know Where To Start centred around Paul Sampson's plangent bassline are aired, the latter audaciously placed next to the group's most famous moment, Crash.
Returning for the encore, I'll Stick With You, from 1988s
Lovely
, a potential single from an album stuffed with over a dozen contenders to be 45s draws a line under the evening. Everything Shining Bright then? Absolutely.