Interview: The Lucid Dream
The genre-blurring Carlisle outfit chat about their highly acclaimed recent LP Actualisation and forthcoming live dates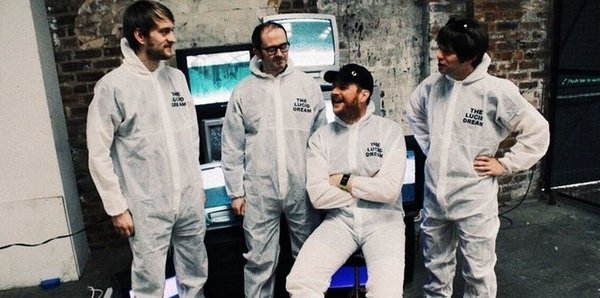 Returning last October with one of 2018s best albums,
Actualisation
, the fourth LP by Carlisle space rock alchemists
The Lucid Dream
is their most ambitious set to date. Melding the 'Dream's psych rock template with their now hallmark excursions into dub, the disc also found room for successful experiments with hip-hop and drum and bass and most notably blazing Acid House influences on thunderous singles SX1000 and
Alone In Fear
.
Issued to a wealth of outstanding reviews and the approval of legendary DJ/producer Andrew Weatherall, the LP cracked the Top 40 Record Store Chart, much to band's surprise, as the majority of the sales were direct to fans. The events leading up to the making of the album makes the success that the LP represents all the more sweet, given how trying (aka, pretty dire) things were at one point.
Following a sold-out show at Supersonic club, Paris in early March 2017 the band had every single piece of equipment stolen from their tour van, including gear that the members had owned since they were 14 years old. With not even a cymbal stand or a drum stool remaining, the group were left with nothing. Quickly regrouping the quartet launched a Crowdfunding Project to raise funds for new gear. Aided by high profile boosts from the likes of Anton Newcombe and A Place To Bury Strangers, £8,000 was pledged well in advance of the 28 day target, footing the bill for new equipment and vitally, restoring the band's morale. After overcoming near-disaster so bad you would've have forgiven them for throwing the towel in over, the four-piece set to work on their next album.
During an
interview
with the group in November 2016, singer/guitarist Mark Emmerson predicted an Acid House direction for the 'Dream's next LP. As the album proved, the idea came into full bloom with the new disc. Starting with the title, what inspired you to call the LP Actualisation? 'I must admit that the title alongside with the artwork was the final piece of the jigsaw for this album' Mark states. 'I pondered on various album titles, none of which I can now remember, then from somewhere I can't recollect the word 'actualisation' appeared. The definition, to fulfill your potential, seemed very apt. I suggested it to the other lads and it got a big thumbs up. Inevitably we will be retracting that statement come the next album!'
While
Actualisation
quickly became The Lucid Dream's high profile release to date, the initial reception to banging Acid House inspired lead single SX1000 was decidedly mixed. Anticipating the possible reaction the group ordered some badges emblazoned 'Psych Traitors' for their upcoming run of gigs, an echo of the NMEs infamous description of Primal Scream as 'Dance Traitors' in the mid 1990s. Given the reception the album received, did you enjoy proving the doubters wrong? 'Absolutely. We've taken huge satisfaction in proving them wrong' Mark states. 'The day SX1000 went online the comments started, 'Get back to what you know', 'What's this pish?', 'Where's the guitars/real instruments?'. All of which are laughable. We still get comments regularly now. The irony of psychedelia is it's now overran with people who think it consists solely of a Vox guitar and reverb pedal, when psychedelia is about pushing boundaries, doing the unexpected and getting out of your comfort zone'.
'Music is subjective, of course not everybody is going to love everything you do' the singer reasons. 'We are never going to take comments literally but there's no doubting the latest album showed who is here for the long haul and who isn't. We have always experimented, I still remember when we started playing Unchained Dub live in 2014 and the reaction ranged from amazement to sheer disgust. That will be the same again come the next album!'
All of The Lucid Dream's albums from their 2013 debut
Songs of Lies and Deceit
up to
Actualisation
possess their own character, with each LP having its own distinct identity. An outfit who have never repeated themselves by rehashing previous releases, going over ground previously covered is something they are determined to avoid. 'This may sound an arrogant comment but whenever we make as bold and different a change to our sound, or 'progression' as we like to see it there's sure enough many taking pointers from it' Mark states. 'Even by this summer I had somebody tell me that several bands had been making noise about wanting to make an Acid House record. What we are doing has been done in various forms in the past perhaps but I still don't think we get the credit we deserve for how influential we actually are in the current climate. It reminded me of doing the last
interview for Bearded
around the time of
Compulsion Songs
, somebody commented on the piece saying we are just 'indie boys with pedals', and aren't worthy of the praise. 'It's similar to when
Time Out
said we are for fans of Oasis, they thought that was a compliment! Mark laughs. 'Both are completely lazy, book judged upon cover, stereotypical comments. That's something we've been used to for years so we are well-trained and accustomed to criticism'.
In tandem with the
Actulisation
's sales besting the 'Dream's previous albums, word of mouth support for the group's thrilling live shows has clearly begun to pay dividends too. 'The way we look at things is that a year ago people had us written off, a year on we've sold out Manchester Yes, 250-capacity venue two hours from our hometown at £12 a ticket. We've had a record register on the charts, not something we care for but still a statement in itself. This album got Andrew Weatherall onto us, Mark Radcliffe, God bless him, we wish him a speedy recovery, stuck his neck out and included SX1000 in the best songs of 2018 for BBC 6 Music. All these would suggest a self-released/funded band on top of their game. Not one bit of that is down to favours or external backing, it's down to us genuinely being good at what we do. Very few self-released bands from the middle of nowhere can lay claim to the above'.
Written by Mark using only vintage Roland 303/808 synths and bass guitar to support the vocal melodies, the hardware understandably is now part of the band's live set up. Was the approach to creating the songs live different with this album than on previous LPs? 'The new material was different in a sense of that I am playing the Roland TR-8 drum machine and Roland TB-03 synth completely live. It isn't quite as simple as pressing play or having it auto-cued up' Mark explains. 'Added to that Luke (Anderson, drummer) is playing alongside the drum machine tempo, which I see as mixed to sound like a synthesiser, and it becomes extremely more complex and no room for the slightest error. We feed off that though, that's the beauty of live music and knowing the whole thing could fall to pieces makes you work harder to ensure it doesn't. It has taken some serious rehearsing getting it into shape for shows because it is one thing getting them tracked in the comforts of the studio, another nailing it live' the singer says. 'I heard stories of the initial Primal Scream
Vanishing Point
dates in 1997 being all over the place, and that would make perfect sense if they were using similar equipment to us and not absolutely rehearsed'.
Similar to treasured group influence New Order who The Lucid Dream are set to appear alongside at Bluedot Festival this year, the meshing of guitars and drums with sequencers and drum machines live is a painstaking process. 'This may seem surprising from an external viewpoint but SX1000 has been the toughest of the lot to get perfected live' Mark explains. 'Wayne (Jefferson, synth) is playing a strange pattern that never repeats in the same manner twice. Added to that, I start the programming with very quiet hi-hats, which Luke has to be on right to the second when he comes in, alongside Wayne. It was pretty funny at one of the November shows because SX1000 has quickly become a live 'anthem', we started it one night and the crowd were singing the synth riff before we had all come in, it overpowered the monitor mix and we all came in out of time! Worth it though'.
One of the group's sharpest singles to date, Zenith appears in two parts on
Actulisation
, with the second half supplying the 45. Created through a bricolage effect as the drums and synths weave around each other, everything clicks into place seamlessly two minutes in. 'The first part was constructed using the Roland drum machine and my
dub siren
all as early as the first home demo' Mark says of assembling the track. 'That section is all about gradually bringing in various elements of each instrument. The band kicking in at that stage, that was again conceived at demo stage. I still remember when we first worked on it together in the rehearsal room after I sent the demo around, it was the weekend in 2017 that England drew 2-2 with Scotland at Hampden. We were on Cloud Nine going out to watch that game after practice as we had almost instantly nailed Zenith. It was infectious and we couldn't get the groove out our heads'.
Housed in a striking monochrome sleeve,
Actualisation
's cover art continues the group's collaboration with school friend Nathan Jones who has created all of the band's album art. 'Yep, our old friend Nath created yet another classic cover. As with the title, we were still pondering artwork in May. I checked out Nath's recent photography postings and sure enough that one stood out by a mile. He is a superb photographer and it really makes us happy that he continues to get the credit he deserves for those covers. When the album finally landed in October it was breathtaking to see the final art in person'.
Returning to song titles, Ardency is possibly the highlight of the LP. Beginning with gothic organ and pattering cymbals, the introduction of Mike Denton's bassline sees the track develop into something akin to a 1988 Hacienda classic. What inspired the track and its title? 'The word 'ardency' is a word that sums up the feeling within that song in the main. It is also a track that treads on darker moments slightly too, but I think that's to reflect the ups and downs of various experiences' the singer explains. 'The song itself was inspired of course by Acid House, but subconsciously a lot by
Love Hangover
by Diana Ross which is a stunning track'.
An integral part of The Lucid Dream's sound, the new LP includes a new dub cut, No Sunlight Dub that diverts into passages inspired by drum and bass and hip-hop. Given all the sections the song moves through, was it difficult to put together? 'Surprisingly, it was very easy. That was the last song written for the album' Mark says.'I demoed it on New Years Eve 2017, we rehearsed it the Saturday after and recorded it the Saturday after that. I get lucky when writing in a sense of that it just happens quite effortlessly. It started with the drum machine via a delay and reverb setup, and the bass line had been stuck in my head for days. For the middle section I sped up the drum machine, minus the effects, and the bass line and the lyrics came instantly'.
'I listened to a lot of hip hop and drum and bass elements within lots of stuff whilst making the album and it flowed from there. Again, like Zenith and probably every song on this album, the moment of playing live together in the rehearsal room was the definitive moment. When you have these songs stuck in your head or in demo form at home for months it makes you very restless to hear it in its full form. The lyrics almost always come subconsciously, but the inspirations are certainly politics, life experiences, health, relationships, childhood, and many other things. It just seems to happen instantly' Mark says of the album's sometimes stream of conscious style lyrics. 'I go back to it the next day or so and fine-tune if needed but most the time I get lucky and I am very happy with them!
On the subject of listening choices, alongside a recently acquired car boot's worth of Acid House and Dance records ('100 picked up in bulk in October' Mark notes), the singer's recent turntable choices include The Clash's vast
Sandinista!
, Caribou's
Our Love
, jazz saxophonist Kamasi Washington's
Harmony Of Difference
, N.W.A..'s incendiary debut
Straight Outta Compton
, vintage Scott Walker and Ennio Morricone discs plus semi-legendary 1988 acid house/hip-hop compilation
Rappin' Up The House
.
Something that was possibly in the pipeline before the group began work on
Actualisation
the quartet were considering a live album. Are there still any plans to issue a live LP? 'Unfortunately that didn't happen' Mark states. 'We were planning on doing so at the Manchester Deaf Institute show in May 2017, however the Paris robbery obviously occurred in the March. It took at least six months to replace the setup fully and since then we've not recorded any shows'.
As what happens once the group's upcoming live dates are finished, resting clearly isn't an option. 'We aren't recording the February tour however that's because the focus is solely on the future' the singer explains. 'We're back in the studio in March to work on the next album!' Going by the stylistic developments the quartet have been through on their first four albums and what new influences the group have soaked up in the meantime, who knows where they could be headed next.
Actualisation is out now through Holy Are You Recordings available here

The Lucid Dream play:

Saturday 2 February: Broadcast, Glasgow
Friday 8 February: District, Liverpool
Saturday 9 February: Yes, Manchester (Sold Out)
Sunday 10 February: Hare & Hounds, Birmingham
Saturday 16 February: Cobalt Studios, Newcastle Upon Tyne
Sunday 21 July: Bluedot Festival, Jodrell Bank, Cheshire

Tickets are available here