The Lucid Dream – Compulsion Songs (Holy Are You Recordings)
Carlisle psych voyagers return with their strongest set to date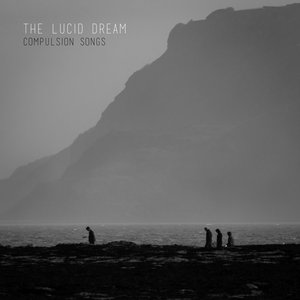 While the psych genre continues to expand, a band who have been at the vanguard of the form's renaissance in the UK, Carlisle psychonauts
The Lucid Dream
continue to develop with each LP. Proof that melody and experimentation don't have to be mutually exclusive, the quartet's third album
Compulsion Songs
features some of the longest tracks the group have committed to wax which simultaneously possess the strongest tunes.
A band who have always implicitly understood the space between the music is what makes the material expansive and therefore psychedelic, the band's appropriation of Krautrock, shoegazing, sixties psych pop and sinister garage rock are all shaped into something of the 'Dream's own invention.
Excellent lead single Bad Texan gets things underway, the slow tease of holding off introducing lead vocals or having the drums kick in late on becoming something the band are becoming exemplary at. Re-routing psychedelia back to its original San Fran incarnation, the Byrdsian chime of Stormy Waters, all shimmering acoustics and rattling tambourines allows ample room for Mark Emmerson's lead vocals, the singer's voice rising higher in the mix and improving with each album.
Furthering their excursions into dub, an avenue explored on the excellent Unchained Dub from 2015s eponymous set (
review
) I'm A Star In My Own Right sees the group pay homage to Augustus Pablo with its wispy melodica riff, the title possibly a sly reference to Primal Scream classic Star which featured the Jamaican legend. The track's assured gait sees the rhythm section undertake the majority of the work, hinged around Mike Denton's Massive Attack-esque bassline. Knowing enough about the genre that if you lock onto a killer groove to mine it all it's worth, the song develops over eight glorious minutes into what will be a highlight of future live sets.
Revived from the flipside of 2014 single Moonstruck, The Emptiest Place a track far too good to be a B-Side closes Side One with the sound of The Coral and Ennio Morricone hurtling through the vortex in the Tardis together. Beastie Boys inspired rampage 21st Century is an inessential all-out thrash yet serves to highlight how much ground the group now cover, before ushering in
Compulsion Songs'
real coup, its continuous twenty minute closing stretch.
Comprising of two cuts, Nadir and Epitaph, the former thankfully proves to be anything but, opening with a synth throb akin to early New Order, (further to which was the LP cover possibly influenced by Joy Division's Atmosphere video?) before sliding towards
First Edition
-era Public Image Ltd. towards the close. Presumably influenced by the band's practice of delivering their live sets in one continuous long take, the track cleverly segues into Epitaph, the eleven minute running time seeming far shorter due to the quartet's intuitive sense of rise and fall. Swerving into an instrumental breakdown, then bursting into a double time coda signalled by Emmerson's primal yell, following the cathartic release of the final chorus '
Never coming back/the dream is gone
' the track return to the motif that opens the song.
A demonstrable success
Compulsion Songs
cements The Lucid Dream's reputation as the UKs best psychedelic operators by a considerable distance.
The Lucid Dream play the Liverpool International Festival of Psychedelia on Sat 24th September