The Lucid Dream – Moonstruck (Too Pure)
Estimable Carlisle psych garage quartet make audacious return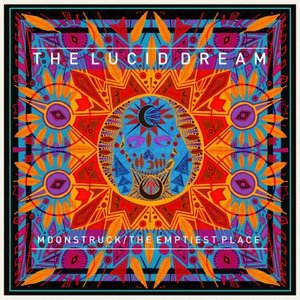 After last year's impressive debut LP
Songs of Lies and Deceit
The Lucid Dream
are far from idling or basking in rays of critical acclaim. A band who initially made their name with a string of 7" singles, the quartet return to the format with 'Moonstruck'/ 'The Emptiest Place'. Partnering with legendary indie outfit Too Pure, responsible for issuing early releases by PJ Harvey, Stereolab and more recently fellow psychedelicists Hookworms, the 'Dream are in esteemed company.
The single comprises two of the strongest cuts to come from the Carlisle collective to date, plaiting vintage psychedelia with the blistering sonic firepower of Wooden Shjips, Moon Duo et al, replicating the force of quartet's live show.
Lead feature '
Moonstruck
' opening with a thrumming Hammond organ figure and single note bass riff overlaid with an out of focus vocal, revolves around the submerged hook of '
Again and again/And away she will go
'. Tantilisingly holding off from kicking in properly until the closing stretch, a hailstorm of guitars sees the track kick into top gear. A successful venture in blending skewed and totally compelling, the immediate response is to instantly hit the replay function.
Slightly more conventional in its galloping Ennio Morricone pace and twanging guitars, excellent flipside 'The Emptiest Place' rides out into the desert courtesy of a spur-booted rhythm section. In thrall to the darker moments of Love and The Doors things are turned on their head midway through as a hurricane rips through the arrangement, heaping instruments and cavernous reverb on top of proceedings before departing with a dark howl of guitar.
The Lucid Dream tour:

Thurs 27th February: London – The Waiting Room
Fri 28th February: Liverpool – The Shipping Forecast
Sat 1st March: Preston – The Ferret
Sat 8th March: Manchester – The Roadhouse
Sat 15th March: Carlisle – The Brickyard