Interview: Pinkshinyultrablast
The Russian electro dream pop outfit chat about the making of stunning new album Miserable Miracles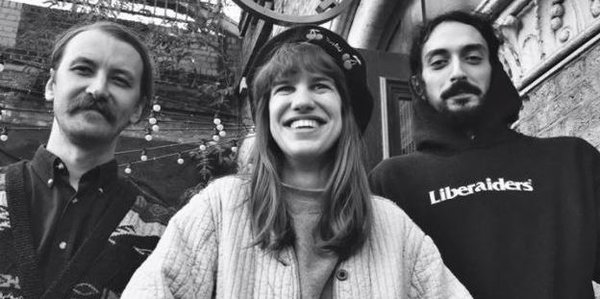 With matchless new album
Miserable Miracles
newly arrived in the racks, redoubtable Russian ambient noise pop alchemists
Pinkshinyultrablast
are three shows into a clutch of UK dates. Returning two members lighter than on their previous two albums, the core trio of Lyubov, vocals, Roman, guitar and Rustam, synths/programs have repositioned their sound to give greater emphasis to the glistening synth pop hooks and bubbling electronic textures always present in their work.
With Lyubov now based in Los Angeles and Roman and Rustam remaining in their hometown of St. Petersburg, the five and a half thousand-mile distance and ten-hour time difference seemingly hasn't slowed the band down, with the new album appearing a little over two years after 2016s wonderful
Grandfeathered
. Set to play venerable Northern Quarter gig parlour Band On the Wall, the trio are on relaxed, conversational form before the show in the venue's subterranean green room.
A straightforward opening gambit then, how different was it working on the new LP given the huge distance between cities? 'We were a little worried about it at first but I think that we really found a way to make it work' Lyubov states. 'It just took a little while with having different sound engineers, like 'that person didn't tick this one little thing'. So far we haven't had any problems recording different places. I think we naturally with the composition element were moving towards bedroom composing a little more'. 'Yeah, away from the practice space with loud volume' Roman adds. 'It seems like it would have gone that way a little bit' Lyubov agrees. We used to compose during practice and now that's just not how stuff works'.
'Previously it wasn't like we came into the practice space and then came out in several months with a recording' Roman states. 'We never worked altogether, we'd make some parts, sometime three of us, even two of us alone. Me and the drummer for weeks and weeks we worked on bass for the songs, so it was pretty similar. Lyubov wasn't there all the time, there were a lot of loud things we needed to do'. 'I didn't need to be there because there would be specifically a part for a drummer, or a bassist' the singer nods. 'It was pretty similar in that Lyubov can come and we can have a practice, some would be successful, some unsuccessful now we can record everything, send it and Lyubov can check it out then send it back. It takes more time but it wasn't drastically different than before' the guitarist explains. The turnaround between albums has been really swift given the distance involved 'I think we knew when we were releasing
Grandfeathered
, we kinda knew with the label (London based outfit Club AC30) about the timeline' Lyubov states. 'We had a sense if when we should be aiming for and the material we were accumulating'.
Given how straightforward things were creating the album, how do you begin the songwriting process? 'I feel like the boys always have stuff' Lyubov says. 'It usually starts with instrumentals, they're always working on something. It's just a matter of picking through the timeframe and landing on one or another sketch really, then deciding on which sketches we're actually going to be working on. It'll be stuff that's thirty seconds or one minute, a sample and then we take it from there. There's always a pool of things that we're going to be working on, it's just a matter of landing on things and committing to working on them'.
With files heading back and forth across the Atlantic, placeholder names were understandably used to stitch all the constituent parts together, the working titles revealing some of the initial germ of inspiration. Can you remember what was the first track you began working on for the LP? 'I think Double Drive was one of the first ones' Lyubov says, looking over at Roman quizzically who chuckles and clarifies 'Find Your Saint!' 'When the song started about it was about the Ryan Gosling movie
Drive
, it had a different mood in the beginning, it was darker. You couldn't name the song
Drive
, so it was Double Drive'. Which in turn it emerges had the even earlier temporary title of John C. Reilly, after the American comic actor.
August 2015 single
Kiddy Pool Dreams
meanwhile had the memorable original moniker of Supermetallica. 'That did wind up being a horrible name anyway, I wish I could change it but I can't!' Lyubov says shaking her head, smiling. 'Now I'm just trying to keep it succinct'. The flipside to the track on 12", the panoramic synth pop of
Kitty's Cool Beams
arrived at its title almost as a spoonerism. 'That one made sense to me, I think the original title was a mistake. But I'm not sure I can correct it retroactively! Oh well' the singer laughs. The titular kitty, Lyubov's cat David, rather wonderfully described on YouTube as whitefurrykeyboardcat appears in the video for beautiful
Grandfeathered
cut
The Cherry Pit
, which sees the pair collaborating on some synth programming. (Prosaic cat names seem to be the trend as Rustam's moggie is called Patrick).
Off-beat song titles and lyrical themes are a hallmark of the outfit, such as one of
Miserable Miracles
' highlights Taliedoscope, a variant on a kaleidoscope that uses objects from outside the instrument to create shapes. 'I was just talking about naming songs with Matt from
Pigs Pigs Pigs Pigs Pigs Pigs Pigs
recently' Lyubov says. 'Unless you really think of yourself as a poet who kind of starts with the lyrics and the title it's more of a singer-songwriter kinda situation, it's not the tradition we're necessarily in. there are definitely musicians who work that way. I think our attention is more towards the actual music. Words aren't secondary, but we don't focus on it that much, we're trying to capture the overall tone of the song'.
'I like looking through books' the singer says of inspiration for lyrics. 'For the previous album I looked a lot through
Gargantua and Pantagruel
by François Rabelais, it's like a really quirky, corporeal novel (a series of five books written 1532-64). It's really Renaissance-era in that it embraces life in its fullest. One of the scenes would be Gargantua trying to work out what would be the best buttwipe out of all of the things in the world and he discovers that the best one is a duckling! That's the nicest, softest material he can use! There's lot of really crazy wordplay in there too'.
'It's interesting to think of things in a different context for me, things you wouldn't necessarily think about in connection to our music but informs you where you were at that time and where your head is at. It's not even rational, it's like you're in a pool of signifiers that bubble around you and you land on one and see the final version of a song. The boys have a say in it, it's usually me naming things and whether the boys like it or don't like it, so I have to go through a censorship process!' the singer explains. 'Ultimately it's about what was in my head at that specifically with lyrics and with song names'.
'Do we have a song that's named after a line in the chorus?' Lybov says turning to Roman and Rustam. 'I don't think that happens ever.
In the Hanging Gardens
would be one example. I think a lot bands do do that, so for us it's a little bit more… painful! For me personally, I do sometimes think 'I wish I could use this word that I actually say a lot in this song''.
On the subject of vocals, Lyubov's stunning voice, a fixture above the beautiful noise on record is faithfully produced live. Whereas some guitar bands (no names mentioned) seem more content to crank the bass and the kick drum up to obliterate any singing, the present band fret over getting the vocals right, with the vocalist using an in-ear system. 'It's tricky for me to figure out what's the best way to monitor myself' the singer states. 'It's a conversation we've been having throughout this tour. I really wanna try a lot of things and the problem is it costs a lot of money to rent stuff, but then also which show do I choose to be the guinea pig for trying out this thing'.
'The problem is you can't really check it in the practice space cos it's not gonna sound the same at all' Lyubov explains. 'I just don't have enough confidence to be trying figure things out as I go. Maybe at a show at a small festival, not to say that they don't matter!' she laughs. 'If you have a twenty-minute set and because it's so hectic. I don't wanna commit to something I haven't tried out for a solo headlining show. To rent a system for this tour would have been £160. It's not
too
bad, but the truth is we can't afford do anything on top of what we're already doing. I've spoken to people who are part of crews and big, big bands who do several runs at a venue, there's so much energy and time put into it. We're definitely not anywhere near that level. For us, it's just kinda DIY it out and play it by ear'.
Some of the highly quality live footage of the trio online recently includes a St. Petersburg set from an all-dayer held last July. 'We have a small island right in the city, it used to be a jail for sailors, New Holland Island, it's a huge open space' Roman explains. 'It's built as a circle with a yard inside. There are a lot of bars and cafes there, it's a really good stage. 'That place was basically developed by Roman Abramovich' Lyubov adds, the band spotting the Chelsea chairman putting in an incognito appearance late on to watch headliners London Grammar.
With electronic textures moving to the forefront of the PSUB's sound, synth guru Rustam's work creating the plush soundscapes moves centre stage on
Miserable Miracles
with two gorgeous instrumental cuts at the centre of the album, Blue Hour and Earth and Elsewhere. Inspired by a score of UK artists, Mancunian electronic wunderkind Floating Points, producer/remixer James Holden and Warp Records' duo Mount Kimbie have been turntable fixtures for the electronics doyen recently. The latter, who released one of 2017s most acclaimed albums
Love What Survives
are also highlighted as an inspiration by Roman. 'There's a guy I know who plays in hardcore and thrash metal who does vinyl DJ sets' Roman explains. 'He plays a lot of old pop music from the 70s, his vinyl collection is crazy. Sometimes good, sometimes shitty, but then he played something from that record and people said 'What's going on?' Everyone loves that Mount Kimbie record'.
With PSUBs astounding progression from the heads-down guitar rampage of 2009 debut EP
Happy Songs For Happy Zombies
which featured the aptly titled early landmark
Blaster
, the trio have moved away from their initial shoegazing incarnation. Something music writers (cough, cough) are guilty of, placing bands into different categories or micro-genres, the present group are extremely difficult to pinpoint. Largely due to their lustrous guitar sound, shoegaze is still the term used to describe Pinkshinyultrablast. Do the trio think the term fits with their music at present?
'I don't think reverb-y vocals are a staple of shoegaze' Lyubov contemplates. 'When we were doing this album and we were mixing it and I was going back and forth with our sound engineer who wasn't either in Saint Petersburg or LA, I was thinking how I'd like the vocals to be and how to process them. I was listening to all these references and I listened to My Bloody Valentine's
Loveless
. I was like, 'Holy shit, her vocals are so dry!' I think it's a very particular guitar sound, it's a very particular genre that we've definitely been influenced by'.
'Slowdive have a lot of reverb, Kevin Shields is not a reverb guy' Roman states. 'He's does a lot of layering, it's something different. I don't think we have that much to do with it the way we sound. We were talking earlier today, what we need to do is release a Tropical House album with no vocals and wait for a reaction, to see if people say we're a good shoegaze band!' the guitarist laughs.
Huge fans of J-pop and Japanese culture in general, the trio are set to play a pair of dates in Tokyo early next month, their first shows in the country. The trio's exploration of the nation's music canon has yielded some real treasures of late. 'It kind of happened simultaneously that we all dug into J-pop from the early eighties, without us realising that me and Roman are into the same stuff all of a sudden' Lyubov explains. 'I go to a weird store in LA that sells trinkets and dishware on the second floor and they have all these sealed tapes from the eighties, all really poppy random tapes that they sell for fifty cents. I have a cassette player in the car, I just dug into it and Roman was on a search for music'.
'On YouTube playlists, you can keep clicking next for several hours there's some really freaky music there, almost like circus music' the guitarist adds, 'but there are some really good bands'. 'It felt like a secret gem we came across, this stuff is endless!' Lyubov marvels. 'We both got into Yellow Magic Orchestra around the same time and it spread out from there'.
Pioneering studio boffins who were the first musicians to utilise computers in the studio on their 1978 eponymous debut LP, the Tokyo based band had genuine crossover success with groundbreaking 1979 hit
Computer Game
, which was adopted by the nascent hip-hop movement in New York. Ryuichi Sakamoto, whose solo work is a favourite of PSUB was in YMOs ranks, has received further international acclaim for his film scores including
The Last Emperor
and
The Revenant
.
'There was all this cool equipment that became famous with techno music in the late eighties, before that no-one understood how to work with this gear it came with techno, Acid House, electro in mid 80s'. Roman explains of YMO's adoption of new technology far in advance of their peers in the West. 'All these sounds were in early eighties Japanese music, it sounded weird compared to UK post-punk music'.
'Even Yellow Magic Orchestra have a weird album where it's not even songs, I don't know what they are. They're just weird experiments that don't even resemble a song in the usual sense, it just seems like they're trying shit out!' Lyubov adds. 'There's all these funky things coming out and they're 'Alright, what we can do with it'. I've also really been into (1980s Japanese ambient pioneer) Hiroshi Yoshimura, just non-stop listening to him. He's actually becoming really popular recently, now they're re-releasing the vinyl, it's gonna become really hype-y'.
Sampling pioneer and YMO associate Chiemi Manabe is also on the group's playlists at present, while Roman selects Amsterdam based reissue label Music From Memory, who have built a reputation for unearthing overlooked ambient releases. 'We're gonna go to Japan and hopefully we'll get our hands on this stuff' Lyubov says. 'I've tried to order the vinyl for Chiemi Manabe and they keep sending the wrong vinyl. Several times!' the singer laughs, exasperated. 'I'm just waiting to go to Japan and get our hands on it'.
And with that the interview has to wrap up as a visit far nearer, just down the road in fact is planned. With Lyubov celebrating her birthday today, the trio need to dash to the nearby Arndale Centre before it closes to buy the singer a birthday cake before the gig.
A few hours and one shopping trip later the band arrive on stage at Band On the Wall half nine and launch into Dance AM, the opening cut from
Miserable Miracles
. Bathed in pink light (the technicians clearly got the memo) from the venue's logo above the stage, the trio work their way through half of the new album plus a smattering of earlier tracks including a brilliantly reworked version of Holy Forest and a glistening take on Ravestar Supreme.
Washing over the crowd in an almost continuous wave of beatific sound, Lyubov is greeted with an impromptu rendition of Happy Birthday following Roman's announcement mid-set. Seventy-five minutes of category-defying, cutting edge genre-welding later, the one-day old album emerges blinking into the light beautifully. Several more UK shows, more slabs of marbled vinyl to be sold and a few more micro-genres to invent along are all due to follow.
Miserable Miracles is out now through Club AC30
Pinkshinyultrablast Links