Interview: Miranda Lee Richards
The Californian baroque pop/cosmic country singer chats about her new LP Existential Beast and upcoming live dates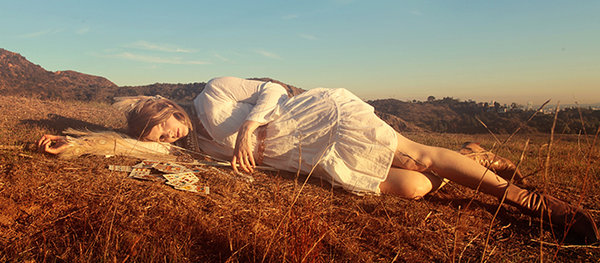 Existential Beast
(
review
) the recently issued fifth album by San Franciscan born singer
Miranda Lee Richards
continues the songwriter's updated exploration of the classic Laurel Canyon sound, bringing together chamber pop and gentle psych folk with plush arrangements. A member of legendary US rock psych troupe The Brian Jonestown Massacre in the late 1990s, the LP sonically evokes a long afternoon spent lazing in Californian sun. Set to make a return trip to the UK (see dates below) later this this week, Miranda is on the road with like-minded Golden State natives
GospelbeacH
.
An opening enquiry about the album then, where did the intriguing title come from? 'I was playing with words and concepts one day, thinking of how many of the problems in the world are stemming from letting our lower animal selves be in charge. Human beings are essentially beasts struggling with enlightenment, and what separates us from the animal kingdom is our ability to reason. I was thinking of the existential crisis or existential angst that many people feel, and the title, 'Existential Beast' was born'.
In tandem with the title, the album
sleeve
is similarly memorable, vaguely reminiscent of the
cover
to Kate Bush's second LP
Lionheart
(1978). What was the inspiration behind the artwork? 'I wasn't thinking of Kate Bush's cover when I had this concept, but maybe subliminally!' Miranda replies. 'The cover photo is of my good friend and backup singer Samantha Smith as a little girl in the 1970s. The lion in the photo was a retired movie cat allowed to take pictures with children at a theme park just outside of Los Angeles. I thought it was the perfect image as there is so much symbolism and metaphor there: the conquering of the beast within or making peace with it, finding connection with the inner child, the resurgence of the lion spirit, an ode to animal rights and our treatment of endangered lions, the list goes on…'
Another World
, the concluding track on
Existential Beast
is a lengthy but musically restrained epic that spirals into double figures guided by a simple acoustic strum and woodwind accompaniment. With lyrics including
'California don't throw yourself to the sea/You were never unwanted'
, referring to the theory that the State would leave the Union due to you-know-who becoming President, the cut comes across as Joni Mitchell covering one of Bob Dylan's colossal mid-sixties compositions Desolation Row or Sad Eyed Lady of the Lowlands. Was the inspiration behind Another World political? 'Yes, it's a politically-themed protest song with verses dedicated to the environment, civil rights, animal rights, terrorism, corporate greed, war, and feminism among other issues' Miranda states. 'There are fourteen verses and it is nearly twelve minutes in length! I had started writing it before the election, but kept adding to it Post Election for I found that listening to the news produced inspiration for new verses daily. I still don't feel that I fit it all in!'
With a tranche of shows acoustic trio completed around Europe earlier in the year, for the return leg Miranda's is touring as part of a 'a five piece, bass, drums, electric guitar, acoustic guitar/vocals, and keyboards'. Boasting a plethora of instruments and intertwining harmonies, the arrangements on
Existential Beast
are beautifully constructed. Given how detailed they are, how has the process of recreating the songs onstage been? 'For the most part, it has been a fun challenge to perform this album live' Miranda states. 'Miraculously, so far we have been able to have a string quartet live on
Autumn Sun
and Another World in three different cities (Los Angeles, Bergen, and San Francisco). We don't play to tape with a computer on stage, but many of the arrangements are possible to re-create with a Mellotron keyboard live (archaic 1960s proto-synth). We also have had a guest flutist, saxophonist, and pedal steel for some of the shows'.
Production on the LP was handled by Richards alongside regular collaborator (and husband), storied producer Rick Parker. 'I love working with Rick!' Miranda enthuses. 'We have such a rapport and can finish each other's sentences musically so to speak. On the subject of new musical discoveries NYC chamber pop brethren Lemon Twigs and Canadian folk duo Kacy & Clayton are cited while recent turntable choices include 'Weyes Blood, Beach House and Cate Le Bon for the new and Shirley Collins, John Renbourn and Fairport Convention for the old'.'I was born and raised in California in the mid-1970s, so perhaps that sound is ingrained in me' Miranda says of
Existential Beast
's strong Laurel Canyon influence. 'Initially, the opening track
Ashes and Seeds
had a very Donovan-like quality, but then we added pedal steel and it took on a more cosmic country feel. In regards to Golden Gate, well, that's the Summer of Love revisited -- it's the 50th anniversary after all!'
First breaking into public consciousness through her membership of legendary San Fran psych rock stalwarts
The Brian Jonestown Massacre
in 1997-99, the singer's tenure in the group was the period chronicled in acclaimed, not to say notorious rockumentary
DiG!
(2004). A band whose ever fluctuating membership has at times seemed as though a revolving door was fitted to the practice room, several graduates of the Anton Newcombe Academy have gone on to make acclaimed albums outside the group. Does it surprise you so many members/associates of the BJM have gone on to make an impact? 'When I first saw the
Black Rebel Motorcycle Club
, I was completely blown away, and Sarabeth Tucek is one of my all-time favorite female singers and songwriters' Miranda replies. 'I recently sang on Joel Gion and Matt Hollywood's latest - both great albums. When I heard Joel's record (
review
), who is 'just' the tambourine player in the BJM, that's when I first realized he is an artist in his own right'.
'I think as a band that's what you want, when every musician in the group can release a solo record, perhaps it's a bit of a personality nightmare too' Miranda states. 'Many members had been in other bands or had other projects prior, and being in the BJM helped them gain exposure, so I think that's part of it too. I guess you could say Anton has a knack for discovering talent!'
GospelbeacH & Miranda Lee Richards play:

Sat Aug 19th - Green Man Festival – Brecon, Wales
Mon Aug 21st - Prince Albert, Brighton
Weds Aug 23rd - Moth Club, London,
Fri Aug 25th - Mono, Glasgow
Sat Aug 26th - The Crescent, York,
Sun Aug 27th - The Castle, Manchester

Tues Aug 29th - Cafe Mono, Oslo, Norway
Thurs Aug 31st - Folk Å Rock, Malmö, Sweden
Fri Sep 1st – Pustervik, Göteborg, Sweden
Sat Sep 2nd - Sthlm Americana at Mosebacke & Södra Teatern, Stockholm, Sweden

Tickets for all shows are available here
Miranda Lee Richards Links