Miranda Lee Richards – Existential Beast (Invisible Hands Music)
Beautifully arranged Laurel Canyon imbued folk and cosmic country from BJM alumnus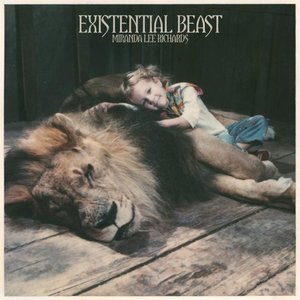 A member of
The Brian Jonestown Massacre
during the late Nineties, San Franciscan singer-songwriter
Miranda Lee Richards
returns with her fifth solo LP
Existential Beast
, gorgeously poised baroque pop imbued with Laurel Canyon mellowness and hints of Byrdsian cosmic country.
Co-produced like its predecessor by Richards with her husband Rick Parker, the ten tracks are sumptuously arranged, the string and brass accompaniments complementing the songs' beautifully. With a cover possibly inspired by
The Lion, The Witch and The Wardrobe
(or a riff on Kate Bush's
Lionheart
?) the gentle pull of opener Ashes and Seeds sets the scene for the LPs reflective mood.
The descending melody of the wonderful Lucid I Would Dream is reminiscent of John Barry's
Midnight Cowboy
theme crossed with the spooked vibe of Love classic The Red Telephone. Elsewhere Golden Gate sashays along like a cut from
The Notorious Byrd Brothers
sung by Joni Mitchell.
The Wildwood is the sole occasion the tempo rises, a Western inspired cut that nimbly gallops along replete with a spiralling guitar solo supplied by fellow BJM alumnus Christof Certik. Two folk influenced cuts placed back to back, Back to the Source comprising of layered vocal harmonies and acoustic strum and Autumn Sun aided by a string section are both gems, the latter evoking Nick Drake's
Bryter Layter
. Oh Raven comes across like a medieval folk incantation while On the Outside of Heaven is sterling 1970s Californian radio rock.
Lengthy closer Another World in it's structure if not musically evokes another eleven-minute epic, Bob Dylan's colossal Sad Eyed Lady of the Lowlands. While not as hypnotic as one of Mr. Zimmerman's greatest compositions, the present track maintains interest until the run out groove, as a string section gently draws a line under a quietly impressive set.
Miranda Lee Richards Links