Joel Gion – Apple Bonkers (The Reverberation Appreciation Society)
BJMs Tambourine Man issues excellent debut LP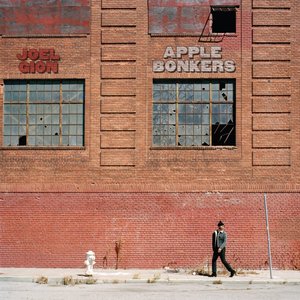 With The Brian Jonestown Massacre currently going through a sustained career upswing of late,
Joel Gion
, the group's longstanding Tambourine Man gets in on the act with his debut solo album.
Featuring an impressive raft of guests including BJM members and associated bands past and present, floating backing group
The Primary Colours
are so stuffed full of luminaries they almost resemble a psychedelic version of
The Expendables 3
.
Despite the storied cast around him Joel succeeds in staying front and centre throughout, the songs exemplary and his vocals at times sounding close to the short lived country croon Dylan favoured on
Nashville Skyline
. While Gion is insouciance personified onstage,
Apple Bonkers
is a surprisingly focussed effort, compacting ten tracks into 37 minutes.
The clever double entendre in the title, refers to the tall, undertaker-like associates of the Blue Meanies, the boo-hiss bad guys from The Beatles' animated feature
Yellow Submarine
. Whereas the villains in the film drop deadly Apples on unsuspecting people's heads, the spherical fruit this time around refers to the world's most profitable tech company and their ongoing takeover of Joel's home base of San Francisco, a city that largely invented psychedelia. In the same way that Seattle became the HQ of Microsoft in the past decade, now 'Frisco it seems is also going the same way thanks to ongoing iGentrification.
Kick started into life with the tremelo'd guitar figure of 'Yes' and the brisk stomp of 'Smile', the tempo eases with 'Hairy Flowers', detailing the singer's self-described 'beloved laziness'. Imbued with the same narcoleptic shuffle as 'I'm Only Sleeping', the chorus of '
Home is where I lay/And I can sleep all day/And all the bills are already paid
' gives way to a Mariachi style trumpet flourish at the close.
Shimmering along on synthesized strings and buzzsaw acoustic guitars 'Dart' is possibly the highlight of the set, with the chiming guitar arpeggios of 'Change My Mind' a close second, aided by former BJM chanteuse now solo Miranda Lee Richards on haunting back up vocals.
Sashaying along on a booming semi-acoustic riff 'Mirage' is the nearest thing here to the day job, with hints of Jefferson Airplane's apocalyptic acid rock breaking through, while the sinister reverbed vox of snotty garage rock cut 'Radio Silence' pays homage to Bowie's 'The Man Who Sold the World'.
Following a slight dip in quality, excellent sign off track 'Don't Let the Fuckers Bring You Down' restores the equilibrium, concluding the LP in the sunshine. And as for the Apple Bonkers in the film? Well, they're eventually defeated by singing, weirdly enough.