Flyying Colours: You Never Know (Club AC30)
Aussie dream pop specialists return with heavenly third album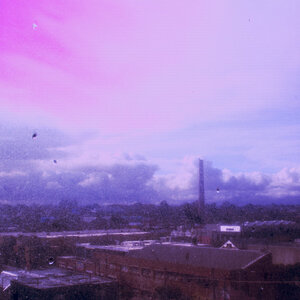 Ten years since their first appearance on disc, Aussie shoegazers
Flyying Colours
have proved themselves highly adept at the long playing format. Debut album
Mindfullness
showcased their revved up dream pop superbly, while
Fantasy Country
staked out new territory, introducing elements of Kosmische and synth patinas.
Effectively combining the two strands,
You Never Know
is the most immediate, upfront disc the outfit have issued to date. The group's hallmark elements, Brümmer's outstanding songwriting, the close plaiting of his and Gemma O'Connor's vocals and swirling guitars is given a widescreen perspective by producer Woody Annison, the harmonies even more luxuriant, the reverbed guitar motifs even more expansive.
The lure of clear horizons, something that holds even more lustre post-lockdown, hinted at on previous LPs viz: Boarding Pass and Long Holiday continues here. Long Distance, an atmospheric sliver of interlocking guitar figures and Hit The Road, a superlative straight ahead rocker conjure up images of roaring along open Australian highways.
While it may not sound much like Bruce Springsteen musically, I Live In A Small Town possesses The Boss's skill at chronicling suburban life allied to the kind of propulsion early Killers' excelled at. Do You Feel The Same meanwhile wraps a storm cloud of feedback and descending lead guitar line around a lightening fast pop song anchored by Melanie Barbaro's thunderous bassline and Andy Lloyd Russell's deft timekeeping. Overlaying a simple arpeggio against a cushion of acoustic guitars Bright Lights evokes Spaceman 3's facility at wringing the maximum out of sparse elements, the glowering Oh doffs a cap to early 1990s contemporaries MBV.
Synth steeped single
Goodbye to Music
is a philosophical take on the recording and touring related tinnitus Brümmer was subjected to, a condition he thankfully seems to have recovered from. Never Forget showcases FC's strengths at gorgeous happy / sad dream pop, the M83-esque Modern Dreams showcasing a further expansion of their sound palette, structured round acoustic guitars and synthesized strings.
We're not out of the first quarter of the year yet, so calling this one of the year's best guitar albums is premature, but we will anyway. Three stellar LPs out of three, they're making all this look very easy…
5/5