Flyying Colours: Fantasy Country (Club AC30)
Melbourne dream pop outfit make highly welcome return with dazzling new set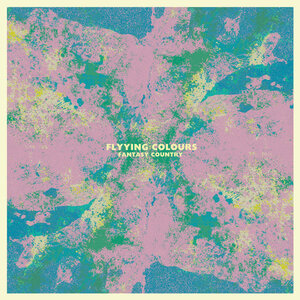 With a clutch of singles and EPs to their name,
Mindfullness
saw Antipodean dream pop sorts
Flyying Colours
deliver a fully formed debut long player with their excellent 2016 set.
Picking up where they left off
Fantasy Country
augments the group's swirling guitars and unison boy-girl vocals with synth textures and hints of Kosmiche influences. After the shit-awful year the planet has endured in 2020, musical respite is now even more essential than ever and the current band certainly deliver, as opening cut
Goodtimes
issued what seems a million years ago last January shines as brightly as the midday sun.
Opening with frantically scrubbed Strokes-esque guitars before kicking into a roaring chorus,
Big Mess
is the fastest song the group have recorded to date, showcasing their skill at fuzzed-up New Wave. The disarmingly plaintive lyrics of OK, "
When I grow up / I hope / I can do things that don't / Fuck with my head / It's all too much
" dovetail with the loveliness of the melodies surrounding it, while It's Real is a wonderful timpani assisted New Order-indebted piece of melancholy pop.
Developing from a refracted guitar figure and repeated vocal refrain of "
White knuckes / Eyes open wide
" White Knuckles sees the quartet venture into the realms of motorik psychedelia a la Moon Duo or Wooden Shjips. Picking up on the vapour trail of feedback Eyes Open overlays it with synth textures and spools the vocals of the preceeding track backwards, Stone Roses-style. This One is alt. rock manna from heaven, as whammy bar guitar patinas and sitar effect axe curlicues snake their way through the synth backdrop. An apt track to conclude with Boarding Pass sees the outfit depart with a Rolling Stones-style strut overlaid with translucent synth textures.
Comprising of eight tracks in a little over half an hour, it'd be nice if there was more of this frankly. When that's one of the few criticisms that can be levelled at an album however, you know you're onto a winner.
4/5