Interview: Flyying Colours
Aussie shoegazers chat about their excellent upcoming debut LP Mindfullness, plus info on UK and EU tour dates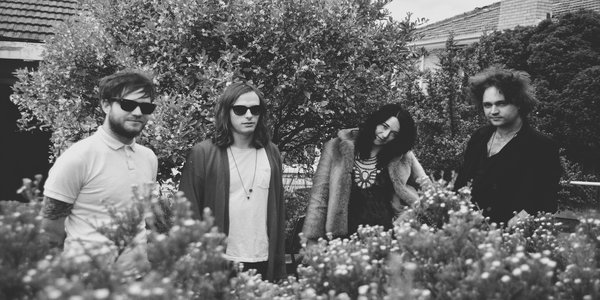 Arriving via a string of sterling 45s and EPs, Australian dream pop outfit
Flyying Colours
are set to release their sparkling debut LP
Mindfullness
in late September. Building on the sunbaked shoegaze-grunge of their self-titled debut 2013 EP which featured much praised lead track Wavygravy (
video
) and its five track follow up
ROYGBIV
, the quartet are signed to Club AC30 alongside fellow diviners of glorious psychedelic noise
Pinkshinyultrablast
. Flagged up by skyscraping psych-grunge lead single It's Tomorrow Now (
video
), the parent album is stuffed full of ethereal psych pop songs constructed around washes of fuzzy guitars and diaphanous vocals.
Comprising Brodie Brümmer, vocals/guitar, Gemma O'Connor, guitar/vocals, Melanie Barbaro, bass guitar and Andy Lloyd Russell, drums the Melbourne band are set to visit the UK in October for a tranche of gigs (see below for dates) with a slew of EU shows following straight after. An obvious opening gambit to start things off then, how did you guys get together? 'Gemma and I have known each other since high school, and have been making music in separate bands in the same crew since then' Brodie explains. 'We had wanted to start a band for some time when in 2011 we were in the right place to actually do it and start Flyying Colours together'. While the band's primary psych/shoegaze influences (MBV, Ride, Lush) are hinted at, the group's excursions into motoric post-punk on I Don't Want To Let You Down and 1980s indie pop on Running Late from last year's
ROYGBIV
EP showcase inspirations beyond the shoegaze template. 'Everything' Brodie replies when asked who the band's influences are. 'We all listen to such a wide variety of music it's hard to be specific'.
'It's actually
Mindfullness
' (with two 'l's) Brodie emphasises of the album title. 'It's a play on words I guess of my mind being full, and the record really being a cathartic 'Weight off my shoulders' kind of experience to finish. And also keeping with a theme of misspelling words and upsetting spellcheckers everywhere'. While the band have the gorgeous guitar textures and a formidable collection of stompboxes on their pedal boards to match, songcraft is equally important to the present group as dazzling indie pop rushes such as new single Long Holiday and 1987 prove. Where does this influence on Flyying Colours come from? 'I've always loved pop music of all sorts, and I like the idea of taking pop song structure and melody, and stylising them in interesting and unusual ways. That's one of the things I enjoy most about writing music' Brodie says. 'I've always listened to The Beatles, as I think everyone should, especially growing up as my sister was very obsessed, and I was Nirvana obsessed at the same time, so the idea of a good pop song was always pretty well ingrained in me'.
A standout track on the LP, the aforementioned 1987 is a sugar rush of classic indie pop that seemingly bottles the indie scene of the year in sonic form, what's the story behind the song title? 'That's the year I was born, and the song is about growing up, or maybe just being alive and aware that you are alive, and who you are. Which for me made me think about how I once was a baby, and that's weird' the singer answers And then how things change around you, but then you change so sometimes you have to stop and notice. I never really thought all too much about it until now, the title, much like all the music and lyrics just came out in their own natural way'.
ROYGBIV, the acronym for remembering the colours of the rainbow, while it shares a title with the set doesn't appear on the EP of the same name has its translucent guitar motifs overlaid with what seems to be submerged film dialogue. Where do the samples come from? 'It's from a documentary called
In Colour
that explains all about how colour works and such an integral part of our everyday life'. Brodie explains. 'Some of the scenes from it are used in the Not Today (
video
), which is on our
ROYGBIV
EP'.
In keeping with the band's pop song smarts, in contrast with some psych/shoegaze bands the quartet's songs are very concise, with
Mindfullness
clocking in at a brisk 40 minutes. Has this focus on brevity always been the case with Flyying Colours? 'Sure has' the singer replies. 'Our two, five track EPs are around 20 mins long so it all matches up. We have never thought about how long a song should be, we just play until it feels like it's time to move on to the next part, or finish the song'.
'I don't know if similar is the right word for me to use' Brodie ponders when asked if there any bands operating in similar territory to Flyying Colours in their home city. 'There are a lot of amazing shoegaze, psych and dream pop bands in Melbourne and all around Australia as well, for example
Contrast
and
Hideous Towns
in Melbourne for example,
The Laurels
and
Egoism
in Sydney,
Blush Response
and
The Dunes
in Adelaide, it's a very healthy scene'.
The last track on
Mindfullness
, When is a departure from the rest of the LP, a mournful cello augmented cut with shades of Ride classic Vapour Trail. What inspired the track and using strings on it? 'There is actually a cello in 'This Is What You Wanted' as well in amongst the guitars, but yes this one is a little different to all of our other songs' Brodie states. 'We have known this song would be the last track on our first record since before we made our first EP. It's the final moment, the sigh at the end of a long day. All of the songs from both our EPs and this album are from the same period, and in a way I think this song really ends that period for us, particularly with the final lyric of it being 'Now its all in the past'.
To conclude then, what's the best album you've heard so far this year? 'Wild Nothing
Life of Pause
(
review
)' the singer replies. 'No Joy (cult shoegaze Canadian outfit) have just released a three track EP called
Drool Sucker
(
video
) I am obsessed with at the moment so check that out'.
Mindfullness is released on 23rd September through Club AC30 (UK) and Shelflife (US)

Flyying Colours play:

UK dates:

Sat 1st Oct - Cardiff - Clwb lfor Bach
Sun 2nd Oct - York - The Fulford Arms
Mon 3rd Oct - Newcastle - The Cluny
Tue 4th Oct - Leicester - The Cookie Jar
Wed 5th Oct - London - Hoxton Bar & Kitchen
Thur 6th Oct - Brighton - The Hope and Ruin
Fri 7th Oct - Liverpool - Buyers Club (supporting Cavalry)

EU dates:

Tue 11th Oct - Paris - Supersonic
Thur 13th Oct - Bilbao - Satelite T
Fri 14th Oct - Barcelona - Lennon's Club
Sat 15th Oct - Madrid - Wurlitzer Ballroom
Sun 16th Oct - Porto - Hard Club 2
Wed 19th Oct - Milan - Ohibo
Thur 20th Oct - La Chaux de Fonds - L'entourloop
Tue 25th Oct - Prague - Cafe v Lese
Wed 26th Oct - Vienna - Club Chelsea
Fri 28th Oct - Gent - Trefpunt
Sat 29th Oct - Amsterdam - London Calling