Interview: By The Sea
Merseyside alt. pop group By the Sea chat to Richard Lewis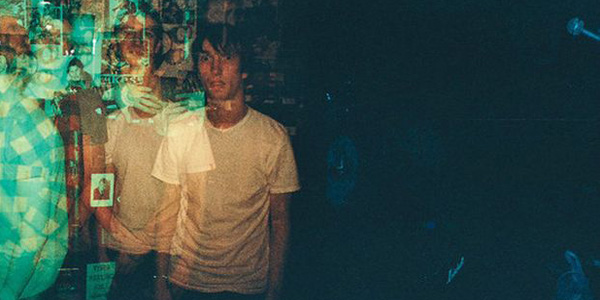 "So if Liverpool's New York, Birkenhead's New Jersey" bassist Danny reasons. Alt. pop ensemble
By the Sea
, gathered in a city centre cafe pre-practice session nod in agreement. While The Garden State made an indelible impact on The Boss's blue collar musings, growing up on the Leisure Peninsula which contains the lion's share of Merseyside's rural climes has had a similar effect on the present band.
Their name, part homage to the solitary album recorded by folk/pop singers Wendy and Bonnie, part nod to their roots on the Wirral, By the Sea have received glowing notices for their run of superlative singles and accompanying live shows over the past 18 months.
Expertly describing themselves as "escape pop", the reverb laden guitars, gauze filtered vocal lines and cushioning synths mint a sound somewhere between the golden age of the US West Coast and the best bits of 1980s alternative catalogue; The Cure, The Smiths and the denizens of the 4AD label.
Citing the psych/folk of Gorky's Zygotic Mynki and Super Furry Animals as formative influences, the band's shoegazing/dream pop hybrid is imbued with a bucolic, pastoral feel, redolent of the Wirral itself.
While their earliest gigs saw the group play as an acoustic driven quintet, a switch to electric guitars and the arrival of Joe on organ saw them decisively change direction yet retain the melodicism at the core of all their songs.
As their instrumentation changed, so inevitably did the group's sound. "It wasn't a conscious thing" lead singer/guitarist Liam explains of the band's gradual metamorphosis. "We only used to do acoustic stuff like Simon and Garfunkel to do harmonies. That was the basis of the first tunes, trying to get close harmonies. Then there was a mad rush of acoustic bands, it got a bit saturated." "When the drums came in everything started going more electric. Everyone started buying guitar pedals" Danny nods.
Despite the increase in volume with three guitarist in their ranks (lead axeman Ste is temporarily 'on sabbatical' journeying round South America) the band's deft arrangements are remarkable in their spaciousness.
Their stunning self-titled debut LP due in November ("We've had too many arguments over it" Liam laughs regarding the eponymous title) is a masterpiece of economy and quality over quantity.
"There's nine tracks, 33 minutes long. I hate listening to debut albums that go on and on" Danny explains of the LPs brevity. "We were really strict about it being short, we tried to think of it as a vinyl release." The less-is-more approach clearly pays dividends as the desired effect of the listener instantly re-playing the entire record once it concludes is easily achieved.
Produced and mixed by former Coral guitarist Bill Ryder-Jones who released fantastically accomplished solo debut LP
If...
last year, the album came together gradually.
"We started recording as Bill was on the tail end of mixing
If...
that's why we had to chip away at it, we couldn't do it all in one go. It's been about six months" Liam says.
"A lot of the LP was recorded in the Scandinavian Church (on Liverpool's waterfront) and Joe's mum and dad's garage" drummer Andy explains. "We were just recording and then we thought 'Well, we've got enough tunes we might as well do an album' and then move on straight away, we've done singles." Liam adds.
Indeed they have, as the band's mastery of the format has been showcased across three limited edition sold out 7"s through boutique label
The Great Pop Supplement.
Chiming debut single, 'Always an End' released in January 2011 was followed in June with 'Old Coasts', a superb slice of jangle pop on a split single with excellent garage rockers The See See.
Double A-side 'Stay Where the Sun Is' and 'Waltz Away' released last November maintained the vertiginously high standard and piqued the interest of cool US indie label Shelflife who are releasing current 45 'Dream Waters'/'Eveline' in North America.
The summit of the band's songwriting thus far, 'Eveline' (check out the video
here
) led by a gossamer-light vocal melody and sunburst guitars continues what the likes of The House of Love and Slowdive were aiming for, the perfect pop song gently pulled out of focus by sensual waves of sound.
The similarly gorgeous 'Dream Waters' on the flipside meanwhile despite its effortless feel went through several revisions before it was eventually committed to tape. "We had ten different arrangements for it" guitarist Mark notes. The 'slow rock' drum preset on Joe's vintage Philips Philicorda organ eventually saved the day, the track ran through a reverb pedal providing the rhythmic bedrock for the song.
"I don't think it's necessary unless you're someone like Petty or Springsteen to have massive vocals" Liam notes of his singing on the album. "The vocals are another texture" Danny nods. "It's like late Beach Boys tunes like Sunflower and Surf's Up" Liam adds. "We wanna do mellow tunes."
"It's better to not look back and use old stuff" Liam continues, on the group avoiding songs from their early singles on the LP. "It's better when you get into a band 'cos an album's out and then you find early stuff by them. It makes you understand what they're about more."
Newcomers and completists alike will find plenty on the record to sate their appetite with the beatific glide of live favourite 'So Long So Far', the languid title track and the tumbling arpeggios of 'Wait A Day', which shines like a long lost Cocteau Twins gem.
The album's sumptuous sound, courtesy of Bill's production skills also lies in the band allowing their material to marinade over time. The group are typically self-effacing however at how the tracks are actually created. "Liam writes the core of every song, the chords and the lyrics" Joe explains. "I write the blueprint of it, everyone finishes it off" Liam nods. "If we work on it too long and it sounds shit we jib it off then come back to it at some point" he grins.
Extending their aesthetic to artwork and videos, the band's hazy sound is perfectly captured in their sleeve art.
Comprised of aged photos of various exotic locales assembled by Liam's graphic designer brother Kev, the band's record cover images have the feel of accessing a cache of half forgotten memories. "We got loads of '70s slides from a charity shop" Liam explains of the shots. "A bag of 200 of them, copyright free."
By the Sea's videos meanwhile, featuring the group swathed in back projections or fuzzy natural light, have had the side effect along with scant biological info and only a few photos online of infusing the band with a certain degree of enigma.
While a sense of mystery is a rare commodity for artists in the present age of in-yer-face marketing, the group's low-key approach and in-built self-deprecating nature ensured they had their recordings perfected first and foremost.
"We said let's not say or do anything until we've at least got the album in our hands" Liam explains of their low profile. "We're not showmen" Danny shrugs affably.
An attitude reminiscent of local contemporaries Clinic from the opposite side of the Mersey, the scrubs-wearing surgeon generals from Crosby are valued by the group for their working methods as well as their output.
"They keep putting stuff out over long periods of time, it's good, it's consistent" Liam nods. "They don't bend towards any shit that people tell them they should do."
With six weeks to go until the LP hits the shelves and despite the consistent release schedule the band have maintained over the past year and a half, the group are anxious to begin work on their second opus. "We want to get started writing another album straight away, we've started new tunes" Joe states. "Maybe an EP or a single really quick" Andy nods.
Before any future plans can be firmed up however a brace of shows (including two with fellow shoegazers Echo Lake) and the small matter of their debut album's brilliance should deservedly spread word of By the Sea's beautiful noise far and wide.
http://vimeo.com/49375820
http://www.facebook.com/bytheseaband
'Dream Waters'/'Eveline' is out now on 7" on The Great Pop Supplement and iTunes

Debut album 'By the Sea' is released on November 12th on The Great Pop Supplement (vinyl) and Del'Orso Records (CD)
By the Sea play:
26th September - Nation of Shopkeepers, Leeds
8th October - The Castle, Manchester (with Echo Lake)
11th October - Leaf Cafe, Liverpool (Single Launch with Echo Lake plus Tear Talk & Bill Ryder-Jones DJ Set )
www.facebook.com/bytheseaband