Interview: By the Sea
Merseyside alt. pop group By The Sea chat to Richard Lewis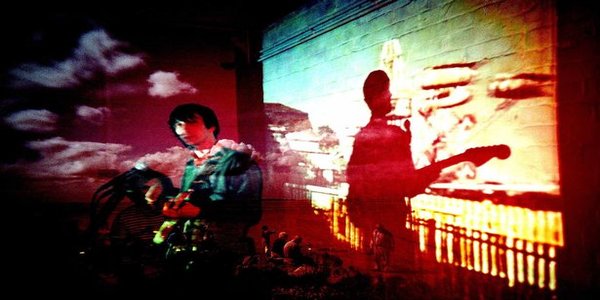 At the north western end of the Wirral peninsula, after alighting from a train station, a quarter mile walk alongside fields, over a level crossing and onto a compact industrial estate stands our destination, a small unassuming unit. Through the door and up a narrow staircase on the second floor, which assumes Tardis-like proportions compared to outside is the practice room of (amongst others)
By The Sea
.
Various vintage guitars stand idly in racks along the wall facing the performance area while the ever present hum of amplifiers mixes with the strains of Portishead's
Third
softly emanating from the stereo. Hunkered down in the present space and other rehearsal/recording facilities over the past few months with occasional forays outside for support slots with Cloud Control and Simian Ghost, the quintet are deep in preparation for their second album, the follow up to their highly lauded debut.
Details revealed so far are scarce, understandable given the group's reluctance to divulge any information before the record is completely finished, the track that will be the lead single is still under discussion. 'Before Facebook there was a massive silence, it was just 'We're going in the studio' then you wouldn't hear from them until the album came out' lead singer/guitarist Liam explains of the low-key approach. What is certain is that live favourites 'Wild September' and 'Endless Days' are both highly likely to feature and acclaimed solo artist/soundtrack composer Bill Ryder-Jones returns as producer alongside the band.
A major change behind the scenes following the group signing a publishing deal with Domino Records last year means the five-piece are able to release the album through their own label, War Room Records, with plans afoot to issue releases by other acts. Named after keyboardist Joe's flat (and in turn the op centre in apocalyptic classic
Dr. Strangelove
) the space is their base of operations away from the practice room.
Sat on settees with a large film poster for Edgar Allen Poe classic
Murders in the Rue Morgue
forming the backdrop, the present scene is where the band effectively formed in early 2009. 'We practised here for under a year first' Liam recalls of the band's embryonic phase. 'We weren't really a band, we were more like an instrumental youth club' he grins. 'We just did it to hang out for a bit, we just slipped into it really.' 'Sometimes it was praccy: Play Playstation' drummer Andy remembers. 'Then people started taking notice and we thought 'Shit, we best start doing something'' Issued in November 2012, the band's debut album took shape gradually at various locations including keyboardist Joe's garage and producer Bill Ryder-Jones' house. 'It took about a year from when we said we were doing it, there was no plan really' guitarist Mark recalls of the sessions.
Wanting to change their writing process for their second instalment, the band adopted a different approach. 'We spent about six months doing pre-production in the garage, we wrote and demoed pretty much everything' Liam explains. 'We got it basically finished as an album and then we took it to Parr St. (studios, Liverpool) broke it down, recorded some stuff with drums, extra guitars and vocals.'
'This took about three weeks, we did it pretty much all in a block. Everyone knew their parts, there's loads of bits that we just came up with' Joe says. 'We never did an acoustic backing track we just got a basic drum loop up and synth chords, putting the keys down first there was more space for guitar arrangements then' Liam explains. 'The first album probably took so long 'cos there was so much stuff going on with three guitars.'
'Demoing the album in the garage we used drum loops and synths a lot. With the first album it was really hard to fit everything in and once we did sometimes it was difficult to play live' Liam states. ''On the first album Liam would bring a song fully formed then we make a lot of noise' Joe explains of the how the band used to write. 'With the way we wrote the new album 'cos the tracks were demoed as we were writing them without having played them, a couple we had to sort of re-learn in the studio' Joe explains.
The increased synth element on the new recordings with Joe's keys more in evidence is partially due to a change in listening matter in recent months. 'There's been a big Kraftwerk resurgence on the van's CD player along with Talking Heads'
Stop Making Sense
and the
Blade Runner
soundtrack by Vangelis' Liam notes.
The new-found fondness for soundtracks continues with a recent immersion in the works of Italian proggists Goblin, best known for scoring
Suspiria
by horror maestro Dario Argento. Cinema has been one of the strongest influences on the upcoming LP with Martin Scorsese's under-rated NYC dystopia
After Hours
along with James Caan/Michael Mann collaboration
Thief
providing lyrical inspiration.
Angelo Badalamenti's
Twin Peaks
OST and a clumsy attempt by a software developer to half-inch the title of David Lynch's
Blue Velvet
without incurring the wrath of the filmmaker's and Bobby Vinton's lawyers meanwhile provided a valuable influence. 'We got this synth and we were recording on Logic and we were looking for the Julee Cruise synth sound and we found the best match was called 'Blue Carpet'' Liam says.
A marked development from the gliding guitar textures of the first album is a large section of the band's FX pedal armoury being absent on the new material. 'We've gone essential now, it's just easier to play like that' Liam says of the stripped-back guitar work. 'There's the graveyard' Andy says, nodding at a set of shelves overflowing with dormant Boss and Korg stomp boxes. 'When we get our own soundman it's gonna look like the Starship Enterprise in here, mind' Liam adds.
Despite the admirable work rate of delivering two albums roughly 18 months apart, the quintet feel that they could increase their productivity. 'We've practically managed ourselves for the past six months looking after the stuff that a manager would look after for you, which has been distracting' bassist Danny says. 'I think our ideal thing is that we could do an album, record it in six months and then just start again' Liam ruminates.
Moving from recording on to live work, the band's next gig at The Blade Factory in the city centre's Baltic Triangle district serves a dual purpose. Aside from the opportunity to put the new tracks through their paces, the show is principally to aid a Kickstarter campaign by London based animator John Davide with all proceeds from the night going towards the project.
Working with pencil-drawn animation cells and painstaking stop-motion filming, John's upcoming feature
Lunar Lament of a Haunted Heart
(check out the trailer
here
) features Paul Duffy of The Coral and Wirral singer-songwriter Eva Petersen as musical collaborators. Best known for his acclaimed video for Bill Ryder Jones' 'You're Getting Like Your Sister', the upcoming multimedia event will showcase the artist's work with animations and short-film projections supplementing the music.
Returning to the album the newly-minted lush synth-driven textures will provide plenty of material for music writers when attempting to describe the band's sound. Fans of micro-genre terminology the group came up with the excellent sobriquet 'escape pop' to describe the first album. 'We were a shanty band to begin with, then we were a jingle-jangle sixties band,
then
we were a shoegaze band' Danny laughs of the various categorisations the group have been pegged with over the years. With the dazzling new music set to be released by the group later this year, come the summer, more will doubtless be coined.
By the Sea play The Blade Factory at Camp & Furnace on Saturday 15th March

Support comes from Ian Skelly and the Serpent Power and Tear Talk
Plus DJ sets from James Skelly and Two Sunsets

For tickets visit here