Interview: By the Sea
By the Sea chat about their acclaimed recent album Endless Days, Crystal Sky to Richard Lewis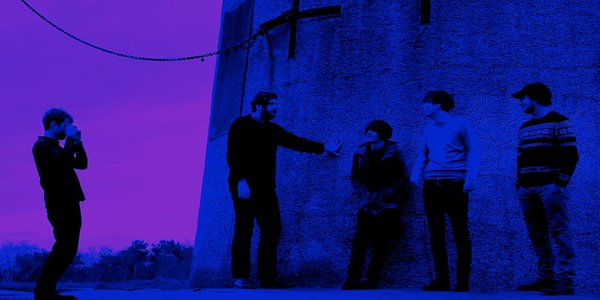 'We're now experts on
Tiger Woods Golf
on the PS2' drummer Andy Royden notes. Golf: an apt subject, one that is likely to be people's minds in this sweltering beer garden present. Sat around a Hoylake pub on the Wirral penninsula a short distance from The Royal Liverpool Golf Club where the Open Championships recently took place, four-fifths of
By the Sea
luxuriate in the baking sunshine.
The PlayStation activity referred to took place in studio downtime during the recording of the Wirral band's dazzling second album
Endless Days, Crystal Sky
, released to unanimously positive
reviews
last month. Retaining the songwriting smarts showcased on their debut LP and with lead singer Liam Power's voice growing in confidence, the musical ground beneath the melodies has shifted into different territory with tracks less reliant on bedrocks of guitars, with cushioning synths and heavily processed drums now forming the foundations of the band's sound.
Despite group concerns that the follow up to their lauded 2012 eponymous debut had taken 'ages',
Endless Days…
lands just over 18 months after its predecessor. Issued through the band's own label War Room Records, via a publishing deal with indie powerhouse Domino, the first taster of the LP 'I See a Crystal Sky' surfaced in early July replete with a sun-drenched
video
that despite looking like it was filmed somewhere out in Nevada was shot on a scorching hot day on Hoylake beach, ten minutes walk from the band's practice room.
'It's hard to do, you don't wanna make the same album twice but you don't wanna step too far away and alienate people' Liam states of the new LP. 'We started writing as soon as the first album was finished, the week it came out'. With New Order's groundbreaking 1983 opus
Power, Corruption and Lies
and David Bowie's trailblazing
Low
LP serving as two key sources of inspiration, the new set of tracks is awash with gliding synth textures.
'We kinda did a bit of an Eighties album, from listening to all that production' Andy explains. 'That's why the snare drum is really loud in it. There's a lot of electronic samples even with the real kit on the snare to bring it out a bit, electronic hi-hats'. Recording through 1950s microphones, the overload effect gave the drums a distinctive tone, clear from the outset with the beats that power opening cut 'Endless Days'.
Live favourite 'Wild September', first debuted onstage last year showcases the band's take on immersive electro-pop, gradually fading into a coda of luscious synths, led by a sample of a glass armonica plaited with a guitar. Elsewhere the elegiac 'These Days Fall' simultaneously evokes The Radio Dept. and non pareil US dream pop ensemble Wild Nothing. Fellow standout track 'Emily Says' meanwhile exemplifies the band's newfound modus operandi for writing songs, by using whatever instruments were available at the time. Regardless of how unweidly the hardware they might have been to the musician present, ('I was playing a right handed bass for 'Emily Says' notes left handed four stringer Danny O'Connell), the process reaped dividends.
Operating outside their comfort zone, the practice of utilising whatever instruments were to hand lent songwriting a new perspective. 'It's good doing that' keyboard player Joe Edwards nods. 'You find bits you wouldn't normally have recorded. You can get used to playing what you know and you can fall into the same things. It was just whatever popped into anyone's head first, it'd be like, we need a guitar part now so we can come up with something else, so it was just whoever was there'.
'That was one of the major differences I thought from the first LP' Danny says of the new working arrangements. 'We did a lot of that, Joe played a lot of bass on the demos rather than keyboards and guitars whereas the first album we all stood in a room, Liam would bring a song and we'd write around it. This was more about trying different sounds and ideas and then writing as you were demoing'.
''Emily Says' was a tough one, working on it in (practice space) the garage, we had shitloads of basslines for it' Liam recalls. 'One of our first tunes had Emily in it, it's just a great name to sing. I thought it would be cool to do a weird short story. That was the only tune on the album where we wanted to write, I suppose you could say, a deliberate pop tune, just stock love lyrics' the singer explains. 'I love that on an album, where you've got ten tunes all based on interpretation from vague lyrics, then you come to one track where it is what is, a standard sort of love song with a tale to it'.
With the band now solidified around the two guitar line up of Liam and lead axeman Mark Jackson, many of the songs' structure are created by synths and basslines. 'I've been to Pedals Annoymous, it's got me through some hard times' Liam deadpans about the lack of guitar effects on the LP. 'The more you start fucking round with stuff like that it becomes unnecessarily complicated, this is way more synth and keyboard heavy. We'd lay a guide track down most of that would just be Joe using a synth'.
'Two guitars can kind of fight each other and can just end up in a wishy-washy guitar sound, but when you've got the synth there, providing the basis of the melody, it's easier to chip in with little bits' the singer explains. 'There's so much more lift on the chorus when you're leaving the verses arrangement-wise quite sparse, rather than having to rely on production. This is definitely more planned out and less off-the-cuff live as the first album was'.
'This is more of a studio album than a live album. I don't think it was conscious, as though we thought 'We need less guitars' Joe agrees. 'We demoed this album it on Logic, so it was much easier to record a synth than a guitar' Danny explains. 'It's all programmed, so a lot of the basic demos were just synth and drums, then we'd do guitars later 'It's just less of that Wall of Sound than on the first one, there's more definition than on the first album'. 'Some of the guitars even sound like synths in the end though 'cos of the production' Andy adds.
In the run up to recording the five piece work-shopped intensively beforehand, effectively creating a demo version of the album. 'We knew that if we got in a studio we weren't gonna have much time in there 'cos studios are so expensive, so we were well-prepped for it' Liam explains. 'Really we recorded the entire album in Joe's garage beforehand, we had more preparation time. I think we demoed the whole thing in about three or four months'.
Captured for posterity in the near-legendary surroundings of Parr St Studios (former patrons include Doves, Super Furry Animals and Verve), PlayStation diversions notwithstanding, the songs were completed quickly. 'We were basically re-creating the demos, the pre-production was already there. We learned how do things ourselves a bit more' Andy says of the sessions.
Scoring his third album producer credit of the year in addition to The Wytches' debut album and the forthcoming second LP by Saint Saviour, long standing collaborator Bill Ryder-Jones returned to press the requisite buttons on the recording console alongside the group.
Subject of heavy rotation on the practice room stereo, the influence of US electro act Chromatics and Parisian synth pop polymath David Grellier who records as College permeates the album, both acts discovered via the subaqueous electro pop of the
Drive
soundtrack. Two tracks in particular are immersed in deep-pile Eighties synths, both of which feature a notable new guest presence, fellow Wirral native Emma Leatherbarrow, who records as
Minnetonka
.
The brilliant 'Another Way' features Minnetonka's pellucid Liz Fraser-esque vocals, while the album's penultimate song 'At Your Window' is effectively a duet between her and Liam. The biggest departure in the band's catalogue to date, despite the effortless sound the latter track exudes, the song had a lengthy gestation period. 'That was when we were coming to the end of recording but we had enough time to really experiment' Liam recalls. 'We ended up spending the most amount of time on it, we totally layered it, adding E-bow to it, loads of arpeggiated synth sounds. Bill plays guitar on it'. 'That's probably the most soundtrack-type cinematic tune' Danny nods.
Combining two song titles to name the LP, cutting room floor rejects included 'A Constellation With No Stars' a line from 'Endless Days' and 'The Spirit Dies With Youth, a key lyric from the track 'Youth'. 'I wanted the album to be called 'The Spirit Dies With Youth. I just liked that reference, I thought it sounded like a cool cult' Danny says. 'I thought that was a bit heavy and too My Chemical Romance teenage angst' Joe grimaces. 'Morrissey's misery' Liam adds.
Meanwhile a thorny issue that surfaced on the first album, the LPs running order reappeared ('I tried not to get involved in it' Danny laughs) highlights the group's near-obsession with albums being more than the sum of its constituent parts. Despite constant (and misguided) proclamations from some quarters that Spotify, iTunes et al have demolished the standing of the album as a cultural artefact, the present band see the long player as an artistic statement.
Back when one substandard track could arguably sink an LP, the old school approach of not wanting to waste what used to be called 'needle time' is steadfastly adhered to. 'It's really important' Liam says emphatically. 'Especially when people were still using vinyl you should keep that thing of 'I don't wanna have to get out of bed to skip a track'. It's like skipping a fucking chapter in a book! Just don't put a shit one in there anyway!' the singer says exasperated.
Turning already to the future the next project on the horizon before the third LP proper is likely to be clutch of non-album singles 'We'll definitely get something that we'll really lock onto record it as a standalone track and hopefully release it in January or February'.
Before then live dates ('It'd be good to play a show and do the album start to finish' Liam muses) and
Endless Days...
second single, alt. pop gem 'You're the Only One' backed by a 'weird Americana' style video inspired by cult filmmaker Harmony Korine's
Gummo
is next on the schedule.
A group seemingly cursed with restlessness, before the cellophane had been pulled off the present album, the next installment had already started to take shape. Despite not entirely serious claims (we assume) that the next outing will take a 'glam rock direction' and feature 'double-necked bass guitars' where the present LP has been a conscious attempt not to merely recreate the debut album, the third helping of By the Sea is highly likely to follow suit.
While second albums are supposedly the most problematic of a band's career, the present group have kicked down that particular door with no small amount of style. The effortlessly successful change-up of their sound was always likely to be on the cards however, as Danny explains 'As soon as you get pigeonholed by people it totally makes you wanna go in the opposite direction'.
Endless Days, Crystal Sky is out now through War Room Records