Lindi Ortega – Til The Goin' Gets Gone (Shadowbox Music Inc)
Beautiful, downbeat new EP by Canadian alt. country singer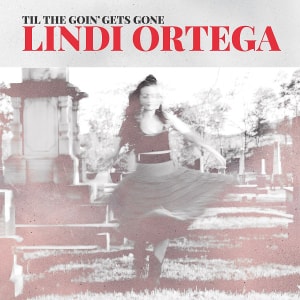 The first release by one of the alt country sector's finest since 2015,
Til The Goin' Gets Gone
sees Toronto born singer
Lindi Ortega
release her darkest set of songs to date. While many of Ortega's albums have featured their fair share of melancholy, the present release is the most downbeat collection the singer has issued by a considerable distance.
In stark contrast to the expanded instrumental palette showcased on previous LP, 2015s excellent
Faded Gloryville
which featured brass and additional backing vocalists, here the music is stripped back to its bare essentials.
A performer easily able to power through a live set solo, here the songs are led by little more than acoustic arpeggios, spare slide guitar embellishments and the occasional lilt of a piano, placing Ortega's voice and lyrical skill front and centre.
Providing a thematic link to the title tracks of previous albums
Faded Gloryville
and
Tin Star
which paid tribute to the musical dreamers of Nashville, Ortega's former home,
Til The Goin' Gets Gone
is a song of defiance against giving up as is the hard bitten lyric of What A Girl's Gotta Do.
Cited as helping break through a severe bout of writer's block, the singer's discovery of legendary outlaw country singer Townes Van Zandt, an inspiration on artists as varied as Willie Nelson, Bob Dylan, Cowboy Junkies and Michael Kiwanuka is celebrated with a cover of Waiting 'Round To Die. Proof of Ortega's huge talent as an interpreter of song, the rendition here is simply bone-chilling, a pitiless examination of hitting rock bottom only to discover there may be further yet to go.
The most sombre moment musically is left until last as Final Bow, initially planned as Ortega's final song before retiring from music ('
I can close the curtain if I want to/I can shut the show down if I choose
') which somehow matches funereal paced Southern Gothic atmosphere with an off-kilter cabaret piano part that conjures up the twin spirits of Emmylou Harris and Marlene Dietrich in a beautifully sepulchral sign-off.
While Ortega has stated in recent interviews that she strongly considered stepping away from music until the spark returned and the songs began to flow again, the present release is excellent proof why the singer was right to reconsider as
Til The Goin' Gets Gone
showcases inspiration to burn with plenty more to come hopefully.