Interview: Lindi Ortega
The alt. country singer discusses superb new EP Til the Goin' Get Gone & info on North American tour dates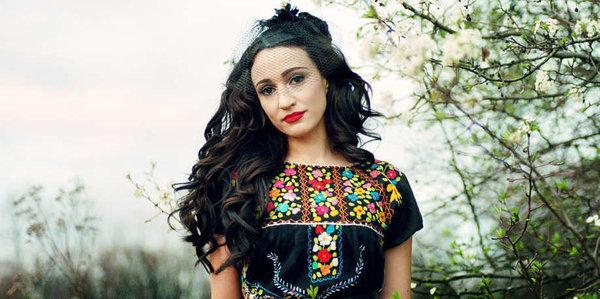 The first new material from Canadian alt. country stalwart
Lindi Ortega
since 2015s excellent
Faded Gloryville
(
review
) new EP
Til The Goin' Gets Gone
(
review
) is a beautifully downbeat collection steeped in minimalist instrumentation and the singer's strongest lyrics to date.
A resident of country music capital Nashville for several years, a recent move back to her native Canada and overcoming a bout of writer's block the new EP sees the singer's career decisively open a chapter. While her relocation to Calgary is too recent to have played an influence yet, 'I just moved back in February so it's a little too early to tell what kind of musical impact it might have. Unless I start writing songs about the snow and being cold!' the singer states, the new disc is hopefully a prelude to a new album soon.
While the disc features longstanding sideman 'Champagne' James Robertson on guitar, the instrumentation is the most low-key Ortega has issued to date. Was this is a conscious decision or something that became apparent once the recording sessions were completed? 'It was absolutely a deliberate move' Lindi responds. 'I knew before recording that I wanted to keep the production sparse'.
Co-produced with friends Jay Tooke and Jason 'Rowdy' Cope at their studio in Nashville, the EP represents the singer's first production credit. Having fulfilled the contract with Last Gang Records, the set is released through the singer's own label, the revived Shadowbox Music Inc. Does it feel liberating to be free of record company pressures? 'It's very liberating to do your art the way you want to with no outside forces weighing in' Lindi states. 'I believe that if your goal is to be a huge mega mainstream success, then sure, follow all the formulas and do all the tweaks that make things good for radio, otherwise, you have every right to be you and have a vision for how you want to sound and see that vision fully realized. It doesn't get more authentic than that'.
The lead track of
Til the Goin' Gets Gone
(
video
) appears to share kinship lyrically with the title tracks of previous releases
Tin Star
and
Faded Gloryville
which detailed the pitfalls of the music industry and the grind of touring. Does the new song have a link to the earlier tracks? 'Yeah, I suppose it does' Lindi responds. 'I was trying to juxtapose my road of life with the
actual
road of life. So my particular experiences do fall within the lyrics. But it can all be related to in a metaphorical sense; I did that purposely because I wanted it to encompass a bigger picture, one that we are all a part of. At the end of the day I wanted the song to speak of our human resilience and that's what we count on to get through life'.
Planned as the singer's swansong before retiring from music '
No more singing/No more dancing/No more late night pony prancing/In these boots
' the sombre but exquisite Final Bow is the most off-kilter track of the set, a haunting piano led piece that evokes a country lament crossed with Weimar-era cabaret. What was the musical inspiration behind the song? 'Many moons ago I released an album of cabaret type songs' Lindi answers. 'I seem to lean that way when I write piano songs. I'm not sure why. I always feel like my piano tunes have to have some kind of spooky drama'.
'I've always tinkered around on the piano' Lindi says of working on keyboards. 'I feel like I am not really a piano player, my style of playing is really rudimentary and plinky. Any real piano player would think I was awful. That being said, I feel when I write songs with imperfect piano accompaniment it lends something to the song... It's some statement on imperfection. I also tend to gravitate towards slightly out of tune pianos. It's more difficult for me to write a song on piano, I can't just sit at it and say OK 'Today I'm gonna write about this', I sit down at it and most times no inspiration hits. But once in a while some strange raggedy song pours out. I feel like with piano, it writes me. I don't dictate anything'.
Adding to the singer's impressive stockpile of cover versions,
Til The Goin' Gets Gone
features a superlative rendition of folk/country standard Waiting 'Round to Die by legendary US singer Townes Van Zandt.
Frequently described as a 'songwriter's songwriter' due to the stellar list of artists who have covered his songs or cited him as an inspiration (Bob Dylan, Emmylou Harris, Laura Marling, Neil Young, Chelsea Wolfe), Lindi credits discovering his music with helping to overcome a case of writer's block. 'I was feeling really uninspired just before I learned of his music' the singer recalls. 'But sometimes when you discover someone's entire catalogue of brilliance you are just left awe-struck. I'll never be a shadow of the songwriter Van Zandt is, but it raised a new bar for me and piqued my curiosity about the many different ways one can write a song and tell a story with that song. Van Zandt is one helluva storyteller'.
'It was the first song of his that I heard; it wrenched my heart and stirred my soul' Lindi says of deciding to record Waiting 'Round To Die. 'I know it's been covered a billion times, but that didn't matter to me. I felt I needed to pay my own tribute to that song'.
On the subject of new discoveries, have you picked up any other recent inspirations musical or otherwise? 'I've been so busy lately I haven't had much down time to sit and listen to new music. But I'm always trawling playlists and podcasts for new discoveries. On our road trip to Ottawa from Toronto the other day we listened to BB Kings' blues station on satellite radio. It was amazing'. With a support stint with Southern Rock singer Chris Stapleton recently concluded Lindi is 'Hoping to make a return to the UK next year'. A slew of North American tour dates (details below), is in the next order of business as the next chapter in the singer's storied career opens in considerable style.
Photo credit: Laura E. Partain

Lindi Ortega US/Canada live dates:

Friday 19th May – Monday 22nd May
Creston Valley Blossom Festival, Prince Charles Theatre, Creston, BC, Canada
Friday 26th May – Monday 29th May
Northwest Folklife Festival, Seattle Center, Seattle, WA, US
Thursday 1st June – Brewminatti, Prosser, WA, US
Saturday 3rd June – Vintage Wine Bar & Restaurant, Redding, CA, US
Sunday 4th June – Sweetwater Music Hall, Mill Valley, CA, US
Wednesday 7th June, The Wayfarer, Costa Mesa, CA, US
Thursday 8th June, Saint Rocke, Hermosa Beach, CA, US
Friday 9th June, Brick 15, Del Mar, CA, US
Saturday 17th June, Building 24, Wyomissing, PA, US
Sunday 18th June, Daryl's House, Pawling, NY, US
Friday 30th June – Sunday 2nd July, Stan Rogers Folk Festival, Canso, NS, Canada Friday 21st July – Sunday 23rd July, Bolton Rotary Festival, Caledon East, ON, Canada
Friday 21st July – Sunday 23rd July, Gateway Festival, Bengough Regional Park, Bengough, SK, Canada
Friday 4th August, Keeper of the Plains Plaza, Wichita, KS, US (w/ Dwight Yoakam)
Friday 4th August – Saturday 5th August, Wichita Vortex Music Festival, Wichita, KS, US
Thursday 10th August – Sunday 13th August, Boots & Hearts Music Festival, Burl's Creek Event Grounds, Oro-Medonte, ON, Canada
Thursday 31st August– Monday 04 Sept, Strawberry Music Festival,
Tuolumne, CA, US
Friday 8th Sept – Sunday 10 Sept, Sisters Folk Festival, Sisters, OR, US