Lindi Ortega: Faded Gloryville (Last Gang Records)
Alt. country singer returns with strongest and most wide-ranging LP to date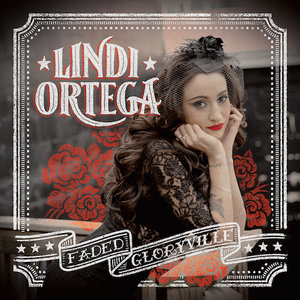 The fourth LP by storied alt. country artist
Lindi Ortega
sees the Toronto born, Nashville based singer broaden her sound to take in elements of soul, torch song and classic pop.
Its lyric sheet a collection of tales about hopeless dreamers, romantic woe and lonely nights of the soul, the downbeat moments of
Faded Gloryville
are counterbalanced with gritty humour, the tone remaining defiant throughout.
With over a decade of glowing album reviews and a formidable live reputation why Ortega isn't currently at the level where her albums rack up sizeable figure sales is bewildering. The present set however gives the strong impression of positioning the singer to venture overground.
Helmed by returning producers Dave Cobb (from 2013 LP
Tin Star
) and Colin Linden (from the previous year's
Cigarettes & Truckstops
), three tracks are co-produced by newcomers, The Civil Wars' John Paul White and Alabama Shakes' keys player Ben Tanner. Despite the three separate production credits, the album coheres brilliantly, the track listing essaying the singer's widest range of genres so far.
The latter producers oversee a highly successful diversion into classic soul, taped in the legendary surroundings of Muscle Shoals, scene of recording sessions by Otis Redding and Sam Cooke.
The tear-stained 'When You Ain't Home' and the wistfully optimistic 'Someday Soon' which references John Barry's
Midnight Cowboy
theme expertly showcase the singer's ability to easily incorporate influences from outside traditional country.
Renowned for well-selected cover versions ('Desperado', 'I Wanna Be Sedated') Ortega's essaying of Bee Gees standard 'To Love Somebody' is so skilfully re-arranged it only becomes apparent what the song is when the chorus appears.
The yearning 'Ashes', co-written with longstanding guitar sideman James 'Champagne' Robertson and the sad-eyed lap steel assisted lament of the title track cleave more towards Stevie Nicks-style pop while 'I Ain't the Girl' revolving around an eight note refrain that instantly ensnares the listener is one of the singer's most immediate tracks to date, a hit single in some alternate universe.
Elsewhere, paying homage to a treasured influence, 'Half Moon' evokes country balladeer Patsy Cline while a pair of foot-stomping tracks 'Run-Down Neighbourhood' and 'Run Amuck' are witty portrayals of ne'er do wells' that injects humour into the own their luck character studies.
The singer's most varied release to date without a single sub-par track in sight,
Faded Gloryville
adds to the increasing wealth of evidence that Lindi Ortega is one of North America's finest songwriters.