What the media are saying about: Thee Oh Sees – Warm Slime (In the Red)
Prolific - no doubt, but do the media have anything else to say about John Dwyer's band's latest outing?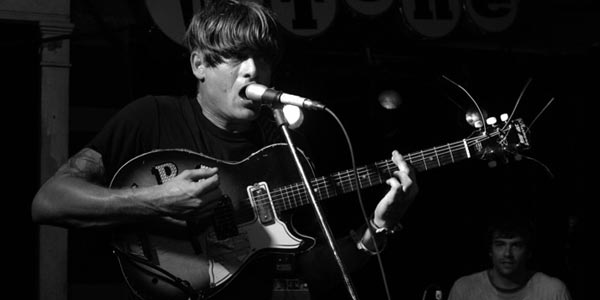 I'm not going to make any qualms about it, John Dwyer is my favourite musician. By definition, that makes his current band my de facto favourite band. After Pink & Brown, Coachwhips and The Hospitals (amongst many others, including the awesome one album wonder that was death metal band Dig That Body Up… It's Alive) that band is currently Thee Oh Sees, who have released 11 records in little over five years.
Listen:
Thee Oh-Sees - I Was Denied by hells-belles
Latest effort
Warm Slime
is their second for In the Red, who seem to put out the records Dwyer wants pushing. Between this release and
Help
– their last In the Red outing – Thee Oh Sees have released the flute toting
Dog Poison
on Captured Tracks, a collection of demos
Zork's Tape Bruise
on Kill Shamen, non album singles
Tidal Wave
(Woodsist),
Blood in Your Ear
(Rock is Hell) and
In the Shadow of the Giant
(Sub Pop), split 7" releases with the late Jay Reatard, Ty Segall and Paul Cary and an utterly gorgeous etched one-sided 12" version of
Quadrospazzed
on Dwyer's own Castle Face records. From that it's fair to say two things: that Thee Oh Sees keep themselves busy, and they don't subscribe to the one label philosophy.
That's something that music blog
Tiny Mix Tapes
has down in their
review of the record
, and they sum up the situation nicely in their exchange between major label exec and label stooge:

"Major label Exec: With bands like Thee Oh Sees out there, delivering what the kids want, how the hell are we supposed to muck it all up by throwing large sums of money around and enslaving 20-year-old kids, much less more seasoned vets like Dwyer? I don't want to go back to selling restroom supplies — I WON'T go back to selling restroom supplies. Damn, there's no way around it; I'll have to go back to selling restroom supplies."
Unfortunately,
The Quietus
don't seem to have the same concentrated grasp of the record's context. But after expressing surprise at a 14-minute track existing at all, the
review
takes a similar line to Tiny Mix Tapes, summing it up as
"a wonderfully sick album,"
assuming of course that we're using the street definition of 'sick' there.
'Prolific' is the buzzword again on
Muso's Guide
, whose
review
talks of the epic title track as
"garage scuzz heaven,"
Pitchfork
meanwhile go for
"unreasonably prolific"
and air a rare concern amongst reviews that the record is
"rough going at times."
Summing up the band nicely is the
Mishka Bloglin
site who states that
"experiencing their dirty, hyper psych/garage live feels a crucial piece in their puzzle,"
if you're in the UK you can do that this week as they're on a rare tour of these shores, playing Manchester on Tuesday, Birmingham on Wednesday, Glasgow on Thursday and London on Friday.
In all then, a band who is as consistent as they are prolific. Thee Oh Sees are the sum of great parts and, whilst
Warm Slime
may not quite be their masterpiece, the title track alone makes it an extraordinary release, backed up with what Dwyer is renowned for: scuzzy, dirty garage rock - and he does it better than anybody else.