Thee Oh Sees – A Weird Exits (Castle Face)
Music made by psychedelic, punk zombies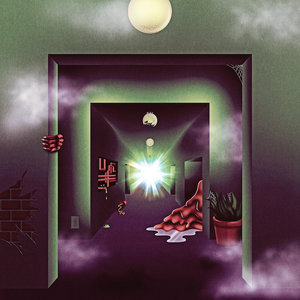 Thee Oh Sees
are the kind of band that just can't help themselves from producing new material. And they showed this when a supposed hiatus in 2013 lasted less than a year. As the band led by John Dwyer approach their 20th anniversary that prolific streak within them doesn't seem to be letting up.
If there was any doubt about Thee Oh Sees ability to create something which really isn't what you expect 'garage rock' to be then
A Weird Exits
squashes it. With bleeps populating 'Jammed Entrance' or thickly laced distortion all over 'Dead Man's Gun' this album sounds like music made in a psychedelic, punk haunted house. It might seem morose at times but it consistently pulls energy levels well above the norm. It administers adrenaline shots at times of mild depression which rush energy straight to the head to keep the listening running in this haunted album.
Double drums pound out the chorus and back up strongly twanged solos. The distortion and reverb on that lead guitar is like a gut scream from whichever monster is coming wobbling and hobbling from of the grave. The sound is almost like the 60s have been resurrected. It's easy to imagine the band using old and dusty speakers with the cone of the amp sawed rather than artificially created.
Then towards the end of the album the haunted house takes flight, ripped gracefully from its foundations by balloons. 'The Axis' builds slowly on melodious guitar and airy Wurlitzer. Laced with sadness and farewell fanfare the choral vocals joined together in deep speculative tones intertwined with feminine softness. '
And by the time you hear these words/Your wicked face will be gone from my mind
' introduces a broken solo, and reception fading as if the dated and broken amp has finally shot it. This is the moment that Thee Oh Sees shut down the album as well. A solo fittingly merging into itself and petering out with static noises.
Thee Oh Sees 17th album is another colossally spooky and fuzz-filled effort. Moving on by looking back is the key here. For all those lovers of the 60s and 70s grizzled rock
A Weird Exits
offers something fresh, yet not too unfamiliar. For those who enjoy something departed from the mainstream Thee Oh Sees have done it since the turn of the millennia, and as such is a lesson in the history of where weird started and went. A Weird Exists has some songs on it waiting to become fan favourites. While it's not a perfect album when it excels it gives the excitement and juicy freakiness that very few are able to give. And that should be admired as 'The Axis', 'Dead Man's Gun' and 'Plastic Plant' should be bought and listened to again.