Profile: The Getintothis Award 2016
As the prize for the best record released by a Merseyside based artist returns for a fifth year, head judge and event founder Peter Guy chats about the 2016 shortlist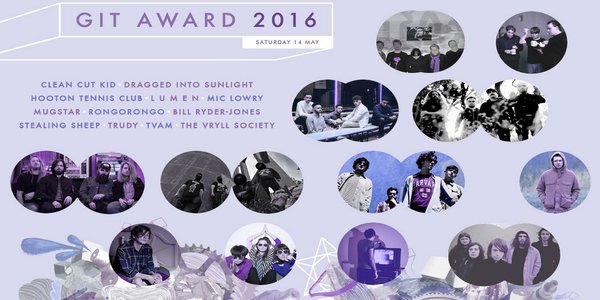 Returning for its fifth consecutive year, the
Getintothis Award
has become something of a landmark fixture of Liverpool's music landscape since its 2011 inception to honour the best record made by Merseyside based musicians. Nicknamed the
GIT Award
, this year's shortlist (see full list of nominees below) provides sterling proof of the rude health of Merseyside's music scene, with a plethora of genres represented by acts nationally known, breaking through and emerging from the underground.
Last year's winners, alt pop trio
All We Are
collected the £1000 prize money and the year-long accolade at The Kazimier in April 2015, with the now defunct, already legendary music venue playing host on a night that saw most of the shortlisted acts.
Established by Peter Guy,
Liverpool Echo
journalist and founder of the
Getintothis
blog in 2011, the concept behind the event was (and remains) brilliantly straightforward, acts based in Merseyside submit four tracks mp3/CD for consideration for the prize, a specially commissioned trophy and a cheque for £1,000.
Since then acts to feature on the shortlist and its accompanying 'One to Watch' accolade have included the nationally known likes of
Dan Croll
,
By the Sea
,
Outfit
,
Forest Swords
,
Stealing Sheep
, Circa Waves, Hooton Tennis Club, Jane Weaver and Bill Ryder Jones and
Låpsley
(see laudatory
live review
added yesterday)
Peter heads a 16 strong judging panel of promoters, writers and bloggers drawn from Liverpool's music scene including influential music publication
Bido Lito!
alongside a score of figures from the UK music industry's independent sector. Stepping up as adjudicators this year is a storied list of tastemakers including Bella Union Records founder and former Cocteau Twin Simon Raymonde, the general manager of legendary indie label 4AD Rich Walker, Heavenly Recordings mainman Jeff Barrett plus BBC 6 Music DJs Gideon Coe and Jon Hillock
Also featured are communications manager at global video platform Vevo Dot Levine, co-founder and editor of revered webzine
The Quietus
John Doran, and Louise Dodgson, editor of online music industry directory The Unsigned Guide.
'This year, more than any we could have had 25 to 30 artists you'd say they're all fantastic acts' Peter says of the 2015/16 shortlist, which after 300 entrants, a maxed out Inbox and a several lengthy discussions later emerged in March.
Thumbnail profiles of the twelve acts in contention this year sees psych/prog heavy hitters
Mugstar
, (currently receiving sizeable praise for their new LP
Magnetic Seasons
) return, alongside newcomers, redoubtable psych rock troupe
The Vryll Society
, revered as one of the city's best live bands at present plus highly tipped fuzz-rockers
Clean Cut Kid
and cult metal band
Dragged Into Sunlight
.
Spiky post-punk six piece
RongoRongo
make their inaugural showing, plus 17 year old songwriter,
L U M E N
championed recently by BBC Radio One's Huw Stephens, alongside fellow newcomers, rockabilly infused indie trio
Trudy
. The latter began to accrue a buzz following a storming gig at one of the last shows ever held at The Kazimier, supporting slacker-pop doyens
Hooton Tennis Club
, who also feature this year on the strength of their much praised 2015 debut LP
Highest Point In Cliff Town
.
Elsewhere one-man lo-fi electronica act
TVAM
, garlanded with single of year 2015 for his track Porche Majure by BBC 6Music DJ Gideon Coe (one of this year's judges) features with RnB quintet
MiC LOWRY
and sparkling avant pop trio
Stealing Sheep
capping the list.
'I love the fresh approach to it. The more first timers we can get in there as far as I'm concerned the better Peter enthuses. 'I think having people like Lumen and RongoRongo it's great to have people like that involved, they're what the awards are about, they'll now get decent press across the board and people will listen to them. You only have to look on social media, on Facebook people were saying 'I've never heard of
half
of this lot' and that's just great, that's what it's all about'.
'The national judges this year have played an absolute blinder with their enthusiasm. John Doran (co-founder and editor of
The Quietus
) is my unofficial skipper, he's been there from the beginning and he's just brilliant, he's like a guiding force' Peter states. 'It was quite late in the day that John said 'Why is Dragged Into Sunlight' not in this process?' They've had five star reviews across the board with the metal press'. Well known amongst the metal underground but reltively obscure in their home city Doran, an authority on the genre, stated that he would rank the band amongst his 'top three underground metal acts in the world,'.
The Quietus
man also added 'I would ask non-metal partisan judges to be aware that with Dragged Into Sunlight they have a potentially world beating act on their hands and not to ignore this fact just because they sound fucking evil and repulsive'. 'When you've got a paragraph like that on your hands, it's hard to ignore that type of mission statement!' Peter laughs approvingly.
Modelled to some extent on the Mercury Prize, while the long running national prize has been accused of tokenism in the past with some of its selections, Peter is bullish on the GITs not being subject to it. 'There's nothing divisive about the list like, 'Here's a pop band, here's a metal act, here's a jazz band, here's a nose flute band' the writer empahsises. 'We select just on the music, it's as simple as that'. 'I think other people might look at the list and say derisively 'They've got MiC LOWRY, they're a boyband' for want of a better description. I think their nomination is testament to their skill, not only to their skill and their talent, but also their unbelievable work ethic. There's probably no-one else on the list who has toured as relentlessly as they have. They've done schools tours up and down the country and I think that's reflected in the massive fanbase that they've got.
Proof of how much the music landscape can change meanwhile, much-vaunted alt rockers Clean Cut Kid hadn't been heard of 12 months ago. 'Part of the reason the award exists, as well as highlighting the best music, it provides a snapshot of the year' Pete explains. 'Clean Cut Kid, as much as any artist on there if not more have defined the last year, they've been a grafting band under various guises, they've settled and then they've gone bang. They've recently played CMJ and SXSW in the States, they're headlining the BBC Introducing stage at Reading'.
While the lion's share of the shortlist are debutantes, amongst this year's dozen are return appearances from storied Merseyside acts Bill Ryder-Jones, Stealing Sheep and Mugstar. 'I think we sometimes take for granted what we as music fans think everyone knows about, as though Stealing Sheep say, are ubiquitous, they
are
in music circles' Peter reasons. 'I think it's really important to remember that even though we are massive music fans and Stealing Sheep have been nominated in the first, third and now the fifth year, they're still in their infancy. It's still only their second album (
Not Real
, 2015) and not only that they've made this huge leap from quite naïve out-there mystical folk into this super-slick spacey electronic own world that they've created. All the performance stuff they do, the while vision behind it, on one hand you go 'Yep, they've been nominated twice before', but how can we
ignore
this whole package that they've got going on and a great record?'
'The same applies to Bill Ryder-Jones, he's moved from (soundtrack themed debut)
If…
(2011) to becoming more of a songwriter with
A Bad Wind Blows In My Heart
(2013), to now being a proper frontman. I saw him the other week and he was churning out ridiculous guitar solos and really showing that he can really let rip. On one hand you say 'He's already been nominated and it sounds like an easy one but then you just go 'How can we ignore this guy?' it would almost be a dereliction of duty to say 'Well, this guy's record is in the Top 10 End of Year Lists (for 2015s acclaimed
West Kirby County Primary
) but
can't
be on the award that celebrates the best new music within that year', it'd just be crazy. That's the way the judges look at it I think'.
'I suppose other people might say 'Why aren't you giving so-and-so a chance?' and I always think this award, I haven't invented it to go away, this year has been the most enjoyable to do, on the whole it gets a lot easier to manage cos you've done it before' Peter states. 'Huge credit to the Getintothis team who do it all voluntarily and help out, hopefully we can continue this for a number of years, and if there's a band out there who are good enough they'll get nominated. You can't ignore someone who's rightfully fitting for that year'.
Given the number of judges and the variety of genres scanned meanwhile, the discussions unsurprisingly become somewhat vociferous at times. 'I'm not gonna lie to you its gets really passionate' Peter says. 'Certain judges just don't like the way the discussions are going, we've all got our bands who we want to win it or be in the Top 12, I know for a fact his year there's at least three artists who certain judges from the word Go were saying 'This band have to be in there' and they're not in the twelve. I wouldn't say any of the judges have left any of the meetings pissed off, but I'd say there have definitely been some 'I can't believe this!' incidents'.
The impact of the award beyond Merseyside meanwhile is something Peter feels is tangible. 'I know for an absolute fact some of the judges for the record labels and the media they're doing this cos it makes their homework easier' he states. 'I'm not saying the award has definitively got a band signed but there's definitely a huge case for it giving a national focus for them to forge some form of career path. I never like the 'We're doing this for you to give you an extra platform', I don't like the thing of 'We'll do this for ourselves but you'll get a bit out of it as well'. I definitely don't feel that the award does that'.
The night's additional gongs, the One to Watch winner returns ('We've already selected the winner, I can't divulge who it is' Pete cautions) and are confirmed to play on the night, who follow in the footsteps of the aforementioned Låpsley and Americana inspired songsmith Louis Berry. The Inspiration Award will also feature ('We haven't decided on that one yet, we've got ideas') alongside previous recipients, the team behind The Kazimier, campaign group the Hillsborough Justice Collective, founders of city based music festival Africa Oye and last year's selection, the driving force behind Deltasonic Records and the man who discovered The Coral and The Zutons, the late Alan Wills.
Switching focus, the location for the evening's shindig, following on from bunfights at The Kazimier and Leaf, Baltic Triangle situated arts space Constellations is this year's host. Close neighbours of Camp & Furnace, (location for the Liverpool International Festival of Psychedelia) the night will include the acts plugging their wares and showcasing why they're on this year's list, alongside a house band, DJ sets and one off spectacles marshalled by an (as yet unnamed) host.
'At this stage, virtually everyone can play' Peter says of the artists expected on the night, touring schedules understandably permitting. 'This year we've opened it up more to the public, tickets are a fiver, you can't argue with that to see some of the best new music coming out of the city and a whole lot more'.
Interested parties to see all of the above and more besides then had best apply
here for tickets
.
And the shortlist is…
Clean Cut Kid
Dragged Into Sunlight
Hooton Tennis Club
L U M E N
MiC LOWRY
Mugstar
RongoRongo
Bill Ryder-Jones
Stealing Sheep
Trudy
TVAM
The Vryll Society

The Getintothis Award takes place at Constellations, The Baltic Triangle on May 14th
For more info visit getintothis here