INTERVIEW: Singing Adams
Steven Adams used to front Cambridge cult heroes The Broken Family Band. He tells Bearded why they split up; why he's excited about his new group; and why nothing beats playing live.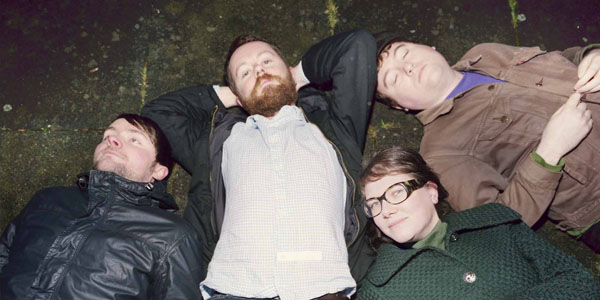 The Broken Family Band
were a kick-ass live act who boasted one of the country's finest lyricists in frontman
Steven Adams
. But after five corking albums and a decade together, Adams felt it was time to try something new and reformed
The Singing Adams
, who had previously recorded an album in 2006.
His new bandmates were "people I liked a lot, who I thought would be fun to work with, and who could all sing. I'd known all three of them for a long time, from different places. Michael Wood plays bass, and we played together in The Singing Adams a few years ago. Matt Ashton plays guitar, and we've been bumping into each other on and off for years. Melinda Bronstein plays the drums and I originally knew her from when she was in Absentee, and we used to tour together."
The singer also pays tribute to "a couple of people who have helped me keep going with this stuff - Dan Michaelson, who's a really supportive all-round dude, and Dan Mangan, a great Canadian singer and songwriter, he's been a source of inspiration and a good pal."
The newly constituted four-piece are currently touring their
Everybody Friends Now
album – which the Guardian has called his "best set of songs yet" - and Adams is musing about the end of BFB and his new musical incarnation.
"It came to a natural end for me, but we did everything on our own terms and had a grand old time in the process. I think we took it as far as we could – creatively, as well as in terms of success - and I was beginning to feel like I was straining to write songs that I cared about."
He takes a slightly more dominant role than in his former band, but says that Singing Adams is certainly no one-man show: "I do feel more responsibility, absolutely. I'd love to say I'm calling all the shots and I make all the decisions, but I chose three people who are very willful and very clear about what works for them. It would be hard for me to make them play something they really didn't like, but I think everyone's happy with me taking the lead. As Matt said the other day, it's my name above the door."
The band had a ball making the album – camping outside in the Norfolk countryside, watching the stars, getting drunk, and still recording the whole thing in a week. Adams enthuses: "It was great fun… we had a really cool time. Owen Turner who runs [recording studio] the Sick Room is an old friend of mine, and he's a great engineer. We had this list, and every day was centred around ticking as many things off the list as possible. We became slaves to the list! The list took on a life of its own…"
However, he jokes, the band's honeymoon period "wore off after about six months. We're like cousins squabbling on holiday now."
The new album's strong melodies, incisive lyrics and garage-y, kitchen-sink sensibility will appeal to fans of BFB, Darren Hayman et al but there seems a slight widening of subject matter and even a certain mellowing of attitude. However, Adams feels that his writing style has stayed pretty constant. He says: "My tastes have changed slightly over the last few years, and the things I write about have changed, but I think it was [Fairport Convention legend] Richard Thompson who said all songwriters basically write the same song over and over again."
Asked whether he feels like he's starting from scratch again, Adams says he tries not to over-analyse his career: "It's best not to over-think these things. I never really took it for granted that people would turn up to see the last group, so it's nice when people turn up to see this one."
Adams has always been a prolific writer and this hasn't changed: "Writing songs is really easy, it's writing good songs that's difficult, and I like to do that with other people's input most of the time. I guess this time around I had a more concrete idea of where the songs should go, but there's always room for manoeuvre and the way this band plays had a big influence on the songs I was working on already."
Adams has always played a lot of gigs, and has enjoyed the dates he's played with his new bandmates: "They've been really cool. People seem to like it, we like it. I've been enjoying it when people sing along to songs they barely know."
The band is already working on new songs; and is currently halfway through their UK tour (see dates below). If you have half as much fun in the crowd as the band has on stage, you should have one hell of a night…
The Singing Adams UK tour: remaining dates
Tuesday 12th Leicester, The Musician
Thursday 14th Sowerby Bridge, Puzzle Hall
Friday 15th Newcastle, Cumberland Arms
Saturday 16th Leeds, Brudenell Social Club
Sunday 17th Manchester, Deaf Institute
Tuesday 19th London, The Lexington