Introducing: Aimée Steven
Ascendant Liverpool singer Aimée Steven is the first new act of the decade in the spotlight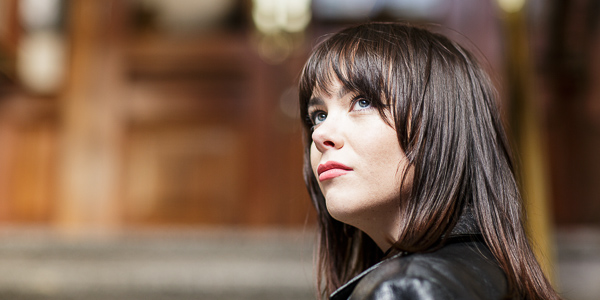 Building momentum in 2019, the coming year looks set to be extremely promising for one of Liverpool's brightest new prospects,
Aimée Steven
.
Hailing from Walton in the north of the city, attention-grabbing debut single
My Name
issued last April marked the singer out as a definite one to watch.
Drawing from classic West Coast influences, CSNY, Joni Mitchell along with Americana doyens The Band along with a smidgen of Led Zeppelin and classic 1960s garage rock, Steven draws inspirations sartorially and sonically from Francophone pop auteur Serge Gainsbourg and Marianne Faithfull.
Referencing the Nouvelle Vague era, most recent single Better Off Dead released in December came backed with a video that evoked the groundbreaking French New Wave era and 1950s US B-Movies.
Labelmates with alt. rock alchemists
SPILT
and dream pop weavers
Shards
on blossoming Liverpool label Jacaranda Records, a score of increasingly excellent singles have showcased Steven's burgeoning talent, the tremelo'd guitars, reverbed vox and strong songcraft honing in on a distinctive style.
The successor to My Name, the sighing melodicism of
All the Way
, heartfelt tribute
B.I.E.K
and the spiky lyricism of
Better Off Dead
were all similarly excellent along with a superb, shadowy cover of Johnny Kidd & The Pirates classic Shakin' All Over recorded for BBC Radio Merseyside.
The voyage to where is the singer is now comes via demos uploaded to Facebook which piqued the interest of Grammy Award winner Jon Withnall (engineering credits with Elbow, Rihanna, Howling Bells and The Coral) to produce the tracks in a studio environment.
The pace is set to pick up as the year progresses with more releases scheduled. Next single, the memorably titled Hell Is A Teenage Girl due for release on the Friday prior to International Women's Day on 8th March is the opening salvo for the new decade.
Possessing an assured stage presence that belies the scarcely believable fact that Steven has been playing live for less than a year, tour dates beyond Merseyside are also in the pipeline as 2020 progresses.
Photo credit: Keith Ainsworth