Interview: Oh Well, Goodbye
The Liverpool post-punk group discuss their new EP release Affinity Part 1 and future plans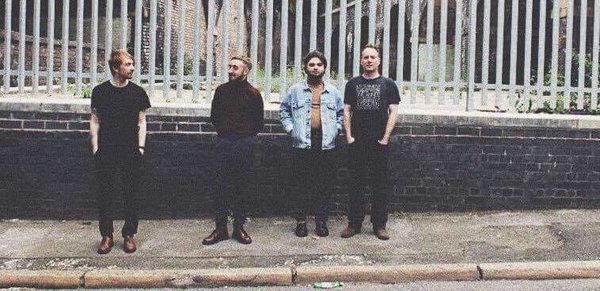 Evolving from a project founded to create a one-off 'fully lo-fi, straight up indie record' in 2015 (
review
)
Oh Well Goodbye
have carved out a niche for themselves as redoubtable purveyors of gloomily melodic post-punk. Quietly accruing praise through a string of EPs and shows across mainland Europe, the quartet are readying the release of their new four track release
Affinity Part 1
. The first in a double-hit of EPs with the follow up due next Spring, the grab 'em while you can strictly limited run of CDs and cassettes are being issued in Blighty and the EU by the group's own Hail Hail Records label while the North American market is being catered to by cult San Fran label Bleeding Gold.
With the disc on the shelves (check out the Soundcloud link) and further activity for the second installment planned for early 2018, a meeting is convened to discuss where OWG are up to at present. Diving straight in then, why two EP releases? 'Two reasons really, attention span of the band and attention span of people who are gonna listen to the band' singer/guitarist Phil states sat in a pizza joint in Liverpool city centre. 'We've not got the patience to write an album, we tried to, that was what we set out to do and we failed! We came up with four solid songs and they fitted so well together anything else that we had just kinda just filler. I've always said that four or five songs for a band of our status is enough for us to go an play a half hour set and people to care about that rather than have twelve songs learnt all in time. It's just an easy thing to do'.
'It's partly due to quality control of the songs, you've got more time to concentrate on four solid tracks, especially with work and everything else. I'm not sure if this band will ever do an album to be honest. This is part one, part two will be out in the Spring'. 'The two parts you can treat as an album' bassist Sam states. 'Played back to back it has the sound and you can tell it's from the same sessions'. 'Who wants to pay seven or eight quid for a 7" with two songs?' Phil questions out loud. 'Looking at an LP it's twelve to twenty quid depending on the format. I always discovered loads of great bands through EPs. It's keeps it fresh as well, it means we don't have to hide for a year or two while we write. We can come out with something every year which is what most bands do anyway. I think it's the same for a lot of bands, you'll write a bunch of songs and by the time that comes out you've got a couple in the bag for the next release and you're gigging them anyway' Phil expounds. 'By the time the (September 2016)
Swoon
EP came out we were gigging those songs for months anyway so it was old to us really'
'It was last year when these songs started coming through in rehearsals' Phil says of the genesis of the new tracks 'so these are quite old to us. With the member turnover we've had there's an injection of actual excitement, when someone comes in and puts their vibe on it, it keeps us on our toes (new axeman Connor will be on board for upcoming gigs). Everyone was involved with other bands previously and we were never a band who were rehearsing once a week until we had a gig coming up. 'With these songs me and Sam went in the room, worked on them and presented them to (guitarist) Adam and (drummer) Andy'.
Tracked at DIY venue/recording space Brock & Broll Studios in Chorley, Greater Manchester, the location suggested itself after OWG played a show there last Autumn. 'It's probably the best punk rock type venue in England' Phil enthuses. 'We went there cos we wanted to do something different and it has this incredible live room. Cos it's this old mill the ceiling is so high so we recorded it pretty it much live in the room'. The studio itself informed the song arrangements, with the tracks more expansive than the deliberately claustrophobic atmosphere of earlier releases. 'It was really spacious' Sam nods. 'It was intentional for the songs to have more natural reverb and ambience. The songs are darker and we wanted that to come out a bit more. Having that big room helped a lot for the sound, there's very little effects on it really'. 'Pretty much everything we've done apart from the first EP has been the band in the room playing live' Phil says. 'The songs were intentionally written to be less crowded, less rushed, less going on in certain parts. It's just a natural progression for us to go down that route. It's still got the basic pop structure but feel-wise they're not quite pop songs'.
A burgeoning trademark of OWG alongside the chorus pedal wash of guitars are Sam's basslines that power the songs with guttural force, sounding like bridge suspension cables flexing in the wind. 'Before Oh Well Goodbye I've never been a bass player' Sam says of his style, partly influenced by legendary Minutemen bass-wielder Mike Watt and redolent of The Stranglers' JJ Brunel. 'I used to play guitar for a few bands and Phil messaged me one day saying 'We need a bass player'. 'I think I still treat it like a guitar, I play chords quite a lot and my pedalboard is for guitars'. 'It's almost a conscious decision for that I think' Phil states. 'The guitar parts are so intricate with effects on like chorus and delay, you need something to beef it up a bit. The chorus for And Ease is me strumming but it's the bass that cuts through with the heavier impact. Adam's guitar sounds like a keyboard, people keep telling me it sounds like a synth! The bass is full-on, it's needed, we're still a rock band'.
Completed with virtually no overdubs, the less is more approach makes the new cuts sound bigger than the sum of their parts. 'In this day and age with all the technology and the hardware you can just overkill' Sam states. 'We've never been that band to overdub and to layer. We always treat it like a live set almost. We set up in the studio as in rehearsal in a circle. A band never sounds better than when they're in their rehearsal room' Phil says. 'It's their natural environment' Sam agrees. 'We're playing as a band together in a room,
or
you can be that band who are sat on the sofa on their phones tracking guitars through the mixing desk and tinkering with software. We haven't really got the patience for it really'. Mixed by sticksman and producer Andy over several evenings, the project was completed several weeks ago. 'It was quite drawn out' Sam says of the recording and mixing sessions over several weekends. 'It goes back to why we make EPs'. 'Yeah, imagine twelve tracks like that, it'd be impossible' Phil nods. 'This took all summer but if you add up the collected hours it probably took about twelve! It felt like forever'.
Maintaining an admirably prolific work rate despite family/work/real life in general intruding, for OWGs next move, the disc after
Affinity Part Two
could be completed in something akin to real time. 'What we
intend
doing on the next EP' Phil states, grinning hopefully, 'is to record it all in one day, then that's it, it's done. I've suggested it, I don't know if Andy would be up for it! We'd have to go there mid-afternoon, set up, get the sound right, get some food, some beers then just hammer it out and then mix it'. Harking back to the 1980s US underground scene when the pioneers such as Black Flag and the seemingly insomniac Husker Du hurtled through their allotted studio time out of sheer necessity, the practice brings a one-off quality to the material. 'Yeah, the tracks will be 'that's what it was on that particular day'' Phil says of taking an audio snapshot of the group.
A more recent example, Swedish drone-pop crew Logh are also cited as an inspiration. 'On the second album they recorded, (
The Raging Sun
) they had this terrible experience with an American producer, John Congleton. Great producer, but for whatever reason the album took ages and it was delayed. For their next album (
A Sunset Panorama
) they went to Pelle Gunderfelt who had worked with The Hives. They recorded it all live in one day, mixed it then mastered it the week after. They filmed it the whole process and released a DVD of it. Great idea. Something like that would be good for us'. 'The next one we're gonna add a couple of extra things as well. Some strings, stuff like that. You'll still be able to tell they're songs written in the same sessions and in the same period of time, same vibe, but it'll still have that progression'.
A noticeable development with the new material are Phil's vocals being placed higher in the mix than previously. 'I think it's the most comfortable I've been vocally on this EP compared to the other stuff, dunno why that is' the singer states. 'Probably the environment. We spent longer trying to focus on what Phil wanted to get across in the music' Sam states, munching his pizza. 'There was a lot more attention to detail gone into writing'. 'It meant a bit more lyrically as well' Phil agrees, working his way through his first slice. 'I think it's such a step up from the last one personally it needed to be as spot-on as possible really it brings out a better performance in everyone. I don't purposely mean to be obscure but I can understand why some people may think that' Phil says of his lyrics. 'Reading them back they are obviously personal to myself, every word seems direct to myself. I guess that's because I've live it, it's my story but I can see how some people would interpret them otherwise. The whole of
Affinity Parts 1 & 2
are very close to me and the most personal thing I've ever written. There are lines on this EP that will have a sense of meaning to myself and one other person'.
A facet which is particular to the present outfit, as well as plenty of others, including two of their biggest influences, Joy Division/New Order, the band members don't ask the lyricist what the songs are about. 'No, they don't. It sounds ridiculous that doesn't it?' Phil says. 'I'm not too sure why they haven't. When we completed the EP I wrote a message to all the guys, thanking them for their patience and continued support throughout the whole creative process and capturing it all with me. We're a band one hundred per cent, we have a close bond between us, we've been through a lot in a short space of time and I do think deep down they know how much this collection of songs mean to me. I'll have to ask them and see what their take on it all is!'
The collection's lead single And Ease (
video
) has an intriguing chorus hook '
I slept upon your lips/Your name is on my lips
' what inspired it? 'It's quite literal really. It's about sharing an incredible moment with someone, being so close to someone that it feels like they're the only person in the world at that particular moment in time' Phil explains. 'Even something as simple as falling asleep together it can be the most amazing thing if you need that closeness with that one person. Simple as that. Pretentious as that sounds it's very true'. The chorus of Everything A Reminder, which alternates '
The things you/I/we say
' is sung from different people's perspectives is reminiscent of Death of A Disco Dancer from The Smiths greatest album (discuss)
Strangeways Here We Come
. 'That's down to Adam's guitar work' Sam nods. 'He put his stamp on the songs' Phil agrees.
Elsewhere Pushing Blood ('
It's you, that pushes blood to my heart
') is 'a reference to what or in this case who, keeps the heart pushing that blood around the body to keep you going. It's a dark take on a love song really purposely so' the singer explains. The title track, which calls
The Bends
era Radiohead to mind features only a single verse '
You, only you, Your finger nails/scratch me through/Bruise like fruit/You smell so good
' repeated several times, what's the story behind the lyric? 'Not just that song specifically but the whole EP,
Parts 1
and
2
are about a strong intense desire and love, from all different angles with the aim to cover the many different emotions you feel in a relationship, not just your typical sugar-coated way. This particular lyric is just another part of the story. They're less obscure if you like and anyone who hears or reads them can pick that up I feel'.
While listeners will always bring their own perspective song lyrics, the typical journalistic reflex of reading meaning into words that turn out to be way off base (ahem) occurred with previous release
Acquiescence
. Fucking Flowers (
video
) which seemed to be inspired by an animation sequence from Pink Floyd's classic rococo rock opera
The Wall
(1982) (
video
) turned out to be something far more prosaic. 'Pete (member of kindred spirits People//Talk) titled that one, it was just a joke!' Phil explains. 'We came out of the practice room and Pete said something like 'Fucking flowers' about the flowerbeds in St. John's Gardens (famous Liverpool city centre greens pace)'. Further crossed wires this time regarding genre categorisation happened on the Continent last year. 'We were were described as 'goth pop' on one flier in France' Phil recalls, still mildly aghast. 'You'd expect Marilyn Manson to turn up!' Sam chuckles. 'We just turn up as scruffy gets' Phil shrugs. 'Well, we are!' Sam laughs.
With the growth in confidence across the board, including the lyric sheets for the songs, a thorny issue with some writers has become an option for future releases. 'Yes totally. Especially with this collection of songs' Phil states. 'I've never been the best lyricist but I'm more than happy with what's out on this EP. I think I've captured pretty much everything that was in my head. I just hope they do justice to the music and bring it all together for other people when they listen'. 'It's been a typical story of gradual progress of a band growing: songwriting, changing members, getting other people involved' Phil says finishing his beer as proceedings draw to a close. A typical story featuring a series of impressive chapter that looks set to continue then.