Oh Well, Goodbye – BG092 (Hail Hail Records/Bleeding Gold Records)
Debut set of intriguing ramshackle indie from Liverpool act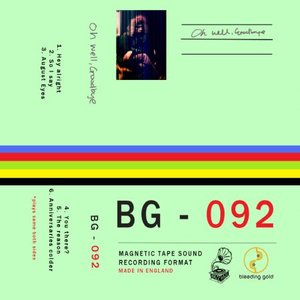 With the ongoing talk of the format's renaissance, Liverpool label Hail Hail Records, an orbiting satellite of fellow Merseyside set-up Edils Recordings, unveil the
BG092
, the debut EP cassette by
Oh Well, Goodbye
.
Effectively the solo project of label boss PJ Rourke, sticksman for excellent synth-gloom merchants
People//Talk
, the set was written and recorded in a burst of solo activity earlier this year.
Deliberately lo-fi, what the tape may lack in studio polish is made up in raw spontaneity, with track 4 'You There?' consisting of little more than a rhythm guitar track, overlaid with a simple arpeggio, tambourine and vocal. Aiming for short and sharp, the longest track present clocks in at a mere two a half minutes, with the entire running time under quarter of an hour.
Issued through cult San Fran label Bleeding Gold for the US,
BG092
continues People//Talk's fondness for naming releases after matrix numbers.
Possessing the feel of a live radio session, opener 'Hey, Alright', it's vari-speed vocal dimly redolent of The Smiths' Bigmouth Strikes Again continues the effect of the cassette being an unearthed Peel Session.
Shot through with a shrugging, resigned feel with a hint of submerged bitterness surfacing on key track 'August Eyes' which matches Rourke's vocal with a spoken word chorus, in contrast with the apathetic shrug of lyrics, everything here is imbued with deep-rooted melodies, in keeping with the skewed pop of Rourke's day-job band.
Something of a curio, albeit one of considerable quality, the songwriter states that the EP is a complete one-off, something of a pity on this evidence.
Oh Well, Goodbye play:

03/09 - Liverpool -Maguires' (EP Launch)
12/09 - London - Windmill (Dignan Porch alldayer)
17/10 - Manchester - The Castle (Carefully Planned Festival)