Interview: Oh Well, Goodbye
The Liverpool post-punk quartet chat about their new EP trilogy plus upcoming tour dates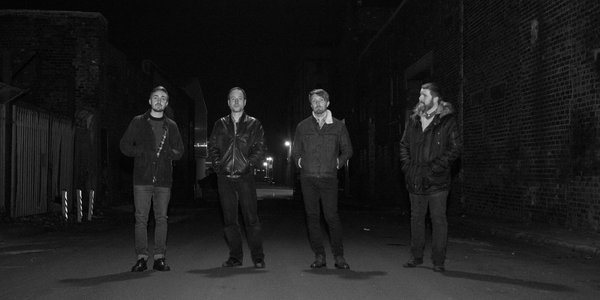 Re-emerging just over a year after their sterling debut EP
BG092
landed (
review
) Liverpudlian post-punk quartet
Oh Well, Goodbye
are readying the release of four track set
Swoon
. Plotting a course between the gloomy resignation of post-punk and the directness of early New Order, the EP's uncoiling guitar riffs and buried deep melodies catch fire in impressive slow burning fashion. Clearly on a creative roll,
Swoon
is the first in a trilogy of EPs with the succeeding releases following later this year. Wrapped in handsome packaging typical of cult US label Bleeding Gold, the 7" hits the shelves next week.
Led by Phil Rourke, drummer of noted Liverpool synth-led alt pop unit
People//Talk
, what was intended as a one-off experiment Oh Well, Goodbye blossomed into something more permanent following the debut EPs' warm reception. Joined by guitarist/vocalist Pete Seddon (People//Talk's singer, also moonlighting from his day job) a beer garden on a balmy Merseyside evening sees the band's genesis explained. 'This time two years ago I had a bunch of songs written on my iPad basically, which were nothing like these and then one night I thought 'These aren't really doing it for me' so I scrapped them and came up with a couple of songs that were on that first EP' Phil says, supping his pint. 'I thought 'I really like these but I wanna do them with real instruments'. The first person I obviously thought of was Pete. I emailed him the song then we went into the rehearsal room, had a few beers, listened to it a few times then nailed it straight away. So it was a case of 'I'm gonna do it, see if anyone likes it, if not I'll put it on the internet and I've got over it'.
To have written songs and put yourself out there as a frontman it's a risk' Pete states. 'Obviously it's become a band but at the time for you it probably felt like 'I've got these songs, I'm putting them out there, let's see if it works'. 'It became apparent that people didn't hate it, so why not do some more' the guitarist smiles. 'That actual sound and feel of that EP was a one-off' Phil agrees. 'I sent it to Roger (Preston, label boss) at Bleeding Gold to see if he was interested in pursuing it. We recorded it ourselves in a room with really crappy microphones and takes that were done after hearing the song once or twice. I don't think we'll do anything like that again, really. I didn't want to put a lot of pressure on ourselves. I'd never sang on anything before. There were 75 tapes, not a massive amount and they all sold and then we got some CDs when we went away to France'.
'These songs were written directly after the first EP' Phil explains of the new tracks. 'We were playing these just over a year ago or just introducing them into the set when we played shows'. Arriving quickly, the songs were completed when the band were invited to play at an all-dayer arranged by London-based associates
Dignan Porch
'Clandestine and This City To Yours were added to the live set around that time, before we played four shows in France, we put the last song on the EP Vessels in the set right before we went away. So they're in the order that I wrote them and presented them to the other guys to play pretty much. Clandestine is probably the poppiest one' Phil says of Swoon's propulsive opening cut.
'Everything's more cohesive now, structured and thought about as opposed to just go in the room and do it' Pete says of the new disc. 'It was nice to get a band in a room and get their perspective on it, instead of on the first EP which was 'This is how it is, learn it' Phil states about the changes in the set-up for the new material.
Piloted by Sam Bank's plangent bass work Swoon's motoric second track This City To Yours' looping guitar motif showcases one of the band's hallmarks. 'There's a repetitive thing with it, I think that's a common theme with this band in general, I'm a huge fan of if you've got a great hook, use it, kill it!' Phil laughs. 'Especially if you've got a vocal or guitar hook that someone instantly identifies with'. Elsewhere aforementioned extended closer Vessels is Phil's shot at writing 'a really romantic song that wasn't really lame or a ballad, lyrically anyway. It became the last song in the set cos it has such a huge ending, so it was natural to put it last on the record'.
Putting the self-sufficient We Jam Econo ethos of legendary US punks The Minutemen firmly into practice, the present group completed a truly Do-It-Yourself European tour last year, with a return visit due soon. 'We're going over there again in October, France, Germany and Italy (see dates below)' Phil states. 'We'll probably lose money unless we sell loads of merch, but having a place to stay, free beers, free food, that's the main thing really. I love playing shows, when we got offered a couple with this band I really wanted to do it, I love hanging out. If we get the opportunity to do more let's do it if it's possible for everybody'.
Inspired by the trip
Swoon
's third track Axe The Bay features on first impression sampled film dialogue in French overlaid its minimal backing, sounding like a soliloquy from a Francois Truffaut picture. The actual words however were written by Phil and the spoken word vocal supplied by a band on the same label. 'When we were in France we played with a French band
Os Drongos
and we stayed in their house' Phil explains. 'It's my unfunny joke on the name of the town we were staying in, I was probably drunk one night and pronounced it 'Axe The Bay'. It's called Aix-les-Bains, it's between Lyon and Grenoble. I sent Samy from Os Drongos some words, it would've sounded really crap if I'd done it'.
'It was weird, it was such a small town we were in, there were only a couple of bars, it was a place where nothing really happens' Phil recalls of the European jaunt. 'The biggest thing that had happened there in over thirty years was that AC/DC had played there in the late 70s and got banned cos they were too loud!' Pete laughs. 'The people we stayed with were these super cool guys who knew all the cool people from Lyon and Grenoble, the next to last show there was a show in this huge beautiful house' Phil states. 'It was at the foot of this hill and at the top was this massive mansion that during the War had been taken over by the Gestapo, their house was the gatehouse on the way in. Over the road from it there was a war memorial for a young lad who had been executed in the street. It was weird, it was certainly atmospheric' Pete says. 'That show was one of the best I've ever played' Phil enthuses. 'I know that type happen a lot in America and some squats in Europe. They had a guy come in with kegs of beer who brewed it locally with his Dad, people brought loads of ale wine, there was loads of people dancing, it was super-loud, it was the perfect DIY set-up'. 'I had to be carried to bed' Pete smiles wistfully at how well the alcohol sodden night went. 'We had a show the next day, which was pretty much a write off' Phil grimaces.
Proof of how well the gigs were organised meanwhile was a fixture in the French Alps. 'We played this place called Annecy, in a purpose built venue, they had a hardcore festival on a couple of days after it, (NYC punk pioneers) Agnostic Front were playing. We thought 'Who the fuck's gonna come and see us?'' Phil recalls. 'No-one was hanging round in bars or anything so we thought the worst. That evening the doors opened and it was quiet but gradually it got more busy, we ended up played to a lot of people and went down really well. People came and danced, bought stuff in this really quiet town in the middle of the mountains in France'.
Recorded live by group sticksman Andy Fernihough, who also mixed and mastered the disc in the city's storied rehearsal rooms Crash Studios, the bulk of the work on
Swoon
was completed in two brisk evenings. 'We didn't wanna do something really glossy' Phil explains. 'We were all in the room with the amps, we were well rehearsed and we said 'Let's do a take'. The vocals and maybe a couple of guitar overdubs were done separate. 'It's proper old school isn't it?' Pete states. 'Go in, play the song capture it live, done. You spend so long as a band rehearsing and playing gigs, why get to a studio and decide that what you're gonna do is effectively what one person could've done on the first recording on your own and play all the parts? Why split it up when you've spent so long practicing?' the guitarist questions, entirely reasonably.
'We've got this EP and then the next one
Acquiescence
a month after' Phil says of the quartet's next move. 'We thought about putting them together but the budget wasn't there and the other songs have a different vibe' Phil explains of the second set. The upcoming six track affair is a change in direction and features 'more straightforward pop, there's more stuff with drum machines and keyboards'. November then brings the third EP installment
I Know, I Know, I Know
. 'It's a remix EP of tracks from both EPs called done by friend's bands' Phil explains. Giving the participants carte blanche, the remixers could do whatever they wished with the originals. 'Here's the tracks, do whatever you want to it, add vocals, take vocals away, anything' Phil nods. 'We want your interpretation of that song, so it's free reign'. 'It'll be interesting to hear what comes back' Pete adds. 'The songs I've written are straightforward I suppose' Phil ruminates on Oh Well Goodbye's progress as the interview comes to a close. 'I think now I've got the confidence to push on and do stuff that's more experimental'.
Swoon is released on 16th September through Bleeding Gold
Oh Well, Goodbye play at:

September:
16/09 – Liverpool – Maguires w/ Songs For Walter (EP launch)
17/09 – Manchester – Salford Eagle w/ Lawrence Arabia and Songs For Walter
24/09 – Chorley – Brock n Roll

October:
Thursday 13 – London – The Good Ship
Friday 14 – Paris, Fr – Pop In
Saturday 15 - Lille, Fr – Le DIY
Sunday 16 – Krefeld, Ger – Jazzkeller
More EU dates to be announced

November
Friday 11 – Newcastle – Northumberland Arms